My Korean Belly Pork is one of my most popular recipes and one of my absolute favourites. The perfectly glazed and soft Pork Belly is not too spicy but has a little warmth, sweetness and bags of umami. I know that this Korean Bossam Pork dish will be your instant favourite too.
This post may contain affiliate links. Please refer to my Disclosures Page for more details.
In 2017 I headed over to South Korea for a fortnight to meet up with my friend Jonny for the last two weeks of his 9 month sabbatical (git!).
Leading up to the trip I was super excited whilst being super nervous about 'proper travelling'. I'm more of a fully-planned-in-advance/guided tour traveller with a wheely suitcase and continuous air-con. So it was always going to be a culture shock!
Along with the actual culture shock, and despite eating Asian food a good two or three times a week, I'd never been to Asia before. I'd never really been anywhere where the writing is unintelligible and English isn't wholly ubiquitous but I trusted Jonny and I couldn't wait!
Inspiration
A massive part of my excitement was obviously the food. I wasn't actually that familiar with the food with the exception of a few visits to BibimBap for their title dish and a knowledge that I'm not a fan of kimchi. Luckily my friend Kirsten bought me a copy of Judy Joo's Korean Food Made Easy (Thanks Kirsten).
After a quick flick though, I discovered that the basis for most of the dishes appeared to be doenjang (Korean fermented soya bean paste a bit like miso) and gochujang (Korean fermented red chilli paste).
So I picked up a pot of each from the big Wing Yip supermarket in Croydon and started experimenting. The basis of the recipe is Judy Joo's Pork Belly Bossam adapted slightly for the ingredients I had on hand.
Why I Love It
The recipe takes about 3 hours but actually involves very little exertion so don't be put off. Its also warm but not crazy spicy which is handy for a mixed crowd of preferences.
The quantities given do allow for some leftovers. I use the pork to make my Korean Ramen with Belly Pork. If I plan sufficiently, I retain the pork cooking liquor to incorporate into my soup base.
Make Korean Belly Pork into a Feast
I truly believe that you can make any dish into a proper feast! Whether thats a feast for one after work on a Tuesday, a casual feast for four on a Friday evening or a feast for 12 for a special occasion!
I've included this recipe in my Big Asian Feast and Alternative Asian Feast.
My Big Feast starts with Edamame nibbles and a selection of dumplings including Har Gow, Siu Mai and Tofu Crystal Dumplings along with Miso Soup.
There follows a selection of fabulous dishes to share including Korean Belly Pork, Teriyaki Tofu, Sesame Tenderstem and Sweet Chilli Salmon. It's all served with Sticky Rice and followed by an unusual Chinese Steamed Cake.
The alternative feast centers around my Korean Ramen with Belly Pork and Satay Chicken. There is also a selection of sushi including Prawn Nigiri, Scallop Onigiri, Salmon Maki Rolls and Crab Uramaki to start and Vietnamese Summer Rolls on the side. Everything is rounded off with my Mango Coconut Ice Cream.
This recipe is also included in my Everyday Feast with Korean Pork. The Korean Glazed Pork with sauce is served with Sticky Rice and Sesame Broccoli. Simple but a feast nonetheless!
Don't forget to head over to the Big Asian Feast post for all of my tips and tricks to help you host a fun and stress-free feast. Plus remember to check out my other feast collections and all my Asian inspired recipes.
Ingredients for Korean Belly Pork
Belly Pork
Look for a slab of pork belly rather than slices. Sometime you can find the slab as a rolled belly joint. Just take off the string and flatten it out. (Just make sure you don't buy a 'stuffed' one!). It is always worth asking at the supermarket butchers counter if there is one in the back. There often is.
Obviously going to a proper butcher is always preferable. And the price is usually about on par with a supermarket. Ask any butcher (including in a supermarket) to remove the ribs, silver skin and to score the skin and fat. You can do this at home but its easier for them to do it with their super sharp knives.
You can substitute the belly pork for shoulder or leg but it will not be quite as soft or unctuous as using belly. Try to at least look for well marbled, fattier versions of other cuts for maximum flavour.
Doengjang Paste
Also spelt as Doenjang, this is a fermented soybean paste from Korea. It is almost impossible to make any kind of Korean food without this paste. It should just be made from soybeans and salt water but like soy sauce, its often cut with wheat and other grains. What should be a gluten free product therefore often isn't.
Annoyingly, doengjang isn't available in the major supermarkets (despite them all selling gochujang!). You can pick up a tub (usually brown coloured) in most Asian grocers and it is available for order on Amazon, if a little pricey.
Gochujang Paste
Gochujang is a Korean fermented red chilli paste and is again almost essential to Korean cooking. The Korean chillis are spicy yet sweet and the fermentation gives it a super rich and deep flavour. Gochujang is not naturally gluten free as is it traditionally made with barley.
The good news is that red tubs of gochujang are available in most of the major supermarkets as well as Asian grocers and online.
---
To find out about more of my favourite Asian Ingredients, check out my guide to the Top 16 Asian Ingredients which I always keep stocked in my pantry.

I've also suggested a whole bunch of recipes to try once your cupboard is fully stocked!
---
Garlic & Ginger
I buy both of these items as jarred pastes from the world food aisle. So much easier, convenient and it cuts down on food waste. Use fresh if you wish.
You can find more of my favourite recipes using garlic in my collection of The Best Garlic Recipes.
Be Flexible
The glaze and sauce will work for many other meats and items as well as pork. Most other meats won't require the boiling stage, especially items like chicken thighs or Beef Sirloin. Cook them in the oven until half cooked, add the glaze and cook though. Serve with the sauce.
I appreciate that you may not be able to get some of the ingredients for this recipe. Miso paste makes an ok substitute for Doengjang paste although the flavour isn't quite as rich. I would up the quantities and maybe add a little soy sauce.
Most other ingredients have fairly logical swaps. Brown sugar can be used in place of the honey, shallots instead of the spring onion etc.
Make it Vegetarian
You can use the glaze and sauce which are both vegetarian in many vegetarian applications. Fried then glazed tofu would be great as would any quorn type meat substitute. Obviously the boiling stage would be missed out of the recipe. You could also try my vegan suggestion below…
Make it Vegan
Other than the obvious meat element of the dish that would need to be substituted for something vegan friendly, the only other ingredient that would need to be substituted in the recipe is the honey. Use 1 tbsp light brown sugar in place of each tbsp of runny honey.
Other than using fried tofu as suggested above, my best suggestion would be to par-boil cauliflower florets and then roast and glaze them per the recipe.
Make it Allergy Friendly
This Korean Pork Belly recipe should be both egg, nut and dairy free but do check the labels of the various pastes that are used to make sure.
Gluten Free: As I mentioned in the ingredients section above, Doengjang paste should be gluten free but that can be extremely hard to obtain. Miso is an alternative which is easier to get hold of, some of which are gluten free – just check the label carefully.
Gochujang paste will never be gluten free. The best way to substitute this is to use a hot sauce such as sriracha (which is gluten free as the vinegar in the recipe is also gluten free). The flavour won't be as rich as using the real thing but you will still end up with a fab tasty dish.
Please note that this recipe may contain other allergens not referred to above and any variations suggested have not been tested unless otherwise stated. For more information regarding any dietary information provided on this website, please refer to my Nutritional Disclaimer.
Equipment Notes for Korean Belly Pork
You can of course roast the pork with the glaze straight in a roasting tin but the glaze will bake on good and proper and be a bitch to clean off. To prevent this issue, I'd really recommend lining the tin with foil and/or baking parchment.
A good size stockpot is ideal to keep around for boiling joints of meat such as this belly pork, ham joints, etc.
Boiling the water in a kettle will seriously speed up starting the cooking process. You can otherwise just fill the stockpot with cold water and heat it on this hob but this will add to the cooking time. Buy a kettle!
To see more of my recommended kitchen appliances, have a look at my post featuring the appliances that I couldn't live without.

It is also perfect inspiration for gifts for a budding cook in your life! Or to put on your own Christmas or Birthday list!
---
A comprehensive list of the equipment used to make this recipe is included in the main recipe card below. Click on any item to see an example. There are no hard and fast rules so many items can be sensibly substituted to achieve the same results.
Get Ahead
My Korean Pork Belly is a great get-ahead dish. You can either halt the cooking process after the boiling stage or after it is glazed. Both the glaze and the sauce will happily sit in the fridge for up to a week. The pork will be fine for a couple of days.
You can freeze the glazed and un-glazed pork along with the glaze and sauce for a later date.
If glazing the pork at a later time, ensure that the pork is brought up to room temperature before stating the glaze process.
Leftover Korean Belly Pork
I make leftovers on purpose. If I am going to the trouble of making recipe that takes this long (even if it is stupid easy with minimal hands on time), then I'm going to make the most of it.
Also this is the kind of meal that you make, eat and want more. I have learnt to embrace the inevitable!
My absolute go to recipe to use my my non-accidental leftovers is to make my Korean Ramen with Belly Pork . I've even made this pork belly recipe with the sole intention of using it in my "ramen". I cannot recommend it more.

Any other leftovers can be kept in the fridge for 3 to 4 days or frozen. I like to freeze slices flat in individual portions for easy future ramen making!
Korean Belly Pork Tips
It is up to you whether you choose to remove the pork skin or not. But either way, I would always boil the pork with the skin on as it makes the broth extra tasty and is easier to remove before glazing.
Unusually I've written this post up before remaking the recipe and taking new photos. Now I'm drooling and cannot wait to make it! I love pork belly!
Edited: Look photos! This means I've made a batch. It was so worth it!
Don't forget to let me know in the comments if you try making this recipe – I want to know what you think and if you made any substitutions, how did it turn out?
Still Have Questions?
Simple! Just contact me and I will do my best to help as quickly as I am able. Head over to my Contact Me page, any of my social media channels or post a comment at the bottom of this page and I'll see what I can do.
Pin Korean Belly Pork For Later
Hit one of the share buttons to save this page to your Pinterest boards so you can come back and find it at anytime!
Keep Up to Date
Make sure you SUBSCRIBE to my newsletter and avoid missing out on any of my newest and bonus content. Don't worry, I promise not to spam you or bombard you too often. Plus you'll receive a copy of my FREE 7 Day International Meal Plan!

Also please don't forget to follow me over on my social media channels over at Facebook, Twitter, Instagram and Pinterest. I love to interact with my followers and I'd love you to share my content with your friends too.
More Pork Recipes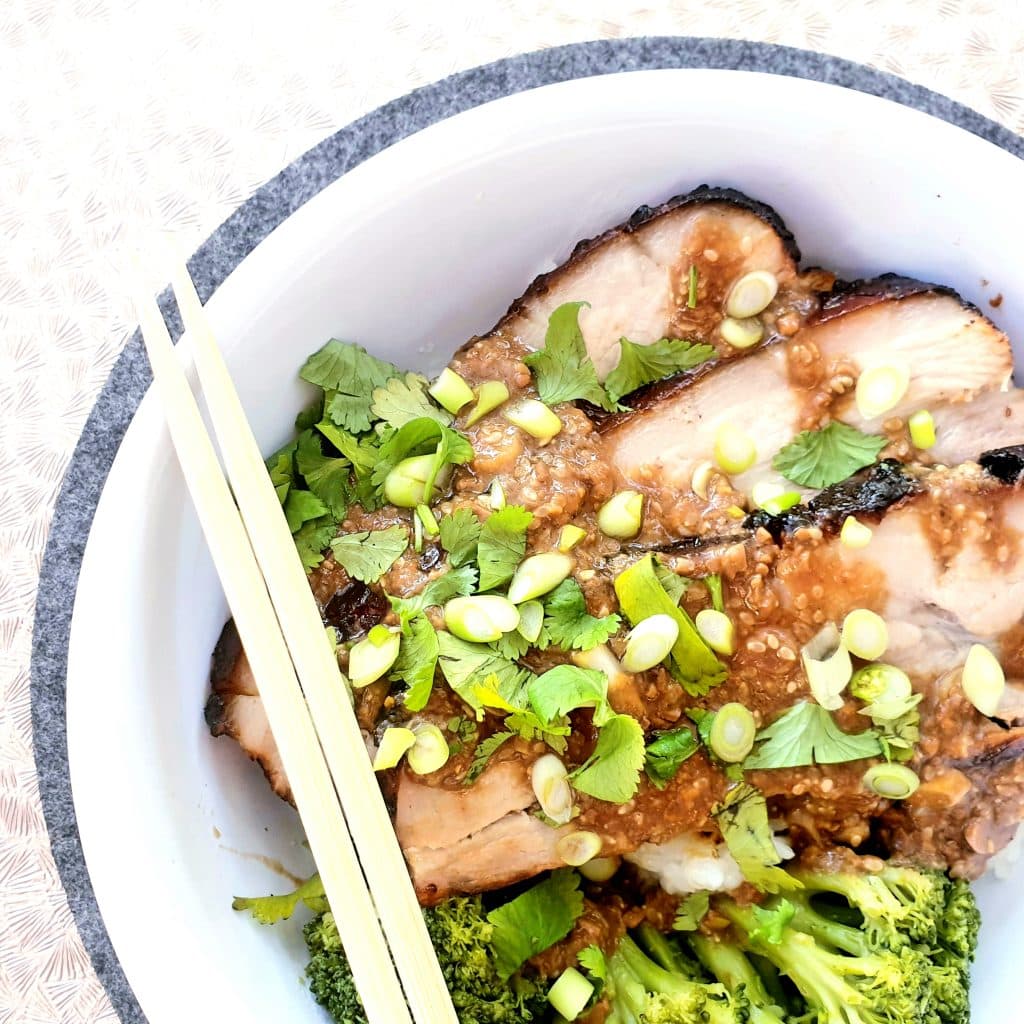 ---
More Garlic Recipes
For more great recipes featuring garlic, check out my post featuring the Best Garlic Recipes from top food bloggers and this site.

You'll find everything from soups, breads, dips, salads, pastas, seafood dishes, vegetable sides and meaty meals.
---
The Recipe
Korean Belly Pork
---
My Korean Belly Pork is one of my most popular recipes and one of my absolute favourites. The perfectly glazed and soft Pork Belly is not too spicy but has a little warmth, sweetness and bags of umami. I know that this Korean Bossam Pork dish will be your instant favourite too.
Ingredients
2

tbsp

Garlic Paste

2

tbsp

Ginger Paste

2

tbsp

Doengjang Paste

4

Spring Onions (Scallions)

1.5

kg

Boneless Pork Belly

-

Slab
For the Glaze:
2

tbsp

Doengjang Paste

2

tbsp

Runny Honey

1

tbsp

Garlic Paste

1

tbsp

Ginger Paste

1

tbsp

Gochujang Paste
For the Bossam Sauce:
2

tbsp

Doengjang Paste

1

tbsp

Toasted Sesame Seeds

1

tsp

Garlic Paste

1

tsp

Ginger Paste

1

tsp

Vegetable Oil

8

tbsp

of the Cooking Liquid
Instructions
Pop a full kettle on to boil.

Meanwhile, mix

2 tbsp Garlic Paste

,

2 tbsp Ginger Paste

and

2 tbsp Doengjang Paste

together in the bottom of a large stock pot. Add the kettle of hot water and stir to dissolve the pastes. You may wish to boil another full kettle now.

Slice the tails off

4 Spring Onions

and reserve the white and light green part. Roughly chop the remaining onions including the dark green parts. Add to the stock pot.

Trim

1.5kg Boneless Pork Belly

and remove any bones or silver skin still attached.

Leave the skin on or remove it as you prefer.

Add the pork slab into the stockpot and top up with more boiling water to cover the pork if needed. Put on a lid but leave a little gap.

Put the pot onto a medium-low heat to gently boil for an hour and a half. Keep an eye on the water level and top up as needed.

Prepare the glaze and sauce whilst the pork cooks.

For the glaze, add

2 tbsp Doengjang Paste

,

2 tbsp Runny Honey

,

1 tbsp Garlic Paste

,

1 tbsp Ginger Paste

and

1 tbsp Gochujang Paste

to a small bowl.

Mix together thoroughly and set aside.

For the sauce, mix together 2 tbsp Doengjang Paste,

1 tbsp Sesame Seeds

,

1 tsp Garlic Paste

, 1

tsp Ginger Paste

,

1 tsp Vegetable Oil

in a small saucepan. The cooking liquid can be added later.

Finely chop the reserved spring onion and add half to the sauce pan. Reserve the remaining spring onion to use as a garnish.

While the pork continues to cook, you can prepare a roasting tray by lining it with foil and then a layer of baking parchment.

Once the pork has poached and is soft all the way through, remove it from the stockpot and leave it to cool a little on some kitchen paper. Blot the top with additional kitchen paper to ensure it is dry all over.

Add

8 tbsp of the cooking liquid

to the sauce ingredients in the saucepan. Discard or save the cooking liquor for making a soup. I often reduce the broth before storing so the quantity is less.

Turn the oven on to circa 190c or equivalent.

Move the pork to the lined roasting tray.

Take the glaze and spread it all over the pork including the sides and bottom. Put it into the oven for

30 minutes

.

When the pork has roasted for the full 30 minutes, take it out of the oven, loosely cover with foil and leave to rest for at least

15 minutes

.

Put the sauce onto a low heat to warm through.

Slice and serve the pork with the warmed sauce.
Nutrition (Approx)
Calories:
2075
kcal
|
Carbohydrates:
24
g
|
Protein:
39
g
|
Fat:
201
g
|
Saturated Fat:
73
g
|
Cholesterol:
270
mg
|
Sodium:
706
mg
|
Potassium:
798
mg
|
Fiber:
2
g
|
Sugar:
14
g
|
Vitamin A:
157
IU
|
Vitamin C:
9
mg
|
Calcium:
70
mg
|
Iron:
3
mg
Download my FREE 7 day international meal plan!
Simply subscribe to the Feast Glorious Feast newsletter and I'll send you the link.