This Chinese Steamed Cake is my version of a classic dim sum dish. There are no unusual ingredients or techniques (except the steaming bit!), just great flavour and a lovely and moist muscovado perfumed cake.
This post may contain affiliate links. Please refer to my Disclosures Page for more details.
This is one of those recipes thats always intrigued me. I love a good mix of sweet and savoury. Whether thats pancakes with salty bacon and maple syrup or sweet chilli chicken thighs. But a mix of steamed cake and various dim sum sounds totally bonkers.
Because whilst I would realistically serve this muscovado flavoured steam cake as a dessert, it is traditionally served alongside other items like Har Gow and Siu Mai as part of a dim sum feast. Custard buns are another common sweet item on the dim sum selection.
The flavour might be different to the savoury dumplings but the cooking method is the same. Steamed cakes aren't really that unusual. We have a tradition of steamed sponge and suet puddings in the UK.
The ingredients contain no surprises either with only sugar, flour, eggs, butter, milk, vanilla and raising agents involved. The more unusual aspect is that the batter is left to sit and ferment for at least 2 hours. This alters the texture of the cake and makes for some pretty cool looking cake slices.
I created this recipe after looking at tens of different recipes online. I'm not going to cite or reference any specifically as the mixing methods and ingredients vary so wildly, my recipe is a unique combination of the best and simplest of what I saw.
Some recipes left the batter to sit for 24 hours. Some contained yeast. And interestingly, some were made with a starter culture which takes a few days and far too much effort to make. One for another day perhaps.
How to Serve Chinese Steamed Cake
As I've mentioned, it is traditional to serve this chinese steamed cake in tandem with the savoury elements of a dim sum meal. But I do prefer to save it for dessert or even just a teatime snack.
I made a round cake in my bamboo steamer which can be cut into wedges like a classic cake or sliced like a load of bread. Technically it would be served plain but I like to mix it up and I served a slice with some of my Mango Coconut Ice Cream and a little squirty cream. Boy do I love squirty cream.
I think this cake is best served warm. Not hot, just warm. The flavours and textures are more pronounced that way. A warm slice of cake always feels more desserty in any event.
Make Chinese Steamed Cake into a Feast
I truly believe that you can make any dish into a proper feast! Whether thats a feast for one after work on a Tuesday, a casual feast for four on a Friday evening or a feast for 12 for a special occasion!
I've included this recipe in my Big Asian Feast and Vegetarian Asian Feasts.
My Big Feast starts with Edamame nibbles and a selection of dumplings including Har Gow, Siu Mai and Tofu Crystal Dumplings along with Miso Soup.
There follows a selection of fabulous dishes to share including Korean Belly Pork, Teriyaki Tofu, Sesame Tenderstem and Sweet Chilli Salmon. It's all served with Sticky Rice.
My Vegetarian menu collection is a festival of tofu! It includes steamed Tofu Crystal Dumplings and Tofu Siu Mai served with a Dipping Sauce. Then there are my Vietnamese Tofu Summer Rolls and and Miso Soup with Tofu plus Satay Sauce for dipping. If that isn't enough there is Sticky Rice, Tenderstem Broccoli and Edamame Beans too!
Don't forget to head over to the Big Asian Feast post for all of my tips and tricks to help you host a fun and stress-free feast. Plus remember to check out my other feast collections and all my Asian inspired recipes.
Ingredients for Ma Lai Gao
Muscovado Sugar
Muscovado sugar provides the primary flavour of this cake. I use dark brown sugar and muscovado sugar interchangeably as there is barely any difference in flavour.
The taste is quite strong so if you'd like a lighter, more mild flavoured cake, you can substitute light brown or light muscovado sugar instead. Using white sugar would still make a nice cake but you would want to consider ramping up the vanilla or adding another flavour lest it be too bland.
Muscovado also features as a primary flavour in my unctuous Chocolate Muscovado Cake.
Baking Powder & Bicarbonate of Soda
These are not the same product! Baking powder does contain bicarb but in addition to cream of tartar (which you use on its own to make meringues). The two products do slightly different things to the rise and texture of the cake so please do use both and don't just double up on one.
---
To find out about more of my favourite Asian Ingredients, check out my guide to the Top 16 Asian Ingredients which I always keep stocked in my pantry.

I've also suggested a whole bunch of recipes to try once your cupboard is fully stocked!
---
Be Flexible
I've talked about substituting the sugar to make a lighter flavoured cake. This I have tried and it works superbly.
I haven't done any experimenting yet but I can't see why other flavours like chocolate or lemon wouldn't work too.
It will largely depend on your steamer set up for what size and shape you make your cake. I've detailed the options depending on your available equipment below.
Make it Vegetarian or Vegan
This recipe is suitable for vegetarians without any substitutions.

The steamed cake can be made suitable for vegans by substituting the eggs with an egg replacer like vegan easy egg and the milk with a plant-based milk.
What I don't know, and what I haven't tested is how well the egg replacers will whip up. It is certainly worth an experiment to find out! Chickpea water or aquafaba would be another option to try.
Make it Allergy Friendly
This Brown Sugar Steam Cake recipe is free from nuts.
Gluten Free: Replace the plain flour with a gluten free flour and ensure that the baking powder is suitable for gluten free.
Dairy Free: Replace the milk with a plant-based milk.
Egg Free: Refer to my notes to make the recipe vegan above.
Please note that this recipe may contain other allergens not referred to above and any variations suggested have not been tested unless otherwise stated. For more information regarding any dietary information provided on this website, please refer to my Nutritional Disclaimer.
Equipment Notes for Chinese Steamed Cake
You really want to employ some electrical assistance for whipping the eggs and sugar. It will take around 7 to 8 minutes with a stand mixer or electric hand mixer. So whilst using a whisk and elbow grease is in theory possible, it would be heck of a feat.
The steaming set up is the biggest thing to consider. Ideally you want to have an 8 inch bamboo steamer with a lid. This is what the cake will cook in. I line my steamer basket with a round paper liner.
You then have 2 options. You can put the whole tin/basket within another steamer. Or, you can just bung the steamer basket on top of a pan of boiling water. I've tried it both ways and there was no difference in outcome.
For the first method, you need something large enough for that steamer basket with its lid fully sits in to steam. The traditional way would be to sit it in a larger bamboo steamer. But I know that most people don't own multiple size steamers. I do, but my large ones are in storage!
So I used a large stockpot to create a steaming chamber. I used my second empty steamer basket to raise the cake filled basket off the floor of the pot and allow room for the boiling water.
But I didn't want my basket to burn so I balanced that on a small enamel bowl which was upturned. The steam still had room to move freely underneath the baskets. Bingo!
The other alternative is to steam the cake in a deep cake tin. The tin will need to be lined in the same way as the steamer basket and loosely covered with foil and/or greaseproof paper. The tin can then be placed in a steamer as normal.
Lastly, you could use an electric steamer if the tin/steamer basket will fit.
---
To see more of my recommended equipment items for new bakers, have a look at my post featuring all the essential equipment you might need.

It is also perfect inspiration for gifts for a budding baker in your life!
---
A comprehensive list of the equipment used to make this recipe is included in the main recipe card below. Click on any item to see an example. There are no hard and fast rules so many items can be sensibly substituted to achieve the same results.
Get Ahead
You need to get ahead by at least 2 hours as the batter needs to sit and rest. It can rest for up to 24 hours. I would put it in the fridge covered for anything longer than 2.
But the finished cake also stores incredibly well so you can make the cake at least a couple of days before serving. Actually I think that just like with many bicarb raised cakes like my Mini Sticky Toffee Cakes, the flavours actually improve on keeping.
To get even further ahead, the cake will freeze fully cooked. Once defrosted it can be rewarmed in a steamer or microwave.
Leftover Chinese Steamed Cake
Leftovers can be stored in an airtight container for a few days or even frozen in slices. You could consider using any leftovers as base for a trifle or even as a tasty addition to a Russian Slice.
Chinese Steamed Cake Tips
Do be patient when whisking the sugar and eggs. You want the mixture to whip until it is super light and fluffy.
You could steam the cake without leaving the batter to rest although the texture will be a little altered.
Try not to keep opening the steamer lid as you will prolong the cooking process.
But. You do need to keep an eye on the water level and top it up if it starts running low. You equally need to make sure that the water does not go above the line of the cake tin or basket. We want to steam it – not boil it!
Don't forget to let me know in the comments if you try making this recipe – I want to know what you think and if you made any substitutions, how did it turn out?
Still Have Questions?
Simple! Just contact me and I will do my best to help as quickly as I am able. Head over to my Contact Me page, any of my social media channels or post a comment at the bottom of this page and I'll see what I can do.
Pin Chinese Steamed Cake (Ma Lai Gao) For Later
Hit one of the share buttons to save this page to your Pinterest boards so you can come back and find it at anytime!
Keep Up to Date
Make sure you SUBSCRIBE to my newsletter and avoid missing out on any of my newest and bonus content. Don't worry, I promise not to spam you or bombard you too often. Plus you'll receive a copy of my FREE 7 Day International Meal Plan!

Also please don't forget to follow me over on my social media channels over at Facebook, Twitter, Instagram and Pinterest. I love to interact with my followers and I'd love you to share my content with your friends too.
More Simple Sweet Bakes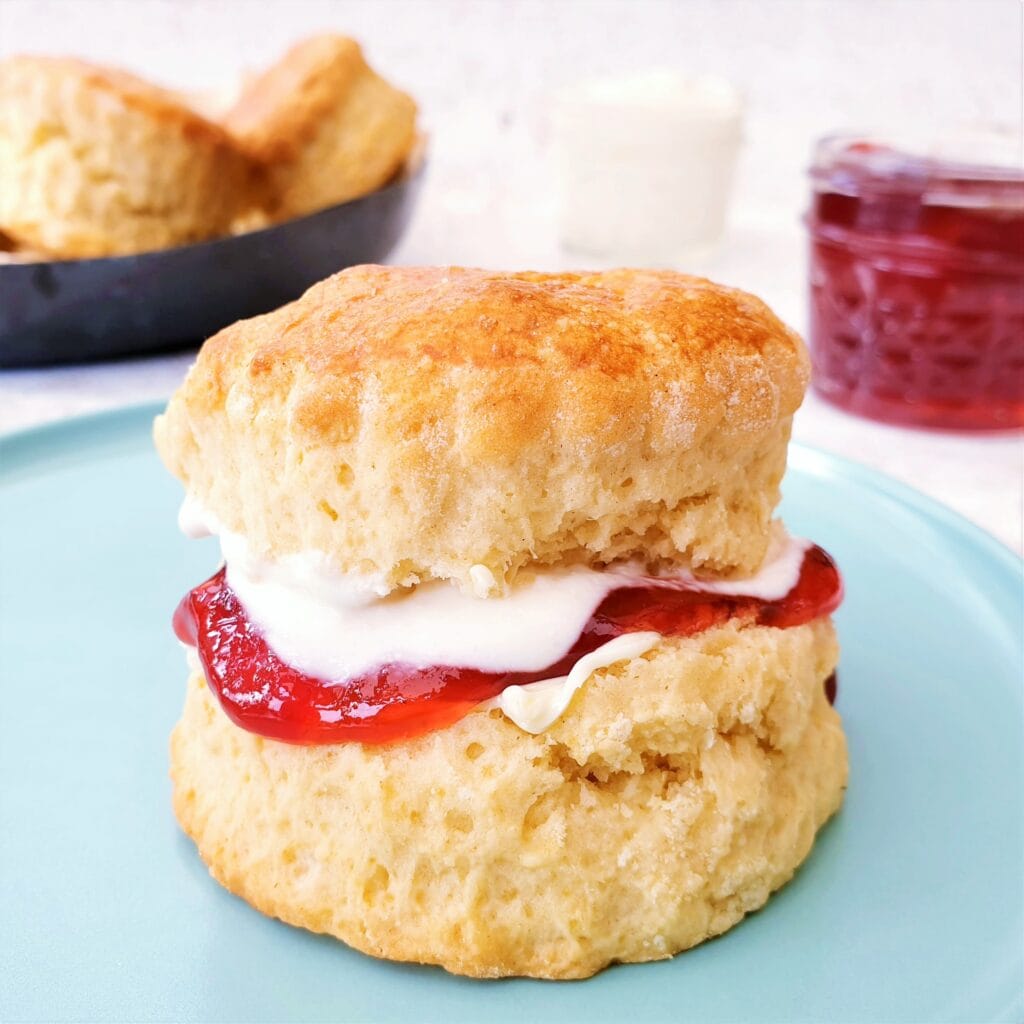 The Recipe
Chinese Steamed Cake (Ma Lai Gao)
---
This Chinese Steamed Cake is my version of a classic dim sum dish. There are no unusual ingredients or techniques (except the steaming bit!), just great flavour and a lovely and moist muscovado perfumed cake.
Ingredients
80

g

Salted Butter

4

Egg

130

g

Light Brown Sugar

100

ml

Milk

0.5

tsp

Vanilla Extract

100

g

Plain Flour (All Purpose)

30

g

Custard Powder

1

tsp

Baking Powder

1

tsp

Bicarbonate of Soda (Baking Soda)
Instructions
Melt

80g Salted Butter

in a small bowl in the microwave. Otherwise use a small pan on the hob. Transfer the melted butter to a mixing bowl. Set aside.

Add

4 Eggs

and

130g Muscovado Sugar

to a mixing bowl or stand mixer bowl.

Whisk for

7 to 8 minutes

until the eggs have tripled in volume and the mix is light and fluffy.

Add the melted butter,

100ml Milk

and

0.5 tsp Vanilla Extract

to the egg mix and whisk for a further minute.

Sieve

100g Plain Flour

,

30g Custard Powder

,

1 tsp Baking Powder

and

1 tsp Bicarbonate of Soda

straight into the batter.

Mix the dry ingredients in until just combined. Use a spatula or the mixer on very low.

Cover the batter and leave to sit for 2 hours. (You can leave it for up to 24 hours.

Prepare your steamer set up. Line your tin or steamer basket and bring the water to a gentle boil.

Give the batter a quick stir to combine any bubbles on the surface.

Pour the batter into the lined basket or tin.

Put the basket or tin into the steamer and leave for

30 minutes

. Keep an eye on the water level and top up as needed.

Check that the cake is cooked all the way though by poking a skewer into the centre. You want the whole of the batter to be cooked – no gooey middle here.

Leave to cool on a rack until it has cooled enough to handle. Serve the cake warm.
Notes
Important! If you have adjusted the serving size of this recipe, the cooking time will vary. A larger cake will take longer to cook and a smaller one will take less. If increasing the recipe you might want to consider making multiple smaller cakes rather than one larger one.
Nutrition (Approx)
Calories:
231
kcal
|
Carbohydrates:
30
g
|
Protein:
5
g
|
Fat:
11
g
|
Saturated Fat:
6
g
|
Cholesterol:
113
mg
|
Sodium:
281
mg
|
Potassium:
168
mg
|
Fiber:
1
g
|
Sugar:
17
g
|
Vitamin A:
402
IU
|
Calcium:
81
mg
|
Iron:
1
mg
Download my FREE 7 day international meal plan!
Simply subscribe to the Feast Glorious Feast newsletter and I'll send you the link.