My Chorizo & Butternut Risotto is a creamy and easy twist on an Italian classic. It is packed full of veg with added zing from the smoky fresh chorizo. Great for a weeknight dinner or something a little more special, give it a try!
This post may contain affiliate links. Please refer to my Disclosures Page for more details.
I created this particular variety of risotto when I started to make a chicken risotto but found that I didn't have any chicken that I could use.
Instead of abandoning ship, I had a quick browse around my veg drawer and freezer. I found a butternut squash and 3 fresh chorizos. Bingo! A match made in heaven!
If you don't have an ingredient, do what I did and see what else you have. As long as the flavours are complementary, go for it. The simple rice, onion and stock base is a perfect carrier of other flavours.
How to Serve Chorizo & Butternut Risotto
Risotto is generally served quite simply and without a plethora of sides. Its is an all in one dish with protein, carbs and veg right there in the mix.
The most fun then comes from any toppings. In this case, I continue to keep it simple with just a sprinkling of fresh parsley, a little grated Parmesan and a drizzle of the oil which came out of the chorizo when it is cooked.
I eat 80% of my meals from pasta bowls. Risotto ideally shouldn't have the consistency of a soup but should not fully retain its shape. A large shallow bowl is therefore ideal to pile it up in the middle and let it gently spread.
Make Chorizo & Butternut Risotto into a Feast
I truly believe that you can make any dish into a proper feast! Whether thats a feast for one after work on a Tuesday, a casual feast for four on a Friday evening or a feast for 12 for a special occasion!
Halve or even cut the portion size by a third and this risotto is perfect for a starter course. Follow it with my Paprika Roast Chicken, Maple Roast Tomatoes and Sweet Potatoes for a Feast with a Spanish vibe. Round off the meal with a slice of my Chocolate Muscovado Cake with a dollop of creme fraiche.
Don't forget to head over to my Feast Collection pages to find all of my tips and tricks to help you host a fun and stress-free feast. Plus remember to check out my recipe index to create your own awesome Feast!
Ingredients for Chorizo & Butternut Risotto
Rice
I do generally buy and use a risotto specific rice such as Arborio or Carnaroli. The short grains are starchy and provide the creamy texture of a traditional risotto.
If you only have long grain or pudding rice in the cupboard then use that. The texture will be different and it may not be a 'truly authentic' risotto but as with many thanks, I'll always recommend ease over authenticity.
Chorizo
I have specifically prescribed the use of fresh chorizo in this recipe. This is more like a regular sausage than the dried salami kind which is more common. Fresh chorizo is essentially a very garlicy and paprika filled pork sausage.
You can substitute dried chorizo for the fresh. I would try to use the full sausage kind rather than the slices so you can keep the pieces a little chunky.
Either way, chorizo, like paprika often comes in varying levels of spicyness. Look for "picante" if you like it spicy!
Sherry
I love to pair sherry with chorizo. The flavours meld so well but you can easily substitute in white wine. There are various other spirits that would also provide a great and similar flavour. White port, marsala or madeira would be my top alternatives.
Shaoxing Rice Wine or Sake would also provide a similar flavour, however ridiculous it sounds! For non-drinkers, I would use an alcohol free white wine alternative such as Shloer.
Butternut Squash
The butternut squash not only melds into the creaminess of the rice but also provides added texture to the risotto. For a similar flavour, you could substitute sweet potato.
I steam the butternut squash. This is so that it is soft but not water logged as it might be when boiled. It also doesn't form a skin like when its roasted. I use my microwave steamer plate but you could use the more traditional hob/pan steamer or even a bamboo steamer.
I always peel butternut squash as I just don't like eating the skin. I would usually tell you to leave it on if you like it. But in this instance, the skin would provide an odd texture and I would not recommend it.
Stock
I have assumed that you do not have any fresh stock to use and therefore directed you to you a concentrate. If you have fresh stock (go you!), just leave out the concentrate and use it instead of the water.
You may wish to warm it on the hob or in the microwave first. You can add it cold but the risotto will just take longer to cook.
---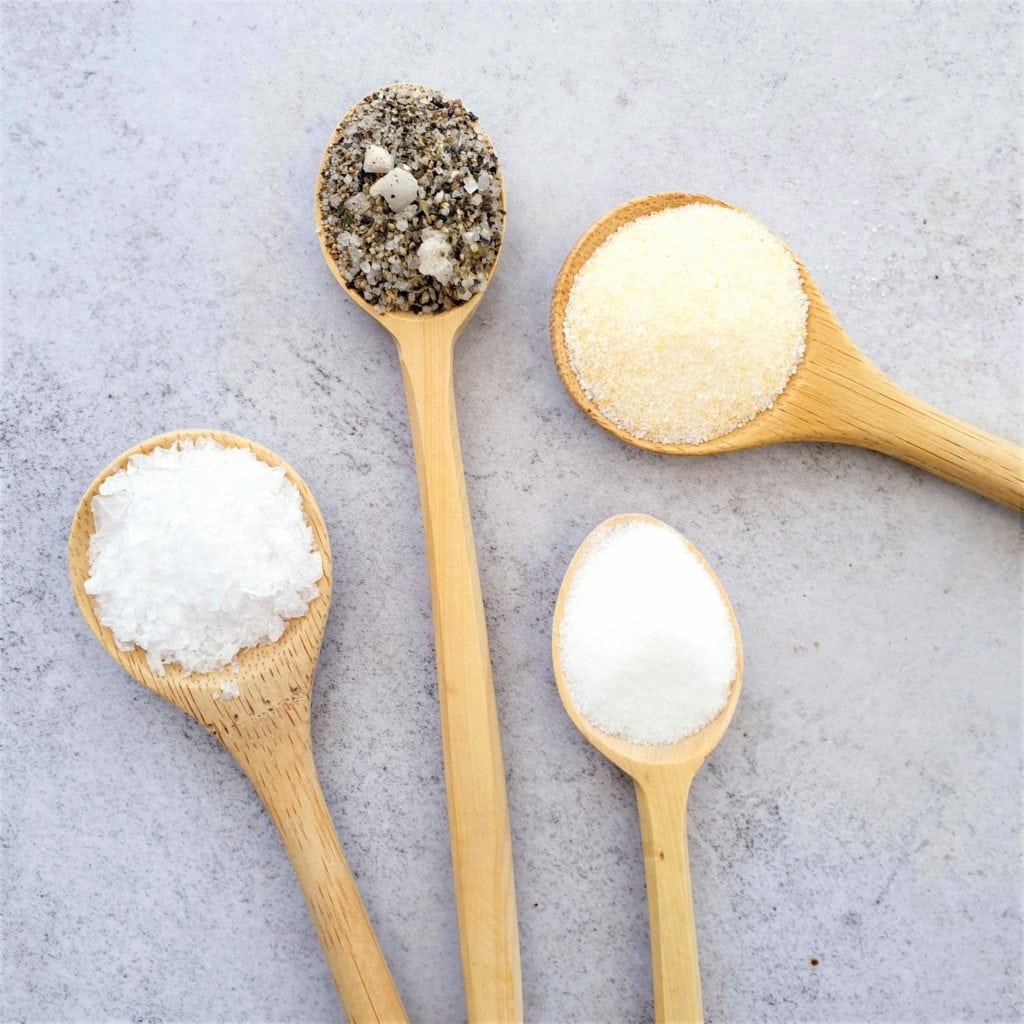 For the lowdown on using salt to properly season and enhance the flavour of your food, check out my Ultimate Guide on How to Use Salt.

There is guidance about which salt to use when, salt alternatives, using salt when baking and even what to do if you add too much salt!
---
Herbs
Fresh thyme is one of my favourite herbs but fresh oregano would also work magically in this recipe. You could also use dried herbs in this case as they will have plenty of time to cook. Rosemary would be another option if you prefer.
Be Flexible
Risottos are great way of using up leftovers. Try adding cooked roast chicken or turkey once the rice has cooked and ensure that it is fully heated through before serving.
You can add or omit any of the vegetables depending on what you have in the veg drawer. Do try to start with the onion however as this provides a good base flavour to the dish.
I do sometimes like to add extra toppings to change up the texture a little. My current obsession is to add sliced Garlic Mushrooms!
Make it Vegetarian
Simply leave out the chorizo element, replace the chicken stock with veg stock and add in more mushrooms and any other veg you fancy to make this recipe vegetarian.
Do obviously also make sure that your cheese garnish is vegetarian friendly. Proper Parmesan is not but most of the supermarket stuff labelled "hard Italian cheese" is.
Make it Vegan
It is incredibly easy to make a vegan friendly risotto but there are quite few substitutions needed to make this particular risotto vegan. It can however be done!
Swap the butter for veg oil.
Use a vegan substitute instead of the chorizo or leave it out entirely.
Use veg stock instead of chicken stock.
Use a dairy free cream substitute.
Top with a vegan hard cheese.
Make it Allergy Friendly
This recipe is nut, egg and gluten free with the following caveat:
Gluten Free: This recipe is suitable for a gluten free diet but please do double check the ingredients of the chorizo and chicken stock that you use. Some do contain gluten.
Dairy Free: Please check out the substitutions recommended above for a vegan diet. (The chorizo is fine to keep!)
Please note that this recipe may contain other allergens not referred to above and any variations suggested have not been tested unless otherwise stated. For more information regarding any dietary information provided on this website, please refer to my Nutritional Disclaimer.
Equipment Notes for Chorizo & Butternut Risotto
If you don't have a kettle, I will assume that you are American! Go buy a kettle! If for some reason you are really and truly against fast boiling water, you can heat the water on the hob in a large saucepan. Obviously you will need to allow more time.
I use a speed peeler to take the skin off the butternut squash. I find this easiest if the butternut is first cut into horizontal slices.
I use this microwave steamer plate to steam the butternut squash in the microwave. I use it for all manner of veggies actually. If you don't have a steamer plate, you can achieve the same effect by using a mixing bowl and covering the bowl in clingfilm.
If you don't have a microwave, you could use an electric steamer, bamboo steamer or regular saucepan steamer. For a full rookie set-up, a sieve or colander over a saucepan with a lid will work too. So many options.
A microplane is the best way to grate Parmesan. They're super sturdy graters and result in a lovely soft and light grating of cheese. A regular box grater would be a fine alternative as would grating curls with a speed peeler.
A comprehensive list of the equipment used to make this recipe is included in the main recipe card below. Click on any item to see an example. There are no hard and fast rules so many items can be sensibly substituted to achieve the same results.
Get Ahead
To get ahead, you can take a few approaches.
The first is to prep everything in advance. You can skin, chop and cook the chorizo, cook the onions, cook the mushrooms. Then just warm the onions, and carry on as per the recipe.
The second is to do all of the above but also add the rice and cook it to the point that the chorizo and mushrooms are added. You can then continue the recipe when you wish to serve it.
Lastly you can make the whole risotto and then reheat when you want to serve it. Don't add the garnishes until dishing it up though! You could also do this and freeze it.
Leftover Chorizo & Butternut Risotto
I often purposefully cook more risotto than I need. It reheats really quite well in either a microwave or a pan on the hob. Sometimes I add a little extra water if it reheats a bit dry. I usually bag up portions and freeze them flat. I then take them to the office to reheat for lunch.
The other great way to use leftover risotto is to make arancini. Make the recipe on the stiffer side. Leave it to set overnight in the fridge. Roll it into balls and then use the coating from my Scotch Egg recipe. Fry just like the scotch eggs. Its also great to stuff the risotto balls with cheese like mozzarella.
Another option would be to bake the Arancini like in this recipe from Foodie Quine.
Chorizo & Butternut Risotto Tips
Make sure to add the sherry to the onions before adding the rice. Risotto instructions commonly get this wrong and the uncooked taste of the wine can be absorbed by the rice rather than cooked out. Add the garlic at the same time as the sherry to prevent it from burning.
It is important to keep stirring the risotto. The stirring action helps to release the starch from the rice grains which results in a creamy risotto. It also stops the rice sticking to the pan and acts as a reminder to add the next batch of water when you feel the mix becoming too dry.
Saying this, whilst it is important to stir almost continuously for the first 5 minutes or so, after that it is possible to take short breaks to deal with other aspects of the recipe. I wouldn't advise walking away from it entirely though. If you need to pee, answer the phone, etc, just turn the heat off for a couple of minutes while you're away.
You can tell when the rice is cooked by tasting it. You may need more water than stated or a bit less. As with flour, the absorption rate of the rice can vary with many factors. Trust your gut.
Don't forget to let me know in the comments if you try making this recipe – I want to know what you think and if you made any substitutions, how did it turn out?
Still Have Questions?
Simple! Just contact me and I will do my best to help as quickly as I am able. Head over to my Contact Me page, any of my social media channels or post a comment at the bottom of this page and I'll see what I can do.
Pin Chorizo & Butternut Risotto For Later
Hit one of the share buttons to save this page to your Pinterest boards so you can come back and find it at anytime!
Keep Up to Date
Make sure you SUBSCRIBE to my newsletter and avoid missing out on any of my newest and bonus content. Don't worry, I promise not to spam you or bombard you too often. Plus you'll receive a copy of my FREE 7 Day International Meal Plan!

Also please don't forget to follow me over on my social media channels over at Facebook, Twitter, Instagram and Pinterest. I love to interact with my followers and I'd love you to share my content with your friends too.
More Pork Recipes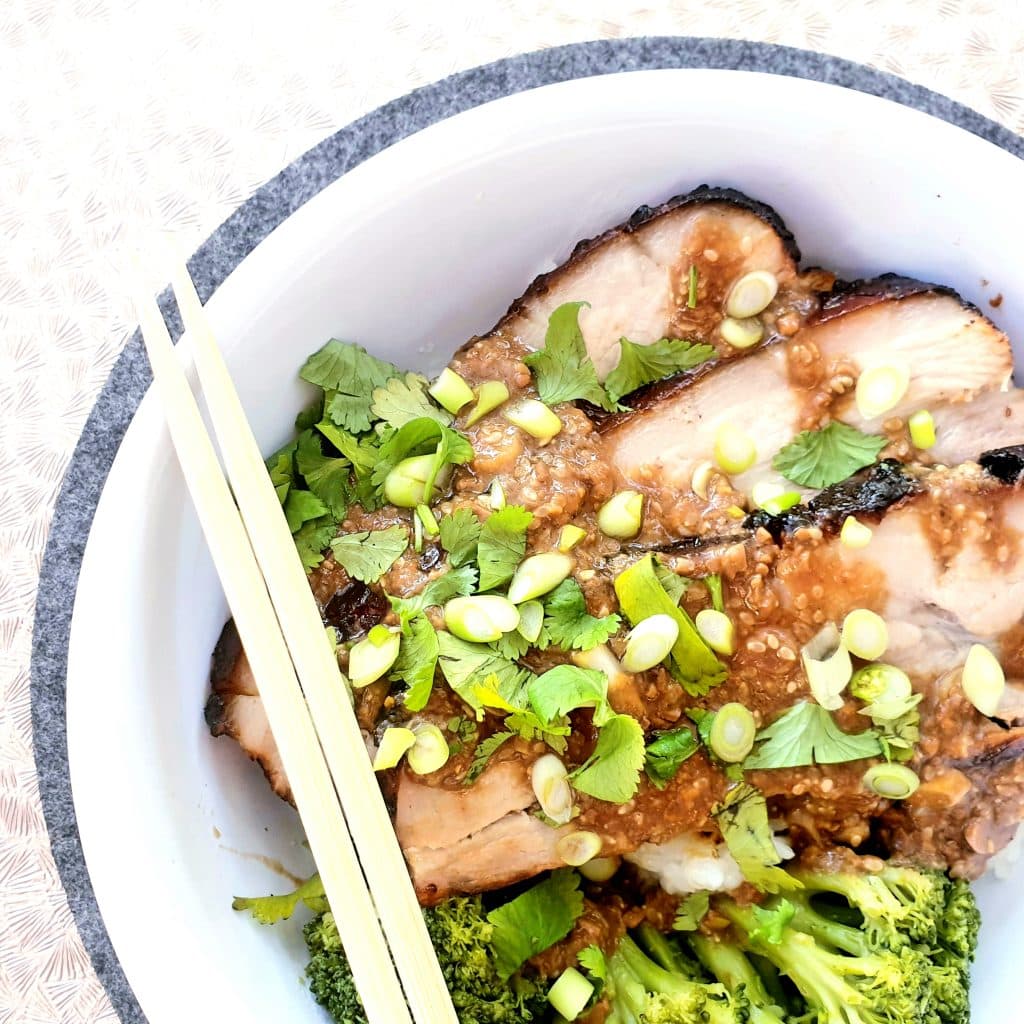 The Recipe
Chorizo & Butternut Risotto Recipe
---
My Chorizo & Butternut Risotto is a creamy and easy twist on an Italian classic. It is packed full of veg with added zing from the smoky fresh chorizo. Great for a weeknight dinner or something a little more special, give it a try!
Ingredients
200

g

Onion

60

g

Salted Butter

2

tsp

Sea Salt Flakes

400

g

Butternut Squash

1

tbsp

Garlic Paste

4

tbsp

Sherry

100

g

Risotto Rice

2

tbsp

Chicken Stock Concentrate

1

tbsp

Fresh Thyme Leaves

250

g

Mushrooms

175

g

Fresh Chorizo

100

ml

Crème Fraiche

5

g

Fresh Parsley

30

g

Parmesan
Instructions
Pop a full kettle on to boil.

Dice

200g Onions

and start gently frying them in

40g Salted Butter

over a medium heat in a large saucepan with

1 tsp Sea Salt Flakes

.

Continue cooking until the onions are soft and translucent – a good 10 minutes.

Meanwhile, peel and chop

400g Butternut Squash

into inch cubes. Set the quash to steam. This takes circa 12 minutes in the microwave or a little longer on the hob.

Add

1 tbsp Garlic Paste

and

2 tbsp Sherry

to the onions and keep stirring until the sherry has all but disappeared.

Add

100g Risotto Rice

to the onions and stir to coat the rice grains in the fat and sherry residue.

Measure

1 litre Hot Water

from your boiled kettle and add about 1/8 (

125ml

) to the rice. Keep stirring until the rice has mostly absorbed the liquid.

Add

2 tbsp Chicken Stock Concentrate

and

1 tbsp Fresh Thyme Leaves

to the pan along with another 1/8 of the water.

Continue to stir while the rice absorbs the liquid.

Continue to add the water a little at a time whilst you start to cook the other ingredients and set the cooked butternut squash aside.

Quarter

250g Mushrooms

and add to a large frying pan with

20g Salted Butter

and

1 tsp Sea Salt Flakes.

Fry over a high heat until the mushrooms are golden brown, soft all the way through and any moisture released has evaporated. Put the mushrooms aside.

Keep an eye on the rice.

Skin

175g Fresh Chorizo

, quarter them lengthways and then cut into small chunks.

Fry the chorizo over a medium heat until crispy. Remove the chorizo pieces from the pan leaving the oil set aside.

Once the rice has absorbed all of the water and is just cooked all the way through, add the steamed butternut squash cubes. Stir through whist squashing the majority of the cubes so they become part of the sauce. Some cubes can be more lightly crushed to provide a chunkier texture.

Add the cooked mushrooms, chorizo cubes,

100ml Crème Fraiche

and remaining

2 tbsp Sherry

. Stir until fully combined.

Serve in shallow bowls with

5g Fresh Parsley

scattered over the top. Also grate

30g Parmesan

on top and drizzle some of the oil from the chorizo pan.
Nutrition (Approx)
Calories:
902
kcal
|
Carbohydrates:
83
g
|
Protein:
26
g
|
Fat:
51
g
|
Saturated Fat:
31
g
|
Cholesterol:
163
mg
|
Sodium:
5324
mg
|
Potassium:
1429
mg
|
Fiber:
9
g
|
Sugar:
14
g
|
Vitamin A:
23256
IU
|
Vitamin C:
80
mg
|
Calcium:
414
mg
|
Iron:
6
mg
Download my FREE 7 day international meal plan!
Simply subscribe to the Feast Glorious Feast newsletter and I'll send you the link.