Chewy Ginger Cookies are best when chewy and crispy in all the right places, just like these. They should maybe be called Ginger Biscuits but whatever your opinion, this is an easy one bowl recipe with no messy dough to scrape off the counter. Fair warning – you'll double the recipe next time!
This post may contain affiliate links. Please refer to my Disclosures Page for more details.
I've been making these Ginger Biscuits my entire life. My godmother Sheila used to make them and she kindly shared the recipe with my many moons ago. Actually, she has shared the recipe with me numerous more times since because I'm a idiot and consistently lose it!
I am excited to memorialise it here – having a blog as a reference for my own recipes is really very handy!
I should point out that whilst I've called them Chewy Ginger Cookies, they are neither totally chewy, totally crispy or wholly akin to gingernuts. They lie somewhere delightfully in the middle. They're a bit crispy and a bit chewy but still dunk-able.
They my favourite tea dunking biscuits but they have little staying power – in and out people. In and out. You have been warned.
How to Make Chewy Ginger Cookies – Step By Step Video
I used these Ginger Cookies as the basis of my second place winning entry into the Great East Dulwich Bake Off – many moons ago!
They were made into sandwich cookies with layers of soft gingerbread and lemon mascarpone cream in the middle. I also drizzled them with a basic icing of lemon juice and icing sugar. Basically you can dress these bad boys up as much as or little as you want!
For more ginger based recipes, check out my 8 Things to Do with Ginger collection of sweet and savoury recipes. And for my newer autumn version, take a look at my Chewy Gingerbread Cookies recipe.
Make Chewy Ginger Cookies into a Feast
I truly believe that you can make any dish into a proper feast! Whether thats a feast for one after work on a Tuesday, a casual feast for four on a Friday evening or a feast for 12 for a special occasion!
Lets be honest. A couple of these cookies and and a cup of tea is a mini feast in itself! Especially when you consider that there is almost no way I'd be able to stick with "a couple"! I do mix my saucer up with some of my Chewy Chocolate Chip Cookies which are based on the same method as these.
But the biscuits are equally great for throwing into a bag with other treats like my Chilli and Oregano Soda Bread and Homemade Butter, fully loaded Quiche and Choc Chip Orange Muffins as part of a Picnic Feast or even as part of an Afternoon Tea Feast.
Don't forget to head over to my Feast Collection pages to find all of my tips and tricks to help you host a fun and stress-free feast. Plus remember to check out my recipe index to create your own awesome Feast!
Ingredients for Chewy Ginger Cookies
Golden Syrup
I am aware that Golden Syrup really is a British product with no direct equivalent often available in other countries.
You can substitute molasses for a slightly darker cookie or corn syrup for a lighter, less rich cookie. Honey would be another alternative but obviously that is going to change the flavour profile again.
Or, as I have literally just found out, you can make your own homemade golden syrup! Who knew!
Ginger
I have stuck with using just the traditional Ground Ginger in the recipe. If you love a super gingery hit, feel free to add chopped stem ginger too.
Be Flexible
The basic recipe for these Ginger Cookies is endlessly adaptable. I have swapped out the ginger powder for cocoa to make chocolate cookies which worked perfectly.
You can add lemon or orange zest to the current recipe for extra zing or leave out the ginger and add vanilla extract and choc chips….
I've actually saved you the hassle of making swaps for a choc chip version as I've now published my Chewy Chocolate Chip Cookie recipe.
As I mentioned above, I have made a lemon and mascarpone cream to turn them into sandwich cookies and used a simple icing sugar and lemon juice icing to drizzle over the top. (Did I mention that that was an award winning combo!)
Make it Vegetarian or Vegan
My chewy ginger cookies are vegetarian and easily adapted to become vegan.
I have actually made vegan versions of them a few times for various bake sales where we were lacking a vegan option. They work great but turn out a little crispier than chewy due to the lack of egg.
Use baking block instead of butter and 1 tbsp veg oil instead of each egg. And thats it! Vegan ginger cookies ahoy!
Make it Allergy Friendly
My Ginger Cookies are free from nuts.
Dairy Free: To make my ginger biscuits suitable for a dairy allergy, simply swap the butter for a a dairy free alternative.
Egg Free: For an egg allergy, swap each egg for 1 tbsp veg oil.
Gluten Free: To make gluten free cookies, use a gluten free flour and gluten free baking powder instead of the self raising flour.
Please note that this recipe may contain other allergens not referred to above and any variations suggested have not been tested unless otherwise stated. For more information regarding any dietary information provided on this website, please refer to my Nutritional Disclaimer.
Equipment Notes for Chewy Ginger Cookies
There is no need to use any kind of electric mixer. Aeration isn't required and it will ultimately make the biscuits tough.
If you don't have a microwave, you can melt the butter and syrup etc in a medium saucepan on a low heat. You can carry on and use the saucepan as the mixing bowl for the rest of the recipe.
---
To see more of my recommended equipment items for new bakers, have a look at my post featuring all the essential equipment you might need.

It is also perfect inspiration for gifts for a budding baker in your life!
---
A comprehensive list of the equipment used to make this recipe is included in the main recipe card below. Click on any item to see an example. There are no hard and fast rules so many items can be sensibly substituted to achieve the same results.
Get Ahead
This is a great recipe to make the dough ahead of time, roll it into balls and freeze individually. Just cook from frozen when cookies are needed. You will need to bake them a little longer from frozen.
The dough doesn't otherwise keep terribly well as the bicarb starts to react with the other ingredients. So I'd recommend either freezing or baking straight away.
The cookies themselves do keep really well for several days, especially in an air-tight container.
Leftover Chewy Ginger Cookies
If your Ginger Cookies go a little dry, try giving them 10 to 15 seconds in the microwave. Or dunk them in a brew or glass of milk.
Cookies are always good for sprinkling over ice cream or making cheesecake bases. Try subbing my ginger biscuits for the chocolate digestives in my Chocolate Lime Pie. Or using them as a base for a simple banoffee pie.
Chewy Ginger Cookies Tips
As flour can absorb liquids differently based on a number of factors (like the brand, how old it is, the humidity or temperature, your elevation, which way the wind is blowing, etc), the dough can become a little dry. Just add a little milk or water until the dough becomes soft but not sticky.
It is worth experimenting with the thickness of the cookies and the cooking time a little to get them to exactly how you want them. My dad likes to squash them more than me and bake them a little longer for something more akin to a crispy gingernut.
I quite often don't press them at all for a thicker cookie with less spread!
It should be noted that these are not biscuits with a roll-able and cut-able dough – this is not suitable for gingerbread men and houses.
The dough is rather good to just eat as cookie dough. It does contain raw egg so if you're bothered about that sort of thing then don't eat it. I generally eat about 70% and bake about 30%!
These chewy ginger biscuits are such a staple in my life and I know that everyone I have made them for loves them too. I really hope that they become a family classic for you too!
Don't forget to let me know in the comments if you try making this recipe – I want to know what you think and if you made any substitutions, how did it turn out?
Still Have Questions?
Simple! Just contact me and I will do my best to help as quickly as I am able. Head over to my Contact Me page, any of my social media channels or post a comment at the bottom of this page and I'll see what I can do.
Pin Chewy Ginger Cookies For Later
Hit one of the share buttons to save this page to your Pinterest boards so you can come back and find it at anytime!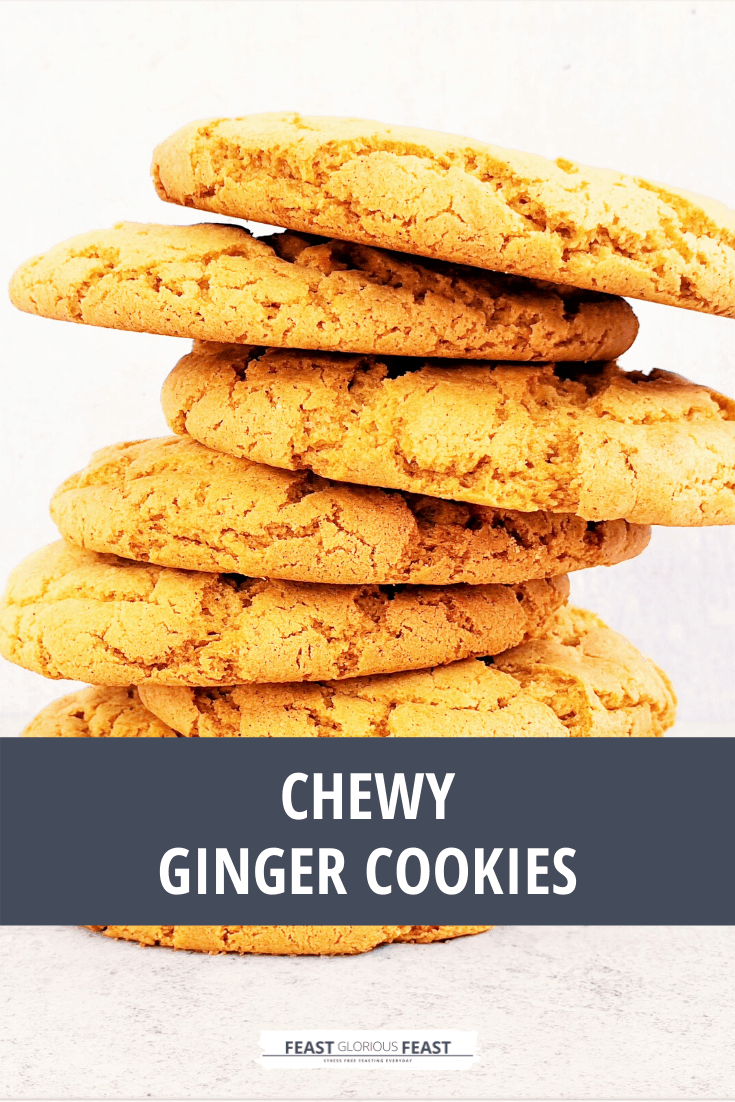 Keep Up to Date
Make sure you SUBSCRIBE to my newsletter and avoid missing out on any of my newest and bonus content. Don't worry, I promise not to spam you or bombard you too often. Plus you'll receive a copy of my FREE 7 Day International Meal Plan!

Also please don't forget to follow me over on my social media channels over at Facebook, Twitter, Instagram and Pinterest. I love to interact with my followers and I'd love you to share my content with your friends too.
---
More Simple Sweet Bakes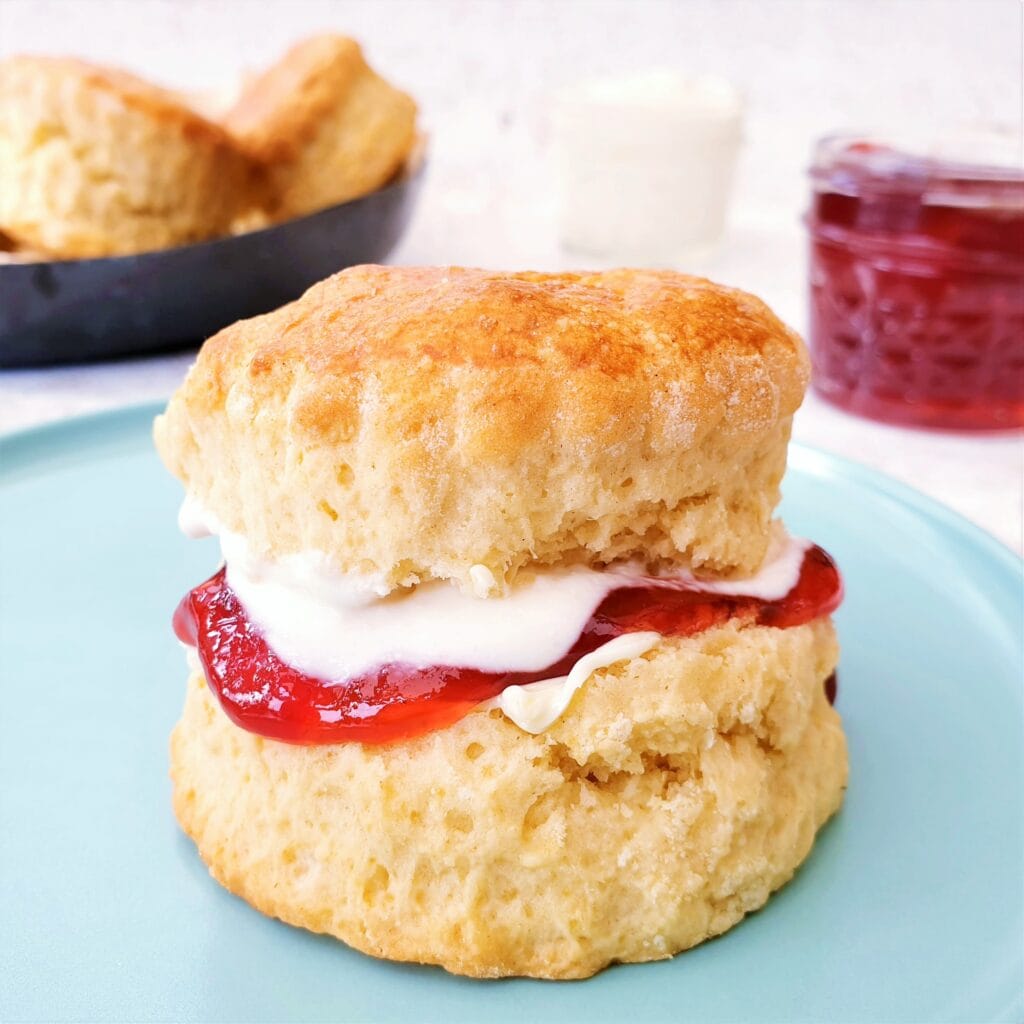 ---
More Ginger Recipes
---
The Recipe
Chewy Ginger Cookies
---
Chewy Ginger Cookies are best when chewy and crispy in all the right places, just like these. They should maybe be called Ginger Biscuits but whatever your opinion, this is an easy one bowl recipe with no messy dough to scrape off the counter.
Ingredients
85

g

Golden Syrup

115

g

Salted Butter

1

Egg

200

g

Caster Sugar (Superfine Sugar)

350

g

Self Raising Flour (Self-Rising)

2

tbsp

Ground Ginger

-

– use less for a more subtle flavour

1

tsp

Bicarbonate of Soda (Baking Soda)
Instructions
Preheat the oven to 170c or equivalent.

Line 2 baking sheets with grease-proof paper.

Add

85g Golden Syrup

and

115g Butter

to either a large bowl or a large pan.

Melt the syrup and butter in either the microwave or over a medium heat on the hob. It only needs to melt and not boil/get super hot or the egg will scramble.

Add

1 Egg

to the butter/syrup mix and mix until fully combined. If you've overheated the syrup/butter or used a saucepan rather than microwave, allow the syrup/butter to cool a little first.

Weigh

200g Caster Sugar

and

350g Self Raising Flour

directly into the mixture.

Add

2 tbsp Ground Ginger

and

1 tsp Bicarbonate of Soda

.

Stir until the whole mixture resembles a slightly wet and shiny dough.

If the mix is feeling a little dry or crumbly, you can add a little milk or water until it comes together into a soft but not sticky dough. A dry dough won't spread very well when being baked.

Turn the dough out onto a board, even it up and cut it into 16 equal size pieces.

Roll each of the pieces of dough into a smooth ball. You could also make smaller balls and therefore more, smaller biscuits.

Place each ball on the baking sheets making sure that you give them plenty of room to spread.

Press down the balls to flatten them slightly with the palm of your hand. The more you press, the thinner and crispier the biscuits will be. Don't press at all for thicker cookies with less spread.

Bake for 10 minutes. They will be very soft when removed from the oven but they will harden considerably on cooling.

Leave to cool on their trays for 5/10 minutes and when they are firm enough to handle, move them to a cooling rack.
Nutrition (Approx)
Calories:
200
kcal
|
Carbohydrates:
32
g
|
Protein:
3
g
|
Fat:
6
g
|
Saturated Fat:
3
g
|
Cholesterol:
25
mg
|
Sodium:
134
mg
|
Potassium:
30
mg
|
Fiber:
0
g
|
Sugar:
16
g
|
Vitamin A:
195
IU
|
Calcium:
7
mg
|
Iron:
0.3
mg
Download my FREE 7 day international meal plan!
Simply subscribe to the Feast Glorious Feast newsletter and I'll send you the link.