Satay Sauce is one of my absolute favourite Asian sauces and I'm so pleased that I've finally settled on the perfect recipe. This ultimate versatile sauce can be used as a marinade, stir fry sauce or dipping sauce.
This post may contain affiliate links. Please refer to my Disclosures Page for more details.
Satay, or Peanut sauce as its sometimes more basically known, has numerous variations found all over Indonesia, Malaysia, the Philippines, Singapore, Sri Lanka and Thailand.
It took me a little while to settle on the perfect recipe. I've tried to keep it very simple and I've used peanut butter as a base rather than starting with whole peanuts. I feel like its a sensible path to take when making an ingredient from scratch that is so readily available in jars and bottles!
But. It is totally worth making your own. You can control the spice levels, control the consistency and realistically, it takes less than 15 minutes from start to finish with the whole thing made in just one pan.
Just like with Hummus and Butter, you'll unlikely go back to buying the store-bought version after making your own.
How to Make Satay Sauce – Step By Step Video
How to Serve Satay Sauce
One of the most classic ways of using Satay Sauce is to use it as a marinade and dipping sauce for Satay Chicken Skewers. You can treat numerous other proteins the same way. Satay Prawn Skewers, Tofu Skewers, Mushroom Skewers would all be delicious. Even something like leftover Roast Beef or Grilled Steak is fab with the sauce!
Or. And you would be silly not to, you should try making my Satay Sprouts! They are mind blowingly good. And beyond simple to make. Plus they're entirely vegan. Actually, if you eat chicken, you should totally make both recipes.
Just as you would use the sauce for dipping with the skewers, you can dip other things too. From crisps and crudites to my Prawn or Tofu Summer Rolls. Let you imagination go crazy.
When using as a dipping sauce, I tend to serve it at room temperature but its perfectly acceptable cold or hot.
Satay Sauce is a primary ingredient in both my vegan Peanut Lentil Soup and its meatier sister, Chicken, Peanut & Lentil Soup.
Lastly the sauce can also be used as a stir fry sauce. Fry some meat, fry some veg and add the sauce. Cook until hot and serve with rice or noodles.
Make Satay Sauce into a Feast
I truly believe that you can make any dish into a proper feast! Whether thats a feast for one after work on a Tuesday, a casual feast for four on a Friday evening or a feast for 12 for a special occasion!
I've included this recipe in both my Alternative Asian Feast and Vegetarian Asian Feast collections.
My Alternative Feast centres around my Korean Ramen with Belly Pork and Satay Chicken. There is a selection of sushi including Prawn Nigiri, Scallop Onigiri, Salmon Maki Rolls and Crab Uramaki to start and Vietnamese Summer Rolls on the side. Everything is rounded off with my Mango Coconut Ice Cream.
My Vegetarian menu collection is a festival of tofu! It includes steamed Tofu Crystal Dumplings and Tofu Siu Mai served with a Dipping Sauce. Then there are my Vietnamese Tofu Summer Rolls and and Miso Soup with Tofu plus this satay sauce for dipping. If that isn't enough there is Sticky Rice, Tenderstem Broccoli and Edamame Beans too!
Don't forget to head over to the Big Asian Feast post for all of my tips and tricks to help you host a fun and stress-free feast. Plus remember to check out my other feast collections and all my Asian inspired recipes.
Ingredients for Satay Sauce
Curry Powder
I am talking about the yellow and mild curry powder. The kind that imparts a flavour similar to chip shop curry sauce. I am not talking about Garam marsala which is also a curry spice blend but which tends to be significantly darker and deeper in flavour than the mild yellow curry powder you need.
---
To find out about more of my favourite Asian Ingredients, check out my guide to the Top 16 Asian Ingredients which I always keep stocked in my pantry.

I've also suggested a whole bunch of recipes to try once your cupboard is fully stocked!
---
Peanut Butter
I use just good old regular peanut butter here. The whole-nut kind that I like to use in my Chocolate Brownie Peanut Cheesecake would provide a different, non satay like flavour.
I've prescribed crunchy peanut butter as I prefer the satay sauce to have texture from the shallot and peanut. If you prefer, a smooth peanut butter would be just fine.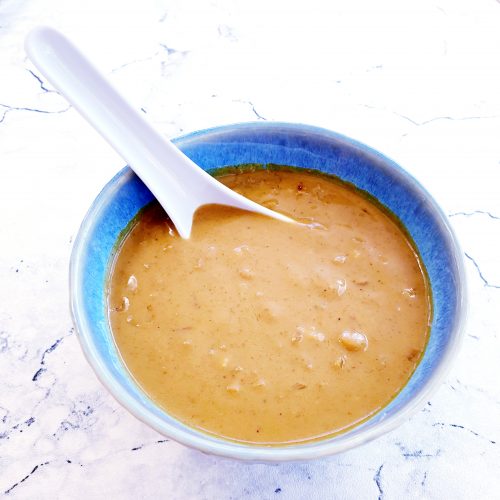 Dried Chilli Flakes
Satay Sauce does tend to be on the spicy side. Not blow-your-head-off spicey but certainly "ooh-thats-got-a-bit-of-a-kick". Of course the joy of making your own sauce is that you can control the spice levels.
Decrease the amount of chilli flakes used or increase them depending on your preference. Remember that you will get a little heat anyway from the curry powder, even the mild kind.
Coconut Milk
I generally only keep light coconut milk in my house. So this is what I used in the recipe. I found that the slightly thinner texture gave me the perfect final consistency to the sauce.
But if you have full fat coconut milk, use that. If you find that the final sauce is a little thicker than you would like, simply add a little water.
More Coconut Milk Recipes
For more great recipes featuring coconut milk, check out my post featuring the Best Coconut Milk Recipes from top food bloggers and this site.

There are soups, curries, sauces, chocolate tarts, ice creams and even scones to try.
Be Flexible
I've mentioned in the ingredients section above, that there are various adjustments to the basic recipe which can be tweaked to suit what ingredients you have in the cupboard and your personal preferences.
But I wouldn't recommend fully omitting any of the ingredients (except the chilli flakes) or adding too much else.
Make it Vegetarian or Vegan
This recipe contains no animal or dairy products and is therefore suitable for vegetarians and vegans.
Make it Allergy Friendly
This Satay Sauce recipe is free from gluten, dairy and egg.
Gluten Free: This does assume that you use a gluten free soy sauce. These are now readily available.
Nut Free: This recipe and its primary flavour do hinge on the use of peanuts. A variation can be made by substituting another nut butter if only peanuts are the issue. Sunflower seed butter provides another option.
Please note that this recipe may contain other allergens not referred to above and any variations suggested have not been tested unless otherwise stated. For more information regarding any dietary information provided on this website, please refer to my Nutritional Disclaimer.
Equipment Notes for Satay Sauce
A small silicone spatula is ideal to stir the sauce as it is cooking. The silicone will ensure that all of the bits of sauce are constantly scraped off the pan ensuring that no bits catch.
A comprehensive list of the equipment used to make this recipe is included in the main recipe card below. Click on any item to see an example. There are no hard and fast rules so many items can be sensibly substituted to achieve the same results.
Get Ahead
Satay Sauce can be prepared up to a week in advance of use. Store in the fridge. Realistically it will probably last longer, especially if a thin layer of vegetable oil is used to cover the top layer of exposed sauce.
Or it can be frozen. Either as a full batch or in smaller portions.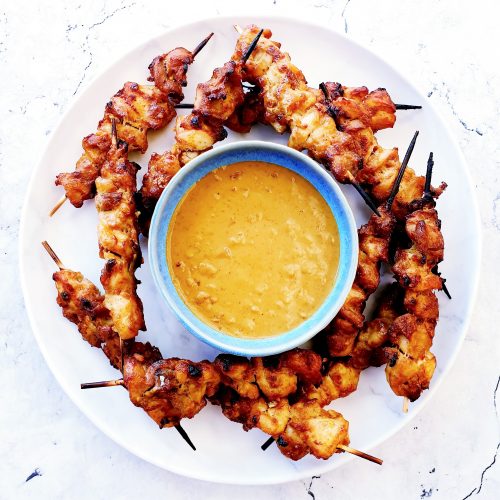 Leftover Satay Sauce
Other than freezing for a later date, any satay sauce that you don't use for a recipe like my Satay Chicken Skewers or Satay Sprouts can be stored in the fridge or freezer and used in a variety of other ways.
Make that stir-fry I suggested, use it to coat cold noodles and finely sliced veggies for an Asian salad. Or just eat it with a spoon straight out the tub. Not that I would ever do this of course.
Satay Sauce Tips
If you are looking for a smoother sauce, use smooth peanut butter and blend the whole thing in a small processor before using/serving.
Do keep in the general vicinity of of the sauce as it simmers. It can get a little volcanic and splatter all over if the heat gets a little high. Peanut butter can also catch and burn quite quickly.
Don't forget to let me know in the comments if you try making this recipe – I want to know what you think and if you made any substitutions, how did it turn out?
Still Have Questions?
Simple! Just contact me and I will do my best to help as quickly as I am able. Head over to my Contact Me page, any of my social media channels or post a comment at the bottom of this page and I'll see what I can do.
Pin Satay Sauce For Later
Hit one of the share buttons to save this page to your Pinterest boards so you can come back and find it at anytime!
Keep Up to Date
Make sure you SUBSCRIBE to my newsletter and avoid missing out on any of my newest and bonus content. Don't worry, I promise not to spam you or bombard you too often. Plus you'll receive a copy of my FREE 7 Day International Meal Plan!

Also please don't forget to follow me over on my social media channels over at Facebook, Twitter, Instagram and Pinterest. I love to interact with my followers and I'd love you to share my content with your friends too.
---
More Vegan Side Dishes
---
The Recipe
Satay Sauce (Vegan)
---
Satay Sauce is one of my absolute favourite Asian sauces and I'm so pleased that I've finally settled on the perfect recipe. This ultimate versatile sauce can be used as a marinade, stir fry sauce or dipping sauce.
Ingredients
50

g

Shallot

2

tbsp

Vegetable Oil

2

tsp

Garlic Paste

2

tsp

Ginger Paste

1

tbsp

Curry Powder

1

tsp

Dried Chilli Flakes

1

tsp

Dark Soy Sauce (Gluten free if required)

150

g

Crunchy Peanut Butter

1

tbsp

Light Brown Sugar

1

tsp

Sea Salt Flakes

400

ml

Light Coconut Milk
Instructions
Finely chop 50g Shallot and add to pan with 2 tbsp Vegetable Oil, 2 tsp Garlic Paste and 2 tsp Ginger Paste. Fry for 2 minutes on a low heat.

Add 1 tbsp Curry Powder and 1 tsp Dried Chilli Flakes. Also add 2 tbsp Water and 1 tsp Dark Soy Sauce and fry on a low heat for further 3 minutes.

Add 150g Crunchy Peanut Butter, 1 tbsp Light Brown Sugar and 1 tsp Sea Salt Flakes.

Melt the peanut butter and sugar whilst stirring to combine with the other ingredients over the low heat.

Add 400 ml Light Coconut Milk and gently stir the milk in until everything is combined.

Allow the sauce to gently simmer for 5 minutes.

Serve hot, cold or warm depending on the recipe and intended usage.
Nutrition (Approx)
Serving:
100
ml
|
Calories:
140
kcal
|
Carbohydrates:
8
g
|
Protein:
1
g
|
Fat:
11
g
|
Saturated Fat:
10
g
|
Sodium:
609
mg
|
Potassium:
74
mg
|
Fiber:
1
g
|
Sugar:
3
g
|
Vitamin A:
131
IU
|
Vitamin C:
2
mg
|
Calcium:
17
mg
|
Iron:
1
mg
Download my FREE 7 day international meal plan!
Simply subscribe to the Feast Glorious Feast newsletter and I'll send you the link.