This Tortellini Bake with Bacon & Mushrooms is a fab way to jazz up shop-bought filled pasta with an easy white sauce packed with flavour, extra veg and some tasty bacon. You can even switch up the pasta for another filled shape like ravioli and its ready in no time, stringy cheesy goodness and all!
This post may contain affiliate links. Please refer to my Disclosures Page for more details.
In my former recipe writing life, I posted a recipe for filled pasta with gammon and mushrooms. It was a moderate success but it didn't make it over to this site due to some absolutely abysmal photography. And no, I'm not going to post the photo!
As a result, this has been on my list to redevelop and post for quite some time. Its a really easy way to add some life (and nutritional) balance to the packets of filled pasta grabbed from the supermarket fridges.
I know that those same fridges also contain tubs of pasta sauce. But I'm yet to find one that I truly like, so I created my own. The bacon and mushroom pasta sauce that I use is very similar to the filling for my Chicken, Ham & Mushroom Pie.
Both start with a slightly mustardy white sauce with added veg and bacon/gammon. Both are creamy and delicious. Plus you could add chicken to this dish too if you fancied.
How to Make Tortellini Bake – Step By Step Video
How to Serve Baked Tortellini
I think that hot is key. There is nothing overly attractive about this dish served cold. You really want the sauce to be smooth and the mozzarella cheese on top to be gooey and stringy.
I sometimes serve the bake as part of a larger meal. Like in the photos with this post, I've served a simple salad and garlic bread roll. The portions in this recipe assume this and are a little smaller. Lunch portions if you will.
And then other times I like to pile my plate high with just this cheesy pasta goodness and dig in. In which case I will double the portion.
Make this Tortellini Bake into a Feast
I truly believe that you can make any dish into a proper feast! Whether thats a feast for one after work on a Tuesday, a casual feast for four on a Friday evening or a feast for 12 for a special occasion!
As I've mentioned, I like to serve Tortellini Bake with a simple green salad and garlic bread. My freezer stash of Cheesy Garlic Rolls is especially helpful for this kind of meal. If I am looking to be a bit fancier, then I might swap my simple salad for something more along the lines of my Classic Caesar Salad. Or even serve that as an appetiser course first.
Easy baked dishes are ideal for serving at hot buffets. I might include this pasta casserole in a spread along with Honey Maple Chicken Wings, my Vegetarian White Bean Chili and some extra veg sides like Roasted Cherry Tomatoes and Green Bean Casserole.
Don't forget to head over to my Feast Collection pages to find all of my tips and tricks to help you host a fun and stress-free feast. Plus remember to check out my recipe index to create your own awesome Feast!
Ingredients for Bacon & Mushroom Tortellini Bake
Filled Pasta
You really can use whatever pasta takes your fancy. Some of my favourite flavours include:
Pumpkin & Sage
Prosciutto
Tomato & Smoked Mozzarella
Mushroom & Ricotta
Pumpkin & Pine Nut
Spicy Sausage
Garlic & Herb
Chicken & Chorizo
Spinach & Ricotta
Tomato & Pancetta
Cheese & Tomato
Four Cheese
Basil & Pine Nut
Spicy Arrabbiata
You might notice that I've generally steered away from lamb, beef and other very strong flavours. Whilst you absolutely could use pasta with those sorts of flavours, I think you might lose a little something with the sauce as they may overpower.
And it really doesn't matter whether the pasta is tortolloni or ravioli or any of the other fancy shapes you can now buy. If its filled pasta, it'll be just fine.
Tortellini or Tortelloni?
There is a difference! Tortellini are smaller and usually filled with meat based fillings. Tortelloni are larger and generally veg/cheese based.
But I, along with a large chunk of the UK food producers, aren't really that fussed. I've used the term tortellini throughout this post to refer to both kinds. Honestly just use what you want. Italy won't actually implode.
Bacon
Again the bacon you use is very flexible. As I most often do, I used un-smoked back bacon. You could alternatively used smoked back or smoked/unsmoked streaky bacon.
Other options include thinly slicing gammon steaks or using pancetta. All of these options would be cooked from raw but you could also throw in leftover ham or other bacon. Just do this after the sauce is made.
Mushrooms
I stuck with very standard closed cap mushrooms. But you could experiment to your heart's content. Slice larger portobellos or chestnut mushrooms. Or halve smaller button mushrooms. Add fancier ones like oyster or dehydrate dried porcini if you wish. The dish is forgiving so use up what you have.
Milk
I use skimmed milk but you can use whichever milk you use as standard.
Cheese
I buy ready grated (shredded) mozzarella for these such occasions. Its quick, easy and melts like a dream. You could alternatively use fresh mozzarella, just make sure to really dry it first or any other melting cheese like cheddar or comte.
Be Flexible
I've already talked about a multitude of ways that you can vary most of the main ingredients of this filled pasta bake. Change the pasta, the cheese, the meat, the mushrooms or the milk.
Just perhaps don't change them all at once unless you're a confident cook!
Next time I have leftover Pigs in Blankets, I'm going to slice some up and use them instead of straight bacon. Can't wait for that one.
I baked the dish as one large dish to portion up. You could alternatively baked in smaller single portion dishes. I am a particular fan of my red enamel dishes for a heartier portion or smaller pie dishes for lunch or lighter portions.
And if you can't be bothered to bake the dish…simply stir the cheese into the sauce and serve!
Make it Vegetarian or Vegan
The type of pasta that you choose will be of obvious importance here. A good deal of my preferred filled pastas for this dish are veggie. Leave the bacon out of the recipe or replace it with a vegetarian alternative and you are good to go for a vegetarian version.
To make it vegan is marginally more complicated. Start with a vegan pasta, lose or use a vegan alternative to the bacon. You will also want to either up the quantity of olive oil to replace the butter or use a vegan butter alternative.
Almost any unsweetened plant based milk can be used. Throw a little vegan "cheese" on top and you now have a vegan pasta bake! Actually not that hard at all really!
Make it Allergy Friendly
This recipe is free from nuts.
Gluten Free: There are many filled gluten free pasta products now available so choose your favourite. The only other ingredient that will need replacing is the flour. You can use any good gluten free flour.
Dairy Free: It is best to follow the instructions that I've given above to make the dish suitable for vegans. Although obviously your choice of pasta could be meaty if you prefer and there is no need to omit the bacon.
Egg Free: Many of the fresh pastas available in the supermarkets do include egg. So you need to make sure that whatever variety of filled pasta you use, that it is egg free. Free-from ranges are a great place to look for this.
Please note that this recipe may contain other allergens not referred to above and any variations suggested have not been tested unless otherwise stated. For more information regarding any dietary information provided on this website, please refer to my Nutritional Disclaimer.
Equipment Notes for Filled Pasta Bake
You don't need any particularly special items of equipment to make this dish. You will need some basics like a good sharp knife, cutting board and measuring spoons.
You will also need a good size frying pan, a saucepan to cook the pasta and something to bake the dish in. I often use either a ceramic roaster, one of my glass pyrex dishes with a handy lid or one of any number of the enamel dishes that I own.
A comprehensive list of the equipment used to make this recipe is included in the main recipe card below. Click on any item to see an example. There are no hard and fast rules so many items can be sensibly substituted to achieve the same results.
Get Ahead
This dish is ideal for making ahead of time. You can do everything but bake it then stash it in the fridge for a couple of days or the freezer.
When you come to cook it, it will need a little longer as you will be cooking from cold. Just keep an eye on it and use a small knife to test that the very middle is piping hot before serving. If frozen, defrost it properly first.
I would also recommend using a touch more milk in the sauce so it is a little bit thinner. The sauce is always thicker once it cools and then is reheated again so this will compensate for the problem and ensure that you have a nice saucy bake.
Leftover Tortellini Bake with Bacon & Mushrooms
Leftovers can be reheated in the microwave or oven. The microwave will keep the dish more moist. You can also freeze it but thaw it before reheating.
I often make more of a dish like this on purpose so that I can keep portions for a later date. It is the kind of dish that I used to take to work for a hot lunch. And I've got plenty more ideas for that kind of lunch…
---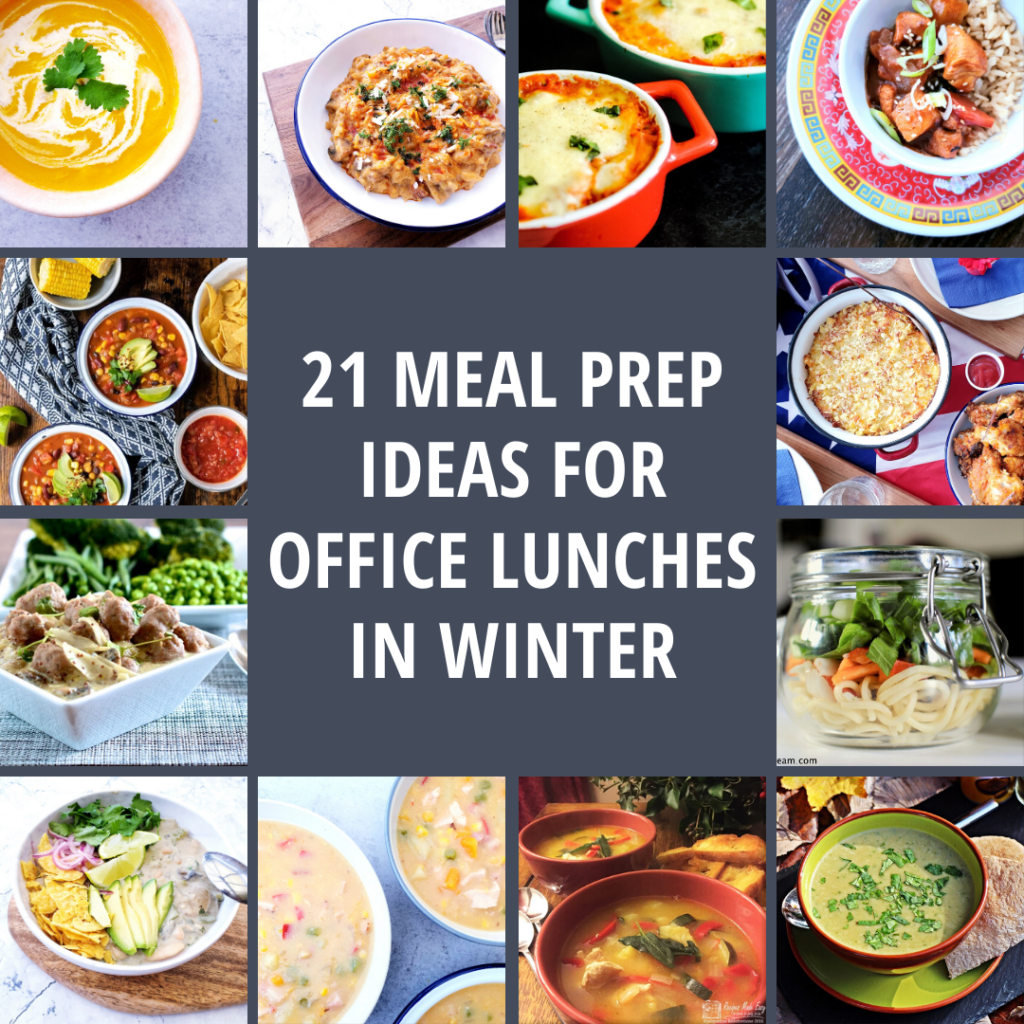 I've included this recipe in my roundup of hot recipes which are ideal to meal prep and then reheat at the office for lunch.
The collection also includes ideas from other top food bloggers as well as advice about how to store, transport and reheat the meals.
---
Baked Tortellini Tips
Use your intuition when making the sauce. If you think its looking very thick, add a little more milk. You don't want to end up with a claggy bake. The sauce should be just slightly thicker than double cream.
The pasta will be super quick to cook. Keep an eye on it!
Don't forget to let me know in the comments if you try making this recipe – I want to know what you think and if you made any substitutions, how did it turn out?
Still Have Questions?
Simple! Just contact me and I will do my best to help as quickly as I am able. Head over to my Contact Me page, any of my social media channels or post a comment at the bottom of this page and I'll see what I can do.
Pin Tortellini Bake with Bacon & Mushrooms For Later
Hit one of the share buttons to save this page to your Pinterest boards so you can come back and find it at anytime!
Keep Up to Date
Make sure you SUBSCRIBE to my newsletter and avoid missing out on any of my newest and bonus content. Don't worry, I promise not to spam you or bombard you too often. Plus you'll receive a copy of my FREE 7 Day International Meal Plan!

Also please don't forget to follow me over on my social media channels over at Facebook, Twitter, Instagram and Pinterest. I love to interact with my followers and I'd love you to share my content with your friends too.
The Recipe
Tortellini Bake with Bacon & Mushrooms
---
This Tortellini Bake with Bacon & Mushrooms is a fab way to jazz up shop-bought filled pasta with an easy white sauce packed with flavour, extra veg and some tasty bacon. You can even switch up the pasta for another filled shape like ravioli and its ready in no time, stringy cheesy goodness and all!
Ingredients
150

g

Onion

10

g

Salted Butter

1

tbsp

Olive Oil

1

tsp

Sea Salt Flakes

150

g

Bacon

100

g

Mushrooms

2

tbsp

Fine Salt

300

g

Fresh Tortellini

1

tbsp

Plain Flour (All Purpose)

1

tsp

English Mustard Powder

250

ml

Milk

100

g

Grated Mozzarella
Instructions
Put a kettle on to boil and preheat the oven to 200c.

Use a sharp knife to peel and chop roughly

150g Onion

into 1cm dice.

Gently fry the onion in a large frying pan with

10g Salted Butter

,

1 tbsp Olive Oil

and

1 tsp Sea Salt Flakes

over a medium heat.

Meanwhile cut

150g Bacon

into chunky slices.

And slice

100g Mushrooms

.

Add the bacon and mushrooms to the now softened onions and continue to fry them until the bacon is cooked through.

Add the kettle of water to a large saucepan with

2 tbsp Fine Sea Salt

. Once the water comes back up to a boil over a high heat, add

300g Fresh Tortellini

. Be ready to turn off the heat after about 3 to 4 minutes.

Go back to create the sauce by adding

1 tbsp Flour

and

1 tsp English Mustard Powder

to the onions and bacon. Stir it into the onion mix and cook it out for a minute.

Add

250ml Milk

and stir until the sauce has thickened and boiled. Add some more milk is you feel the sauce is too thick. It should be just a little thicker than double cream.

By this time the pasta should be cooked. Use tongs or a slotted spoon to add the pasta to the sauce. Don't worry about a little of the cooking water coming with it in the folds.

Stir to fully coat the pasta with sauce and transfer it to an ovenproof dish.

Sprinkle over

100g Grated Mozzarella

.

bake for

20 minutes

or until golden brown and bubbly on top.
Notes
Please note that the portions stated in this recipe are light lunch portions or portions to be served with other things like bread and salad. If you want a heartier, purely pasta based meal, double the portion size.
The nutritional information for this recipe will vary depending on what type of filled pasta you use. The calculations are based on tortellini which is 93 kcal per 100g.
Nutrition (Approx)
Serving:
1
portion
|
Calories:
565
kcal
|
Carbohydrates:
43
g
|
Protein:
25
g
|
Fat:
33
g
|
Saturated Fat:
12
g
|
Cholesterol:
80
mg
|
Sodium:
4847
mg
|
Potassium:
325
mg
|
Fiber:
4
g
|
Sugar:
8
g
|
Vitamin A:
373
IU
|
Vitamin C:
3
mg
|
Calcium:
317
mg
|
Iron:
3
mg
Download my FREE 7 day international meal plan!
Simply subscribe to the Feast Glorious Feast newsletter and I'll send you the link.