These simple Vanilla Butterfly Fairy Cakes are a classic small cake or bun which are both fun to eat and fun to make. They're ideal for little ones to help make and slightly older little ones to tackle on their own!
This post may contain affiliate links. Please refer to my Disclosures Page for more details.
Butterfly cakes are the little cakes that I most loved making as a kid. We mostly made full size Victoria Sandwich Cakes. But there was always something special about getting to cut the tops off little buns, add buttercream then create and stick the wings back on.
Over the years, vanilla cupcakes with their mountains of fluffy buttercream have become the small cake norm. Don't get me wrong, I'm a huge fan and pile buttercream onto my Mini Sticky Toffee Cakes. But there is a simple pleasure in fairy cakes having just a small hit of sweet buttercream and a simple vanilla flavoured sponge.
How to Make Butterfly Cakes – Step By Step Video
Just like with my Chocolate Cornflake Cakes, this is the kind of recipe that I was left to my own devices to make. I'm a firm believer in kids learning to cook and that includes learning how to safely use proper knives and handle hot ovens/trays.
So this is a great recipe for children to make on their own or with help. It is also a great recipe for adults to make. I'm a single, childless woman in my 30s and trust me, that doesn't stop me from making the occasional batch of butterfly cakes.
For an even simpler alternative for kids to decorate, you could try my Easy Halloween Fairy Cakes. You don't need to make them Halloween themed and they're perfect for any time of the year! Or if you just want a super simple loaf – try Pound Cake.
How to Serve Vanilla Butterfly Fairy Cakes
I am a little bit of a masochist and love to slightly warm my cakes. Just for 10 seconds in the microwave. The fats in the sponge start to melt which makes the crumb extra moist. And the buttercream just starts to soften.
But just serving them straight up with a cup of tea, as a snack, in a lunchbox or as a sweet treat after dinner would all be fab. And of course they make an extra cute addition to an afternoon tea.
As for how to eat them, I like to pluck off each wing and eat them one at a time. Then I take off the paper case and tear the bottom half of the cake off. That bottom half then gets flipped over and placed on top of the top half. Press it down a little and you have a perfect buttercream sandwich.
With a bit of buttercream in every bite, this is the trick to eating all cupcakes and mini cakes. Just beware when they have a filling, that can get extra messy. (Still do it, just be careful!)
Make Fairy Cakes into a Feast
I truly believe that you can make any dish into a proper feast! Whether thats a feast for one after work on a Tuesday, a casual feast for four on a Friday evening or a feast for 12 for a special occasion!
A simple cup of tea or coffee and a fairy cake is a feast in itself. I mean you can have two if you want, they're only little!
Butterfly cakes are also ideal for bake sales. Along with my Mini Lemon Drizzle Cakes, Ginger Loaf Cake, Black Forest Poke Cake and Chocolate Muscovado Cake, they are simple, cheap to make and a guaranteed crowd pleaser. And trust me, as a former member of the WI, I know what sells!
For an afternoon tea treat, you can combine sweet little cakes with savoury treats like Sausage Rolls, Scotch Eggs and Chorizo Rose Tarts. Don't forget the Scones and then add in some extra sweet treats like Russian Slice, Ginger Cookies and Fig Upside Down Cake.
Don't forget to head over to my Feast Collection pages to find all of my tips and tricks to help you host a fun and stress-free feast. Plus remember to check out my recipe index to create your own awesome Feast!
Ingredients for Vanilla Butterfly Cakes
Butter
You can use basically any butter or margarine that you want. A baking margarine will make a lovely light cake. Proper butter will give you an extra rich flavour. Don't forget to make your own for an extra (and economical) treat.
I always use salted butter. I don't understand the obsession with baking with unsalted butter. There isn't a dish or bake that isn't enhanced by a bit of salt after all. If you only have unsalted, just add a little salt to the recipe.
---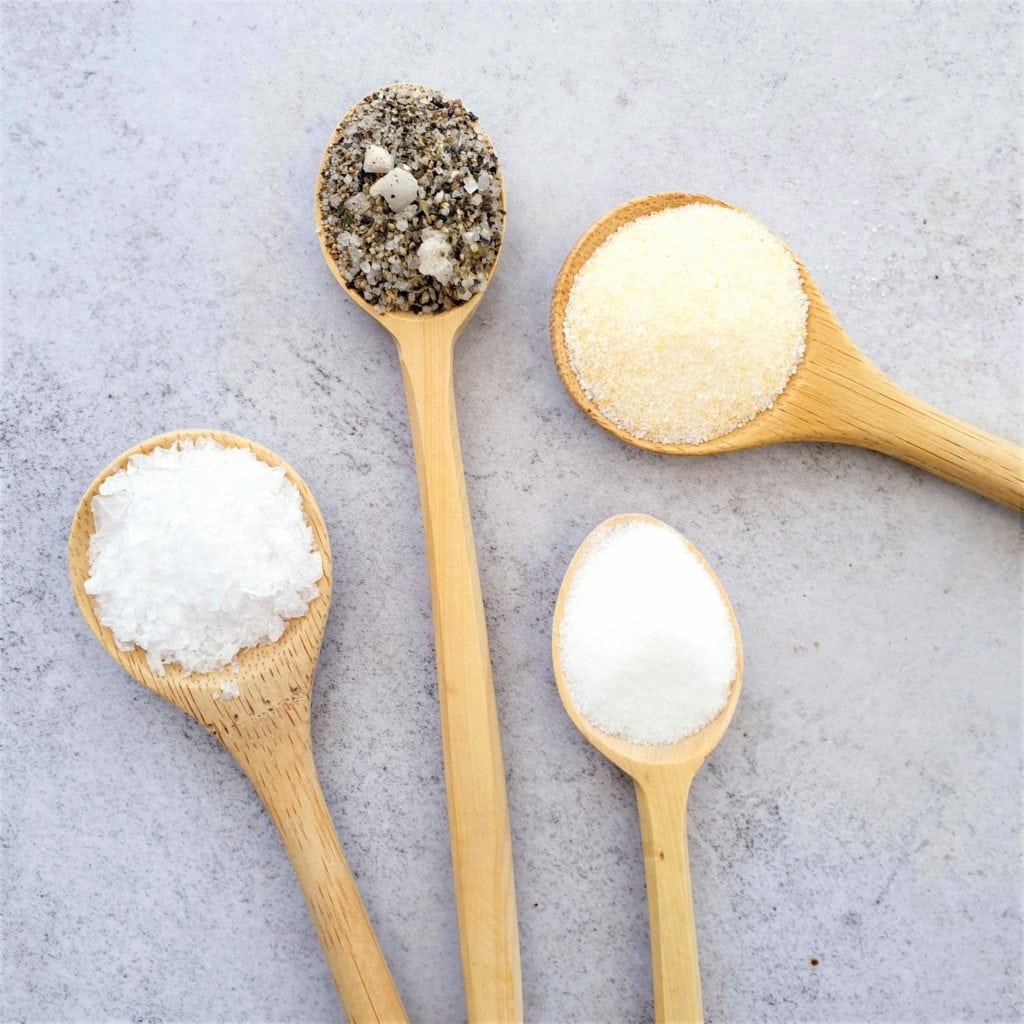 For the lowdown on using salt to properly season and enhance the flavour of your food, check out my Ultimate Guide on How to Use Salt.

There is guidance about which salt to use when, salt alternatives, using salt when baking and even what to do if you add too much salt!
---
Flour
I use standard self raising (self rising) flour. If you only have plain or all purpose flour to hand, simply add in 1 tsp baking powder for every 75g of plain flour.
Vanilla Extract
Try to buy a good one. I don't go for anything fancy but do look for extract and not essence. With extract you are adding actual vanilla to your baking. With essence you are just adding in artificial flavour. Plus extract tends to be thicker meaning that you don't adjust the texture of your batter so much.
You can make your own vanilla extract by seeping vanilla pods in vodka. You are welcome.
Be Flexible
You really can apply the butterfly cake principle to any small cake recipe. This will work with my Sticky Toffee Cakes, small versions of my Chocolate Muscovado Cake or any other cupcake recipe.
You can also add in other flavours to this basic recipe. Replace about 1/5 of the flour with cocoa powder for simple chocolate cakes. Or just throw in a bunch of chocolate chips.
You could also add other extract flavours instead of the vanilla. I'm a particular fan of orange (use extract instead of the vanilla) or lemon (use fresh juice instead of the milk and add the zest).
You can also mix up the filling. I love to dollop a spoon of my favourite Plum Curd into the whole before piping on the buttercream. Such a cheeky surprise and extra layer of flavour.
If you can't be bothered to sprinkle with icing sugar then don't. We never did when I was little although it does look pretty. To go the other way, it is extra cute to add sprinkles on top of the buttercream in a line between the 'wings'.
Make it Vegetarian or Vegan
These simple vanilla buns are already suitable for vegetarians.
You will need to make quite a few swaps to make them vegan suitable. But nothing is difficult and if you are vegan, you'll likely have the substitutes on hand anyway.
The butter in the sponge can be replaced with vegan baking block. The butter in the buttercream can be replaced with mixture of baking block and vegan margarine.
Eggs can be replaced with a liquid substitute or 1 tbsp vegetable oil for every egg. And the milk can be replaced with either water or a plant based milk. Easy!
Make it Allergy Friendly
This recipe is free from nuts.
Gluten Free: Simply use a gluten free flour substitute instead of the self raising flour. Make sure to add gluten free baking powder (1 tsp per 75g)
Dairy Free: Follow the instructions I've given above for replacing the butter and milk in the recipe to make it vegan.
Egg Free: Again just like the vegan instructions to replace the egg, you can use either a liquid vegan egg substitute or 1 tbsp of veg oil per egg.
Please note that this recipe may contain other allergens not referred to above and any variations suggested have not been tested unless otherwise stated. For more information regarding any dietary information provided on this website, please refer to my Nutritional Disclaimer.
Equipment Notes for Vanilla Fairy Cakes
I mostly make cakes with an electric hand mixer and I do still mostly stick with this method. But I do sometimes use my Kenwood stand mixer with paddle attachment.
You can of course make cakes with a mixing bowl and a wooden spoon. This is still an absolutely valid way of doing it, especially for beginners. But you will get a lighter sponge with electrical assistance and the buttercream especially will thank you.
I pipe the buttercream using a large disposable piping bag and a set of nozzles. But you can simply spoon on the buttercream and flatten it a little with the back of a spoon. I certainly never wielded a piping bag until a couple of years ago!
---
To see more of my recommended equipment items for new bakers, have a look at my post featuring all the essential equipment you might need.

It is also perfect inspiration for gifts for a budding baker in your life!
---
Generally I use a standard 12 hole muffin tin rather than a small bun tin. I think the higher sides of the muffin tin help to shape the cakes, even if you use cake cases smaller than the cake cases I used.
A comprehensive list of the equipment used to make this recipe is included in the main recipe card below. Click on any item to see an example. There are no hard and fast rules so many items can be sensibly substituted to achieve the same results.
Get Ahead
You can make the cakes and freeze them before or after decorating. They will be much easier to freeze before. You can also freeze the buttercream – it will just need a little re-whip before using.
I wouldn't recommend making them any more than a day before you want to use them as they will start to dry and go stale. Keep them in an airtight container in the meantime.
Leftover Cakes
If your cakes have gone over to the stale side, you can use my trick of microwaving them a little to freshen them up. Or you can microwave them fully or heat them through in the oven and serve them with cream or custard if you like.
The other option is to re-purpose the sponge. So you can use them as sponges in a trifle or turn them into crumbs and make Russian Slices.
Vanilla Butterfly Fairy Cake Tips
Don't worry if the batter splits when you're beating in the eggs. Just keep beating. Some of my best sponges have come from split batters.
Do be fairly gently when folding in the flour. But don't stress. As long as you aren't beating with electric beaters then it'll be fine.
Again don't stress about the amount of batter in each cake case. Fairly even is good so the cooking time is similar for each cake but its not worth worrying about. The only person that cares if a batch of cakes is identical is Paul Hollywood and he can do one.
I don't decorate the cakes when they're still in the tin as they can be very hard to get out. Transfer them to a plate or board first.
I cut the tops and pipe the buttercream one cake at a time. This is because I'm easily confused and mix up what tops go with which cakes. If you are smarter than me, then you can work in batches or do them all at once.
Don't forget to let me know in the comments if you try making this recipe – I want to know what you think and if you made any substitutions, how did it turn out?
Still Have Questions?
Simple! Just contact me and I will do my best to help as quickly as I am able. Head over to my Contact Me page, any of my social media channels or post a comment at the bottom of this page and I'll see what I can do.
Pin Vanilla Butterfly Fairy Cakes For Later
Hit one of the share buttons to save this page to your Pinterest boards so you can come back and find it at anytime!
---
Keep Up to Date
Make sure you SUBSCRIBE to my newsletter and avoid missing out on any of my newest and bonus content. Don't worry, I promise not to spam you or bombard you too often. Plus you'll receive a copy of my FREE 7 Day International Meal Plan!

Also please don't forget to follow me over on my social media channels over at Facebook, Twitter, Instagram and Pinterest. I love to interact with my followers and I'd love you to share my content with your friends too.
---
More Simple Sweet Bakes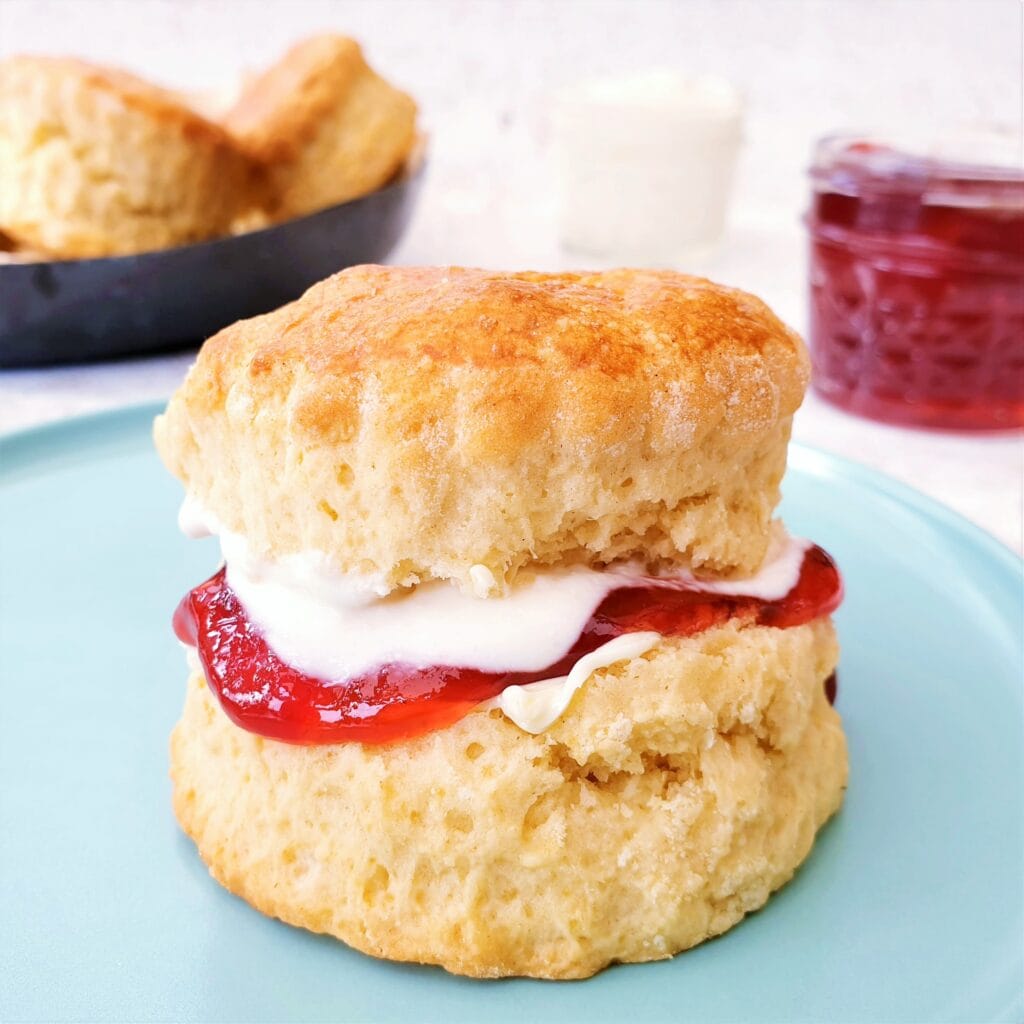 ---
The Recipe
Vanilla Butterfly Fairy Cakes
---
These simple Vanilla Butterfly Fairy Cakes are a classic small cake or bun which are both fun to eat and fun to make. They're ideal for little ones to help make and slightly older little ones to tackle on their own!
Ingredients
300

g

Salted Butter

175

g

Caster Sugar (Superfine Sugar)

3

Egg

175

g

Self Raising Flour (Self-Rising)

1

tsp

Vanilla Extract

4

tbsp

Milk

250

g

Icing Sugar (Confectioner's Sugar)

-

Plus extra for dusting
Instructions
Preheat the oven to 180c or equivalent.

Put

12 paper cake cases

into a muffin tin and set aside.

Weigh

175g Butter

and

175g Caster Sugar

into a mixing bowl.

Use an electric whisk or stand mixer to beat the butter and sugar until it is light and fluffy.

Add

3 Eggs

one at a time. Give the eggs at least one minute of beating before adding the next egg. This is where the batter gets lovely and light. Don't worry if the batter splits. Keep going.

Stir through

2 tbsp Milk

.

Weigh

175g Self Raising Flour

into the bowl and add

1 tsp Vanilla Extract

. Use a spatula to fold in the flour – you do not want to use any electric power here.

Use an ice cream scoop or two spoons to divide the batter between the

12 paper cases

. Try to make them fairly evenly filled but don't panic about it.

Bake the cakes for

18-22 minutes

. Take them out when golden brown and the spring back when pressed.

Leave the cakes to completely cool.

Meanwhile make the buttercream by beating

125g Butter

with

250g Icing Sugar

.

Add

2 tbsp Milk

one at a time giving it a good minute or two beating each time.

Spoon the buttercream into a piping bag. You can use any nozzle, or no nozzle at all.

Once the cakes are cool, use a small sharp knife to cut out a little of the top of the cakes. Keep the knife quite flat and don't cut all the way to the edge.

Replace the top straight back onto the cake so they don't get mixed up!

One by one, take the loose piece of cake and cut it in half.

Pipe buttercream to fill the cake hole.

Replace the two halves of the cut lid by shoving them into the buttercream. Keep the cut side facing the middle and angle the pieces upwards to look like wings.

Repeat for the rest of the batch.

Dust the cakes with icing sugar and serve!
Nutrition (Approx)
Serving:
1
cake
|
Calories:
448
kcal
|
Carbohydrates:
46
g
|
Protein:
4
g
|
Fat:
28
g
|
Saturated Fat:
18
g
|
Cholesterol:
113
mg
|
Sodium:
257
mg
|
Potassium:
46
mg
|
Fiber:
1
g
|
Sugar:
35
g
|
Vitamin A:
903
IU
|
Calcium:
22
mg
|
Iron:
1
mg
Download my FREE 7 day international meal plan!
Simply subscribe to the Feast Glorious Feast newsletter and I'll send you the link.