This Smooth Dark Sweet Cherry Jam is quick and easy to make with detailed instructions that ensure you can't possibly go wrong. This small batch jam can be made with fresh or frozen dark sweet cherries so you don't even need to wait for cherry season to make it!
This post may contain affiliate links. Please refer to my Disclosures Page for more details.
I'm back again with another cracking seedless, or in this case, stoneless small batch jam recipe. This time I've raided the freezer section and hit up the dark cherries. I most often use them as a filling for crumbles. Or I use the tinned version to make desserts like my Black Forest Poke Cake.
Of course no one is making a dark cherry jam with the stones included so I've called this a smooth jam. But giving the lightly cooked fruits a quick blitz then sieve, we don't have to deal with any pesky lumps of fruit and there are no pesky bits of skin to pick out your teeth.
Cherry jam has quite a distinct flavour, arguably there is a touch of almond involved. The exact flavour will ultimately depend on which cherries you used. Different stores will likely use different cherries in their frozen bags, they might even differ throughout the year. And of course there will be a multitude of fresh cherries available depending on the season.
This recipe is written to use a relatively small amount of fruit and make a very reasonable amount of jam. You can of course scale up the recipe if you have more fruit to use or you want to end up with more jam.
How to Serve Dark Cherry Jam
While open jars of jam should be kept in the fridge to prolong their life, it is always best if you can bring the jam up to room temperature before serving.
Not only will it be easier to spread, the flavours will sing more as cold temps can dull the flavour of foods. This is especially important if you're going to be spreading it on something like a scone, toast or pancakes.
Talking of pancakes, they're delicious spread with a little butter and jam, especially if you start out with them nice and warm. It's traditional to serve scotch pancakes/drop scones like this for a light tea or snack. They would be pretty delicious for breakfast too.
There are tonnes of other ways to use jam, try one of these options –
Spread on bagels, toasted sourdough or buttered crumpets.
This is the place to find all my greatest scone recipes in one place! The only difficult part about making delicious homemade scones is going to be choosing which ones!
Ingredients for Small Batch Berry Jam
Cherries
This jam can be made with any dark cherry either fresh or frozen. Or even a mix of cherry varieties or a combination of fresh and frozen cherries. As everything is heated before being blitzed, it makes no difference.
As I mentioned, I used a bag of very standard frozen dark sweet berries from the supermarket. In this case I used Aldi but they are widely available. They're most commonly sold in 500g bags which is exactly what you need for this recipe (not a coincidence!).
Frozen cherries are a great year round option. Cherry season in the UK is usually just a few weeks in and around June or July depending on how the weather has been. This makes reasonably priced fresh local cherries pretty hard to find. Unless of course you own a tree and you get to them before the birds.
If you are buying whole cherries, you will need to pit them before weighing them out. Usually frozen berries will already have been de-stoned.
It is also worth noting that this recipe is written for "dark cherries". Black cherries are actually a different fruit. You could use black cherries but the jam will be sweeter overall.
Sugar
You can use any standard white sugar to make this jam, you do not need specialist jam sugar which contains added pectin. You can use caster/superfine sugar if you wish and have it to hand but regular granulated sugar is much cheaper nowadays so this is what I go for.
Please don't be tempted to try using some kind of sugar substitute. The body, texture and moisture that real sugar adds to a jam recipe shouldn't be underestimated. Brown sugar is also to be avoided as it will add an additional flavour which a neutral white sugar will not.
Lemon Juice
Cherries don't contain a lot of natural pectin which is the agent that helps jam to set. Adding lemon juice to the recipe adds both extra pectin and a little freshness and acidity which cuts through the sweetness.
You can use fresh lemon juice if you wish but I generally just use bottled lemon juice in this sort of recipe. It is convenient, economical and results in zero waste.
As the amount of lemon juice added does affect the set of the jam, if you want to add more lemon flavour, it is best to add some zest at the cherries are cooking down.
Be Flexible
Once you understand the basics, jam is really easy to doctor to suit the fruit you have and the flavours you want.
You can sub any portion of the cherries for another complementary flavoured fruit. Berries are of course a classic accompaniment to cherries. You can also opt for another stone fruit like peaches, nectarines or plums. Be mindful that if you add a lot of another fruit, you may easily overpower any cherry flavour. This isn't necessarily a bad thing if that's what you want but just be aware.
You can also add alcohol which is a classic flavour paring in jam – especially for making them sound a bit more fancy for gifts. Gin, brandy, rum or whiskey/bourbon would all be good options here. You could also boost the cherry flavour by adding kirsch (cherry brandy) or another cherry flavoured liqueur.
You can also add spices. Classic cold weather and festive spices like cinnamon, cloves, star anise also pair well although they will never be my first choice. Orange zest would be great on its own or combined with spices.
If you want to boost the slight natural almond flavour of cherries, you can add Amaretto or simply an almond extract.
Allergy Friendly Jams
This recipe is free from egg, dairy, gluten and nuts.
Please note that this recipe may contain other allergens not referred to above and any variations suggested have not been tested unless otherwise stated. For more information regarding any dietary information provided on this website, please refer to my Nutritional Disclaimer.
Equipment Notes for Sweet Cherry Jam
Jam doesn't require any specialist equipment. The most important thing is to have a good sized pan. This recipe using just over a pound of fruit (500g) makes a fairly small amount of the finished product but you still need to use a good large saucepan.
You might think that I'm being excessive when you first see the amount of fruit in the pan but it bubbles up so much when boiling, you'll soon understand why.
There are a few things that will help make your jam making easier although they're not essential. A thermometer is one of them. It turns out that I own quite a selection and they are all suitable. My laser thermometer (centre) is mess free and fun to use.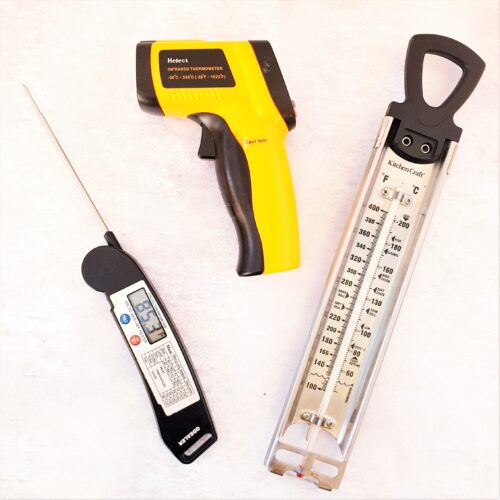 My meat thermometer (left) posed a little more peril as I needed to hold it in the jam until it registered the temperature. And my old fashioned sugar thermometer (right) just happily sat in the pan the whole time. But it was harder to wash up!
And don't forget something the store the jam in. I love my super cute quilted jam jar set. But you can simply use old jam jars that you've thoroughly cleaned.
A comprehensive list of the equipment used to make this recipe is included in the main recipe card below. Click on any item to see an example. There are no hard and fast rules so many items can be sensibly substituted to achieve the same results.
How to Sterilise Jars and Preserve/Can Jam
There is a whole world of variations and advice for how you should prepare your jars and deal with the jars once they're sealed. They vary from person to person and country to country.
Here in the UK we largely make sure that the jars are properly sterilised, fill the jars with the hot jam, seal them and that's that. In the US it is almost a given that the jars will then be "processed" to complete the "canning" process. I have purposely provided no links here – if you'd like to learn more about canning, Google is your friend.
There are a lot of strong feelings about this in the "jam community" (yes there is one) which I have no interest in being drawn into. All I know is that UK cooks have been making jam for a very long time without any issues. Therefore I am more than happy to follow the UK process for my jams.
Jar Sterilisation Options
There are several ways that you can sterilise your jam jars.
Run the jars and lids through a hot wash in the dishwasher.
Bake the jars and lids in the oven on a baking tray.
Microwave the jars and boil the lids in water.
Boil the jars and lids in water.
Whichever method you choose the only important thing is to make sure that the jars and lids are left to dry without being touched. And that you do not under any circumstances touch the inside of the jars or lids as this can contaminate them and undo your sterilisation. Tongs are your friend.
For the record, I usually use the dishwasher method.
How to Tell if the Jar is Sealed
It is essential to add the lid to the hot jars filled with the hot jam straight away. As the jam and jar cool, a vacuum is created in the jar and the lid will be pulled downwards. To help this, I often turn my jars upside down to cool.
This means that when you press the lid, it doesn't move or pop. When you open a jar of properly sealed jam the lid will then pop. And an opened or not properly sealed jar will pop when you press it.
If your jars don't seal properly, you can either keep the jar in the fridge and eat it relatively quickly or go though a canning process to seal them. The choice is yours.
Discover More Homemade Jam Recipes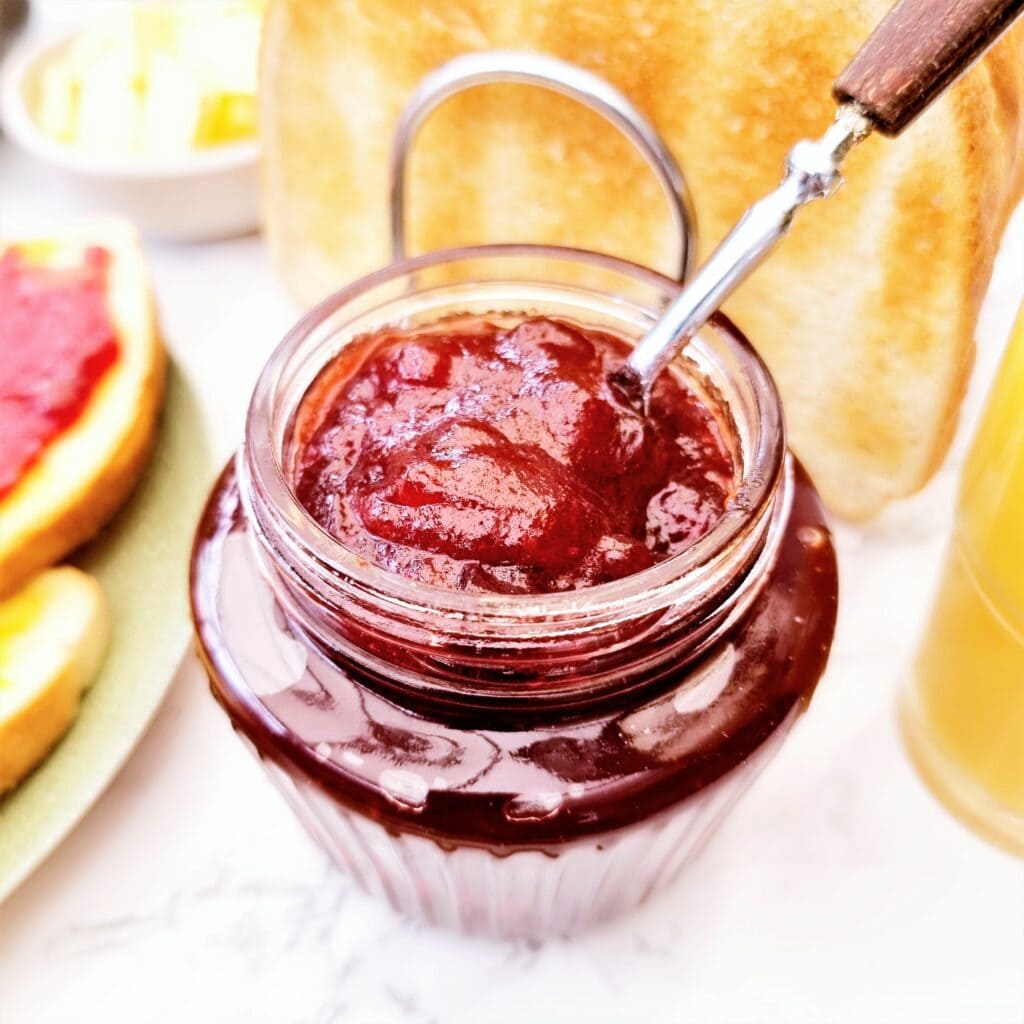 Get Ahead
You can make dark cherry jam at least a year ahead of time if you do sterilise and store your jars properly.
The more important thing to take into account is that it will ideally need to be made the day before you want to use it at a minimum. 24 hours cooling at room temp is the best plan but you can get away with 12 to 16 hours cooling in the fridge.
Homemade Dark Cherry Jam Tips
I mentioned before to use a good big saucepan. This is worth repeating here!
Do not touch the hot jam. I cannot stress this enough. I don't care how tempting it looks. Or if that little bit on the side looks a bit cooler. Do. Not. Touch. It. You will regret it.
If you don't need to keep your jam for any length of time, you can skip the jar stage and use any old container and keep your jam in the fridge.
If you are using a thermometer, you can simply rely on the jam hitting temperature and not worry about doing the wrinkle test on a cold plate. I like to take a belt and braces approach so I use both testing methods. But you can just use one or the other.
If you aren't bothered about the jam being super smooth, skip the blending and sieving stage but give the cherries a good mash down with the spatula while they are cooking.
Don't forget to let me know in the comments if you try making this recipe – I want to know what you think and if you made any substitutions, how did it turn out?
Still Have Questions?
Simple! Just contact me and I will do my best to help as quickly as I am able. Head over to my Contact Me page, any of my social media channels or post a comment at the bottom of this page and I'll see what I can do.
Pin Smooth Dark Sweet Cherry Jam For Later
Hit one of the share buttons to save this page to your Pinterest boards so you can come back and find it at anytime!
---
Keep Up to Date
Make sure you SUBSCRIBE to my newsletter and avoid missing out on any of my newest and bonus content. Don't worry, I promise not to spam you or bombard you too often. Plus you'll receive a copy of my FREE 7 Day International Meal Plan!

Also please don't forget to follow me over on my social media channels over at Facebook, Twitter, Instagram and Pinterest. I love to interact with my followers and I'd love you to share my content with your friends too.
The Recipe
Smooth Dark Sweet Cherry Jam
---
This Smooth Dark Sweet Cherry Jam is quick and easy to make with detailed instructions that ensure you can't possibly go wrong. This small batch jam can be made with fresh or frozen dark sweet cherries so you don't even need to wait for cherry season to make it!
Ingredients
500

g

Dark Sweet Cherries

-

fresh or frozen

400

g

Sugar

1

tsp

Lemon Juice

50

ml

Water
Instructions
Pop two ceramic or china plates into the freezer.

Prepare and sterilise your jars or container for your jam. How you chose to do this is up to you. Further details are provided in this recipe post.

Check through

500g Dark Sweet Cherries

. Discard any shrivelled or nasty looking ones and make sure there are no little pieces of stalk. Give them a quick rinse in cold water and dry them thoroughly if you are that way inclined.

If the cherries aren't pitted, you should remove them now. Use a cherry pitting tool or something heavy like a can to smash each cherry so the pit can be pulled out.

Put the cherries into a large saucepan with

400g Sugar

,

1 tsp Lemon Juice

and

50ml Water

.

Cook the fruit and sugar over a medium high heat until all the sugar has dissolved and the cherries squish under a little pressure with a spatula.

This should only take around 3 to 5 minutes depending on how ripe the cherries are. . Don't walk away and keep stirring every 20 seconds or so.

Tip the cherry/sugar mix into a heatproof jug or bowl. Make sure it is big enough to prevent anything from splattering out when being blended. You should also be very careful when doing this as the fruit/sugar will be very hot.

Blitz the fruit and sugar really well until as smooth as possible.

Sieve the puree back into the saucepan. Use a spatula to push the pulp through the sieve.

This will take a few minutes but have patience as this is how we get a smooth jam. You should be left with a fairly dry bit of seeds left in the sieve. Don't forget to wipe the underside of the sieve into the pan.

Put the pan on a medium heat and allow the jam to come up to a rolling boil.

Allow to boil for 6-7 minutes or until the jam reaches the 105c or 220f. You can give it a gentle stir and scrape off the sides and bottom every minute or so to keep things even.

Take the jam off the heat.

Take one of your very cold plates out of the freezer.

Use a small spoon to dollop a little jam onto the plate. Leave it for 1 minute and then push the jam towards the centre of the dollop. If you get wrinkles, the jam is ready.

If you don't, put the pan back on the heat for another minute.

Repeat the cold plate test as many times as is needed. Make sure to put your first plate back in the freezer in case you need it again.

Carefully pour the jam into your prepared jars or container.

Seal and leave to cool upside down or continue the canning process if you have chosen to.
Nutrition (Approx)
Serving:
1
tbsp
|
Calories:
75
kcal
|
Carbohydrates:
19
g
|
Protein:
0.2
g
|
Fat:
0.1
g
|
Saturated Fat:
0.01
g
|
Polyunsaturated Fat:
0.02
g
|
Monounsaturated Fat:
0.02
g
|
Sodium:
1
mg
|
Potassium:
37
mg
|
Fiber:
0.3
g
|
Sugar:
18
g
|
Vitamin A:
267
IU
|
Vitamin C:
2
mg
|
Calcium:
4
mg
|
Iron:
0.1
mg
Download my FREE 7 day international meal plan!
Simply subscribe to the Feast Glorious Feast newsletter and I'll send you the link.