These Big Fluffy Scones aren't just on the larger side or simply not dainty and small, they're truly big! And like all of my scone recipes, they're most certainly fluffy too.
This post may contain affiliate links. Please refer to my Disclosures Page for more details.
There is a time and a place for regular everyday scones and just as many for super dainty mini scones. But sometimes all we want or need in life is a scone the size of our head. That would be ridiculous of course, but I do have you covered with these big boys which easily cover the whole palm of my hand.
They're no gimmick though. The scones are the same slightly crumbly, doughy and delightfully fluffy recipe that I use as the base for all my scones recipes.
I've included instructions to fold the scone dough in the same way that I fold the dough for my American Biscuit recipe. This adds layers just like you have in puff pastry which gives extra rise and ensures that these big fluffy scones are indeed fluffy despite their thickness and width.
This is the place to find all my greatest scone recipes in one place! The only difficult part about making delicious homemade scones is going to be choosing which ones!
From giant to tiny, plain or fruited, I've got the scone recipe for you. And if you want to keep things savoury, try cheese scones or American biscuits.
How to Serve Extra Large Scones
Exactly the same as you would with any other scone! But probably with more delicious toppings.
A warm scone is always preferable and straight out the oven will always be the greatest scone you'll have. Of course in theory you should let it cool a little but I have no chill and am absolutely willing to burn off my fingertips in pursuit of hot scones. For legal reasons I'm sure I should say don't try this at home, but you do you.
As for toppings, I am an everyday butter girl. Salted butter liberally spread on a hot scone is my happy place. But of course, the traditional Cornish or "Devonshire" cream tea with clotted cream and jam should not be ignored. Don't skip the butter. The correct order for topping a scone is butter -> jam -> cream.
It's impossible to spread jam on a pile of clotted cream and I have zero time for anyone that wants to use cream first because "it acts as the butter". Nope, the butter acts as the butter! Plus keeping the cream slightly barriered from the warm scone will prevent the cream from melting everywhere.
You can also explore other preserves. Fruit curds are delicious spread on scones and we all know that there is very little a generous smear of nutella won't improve.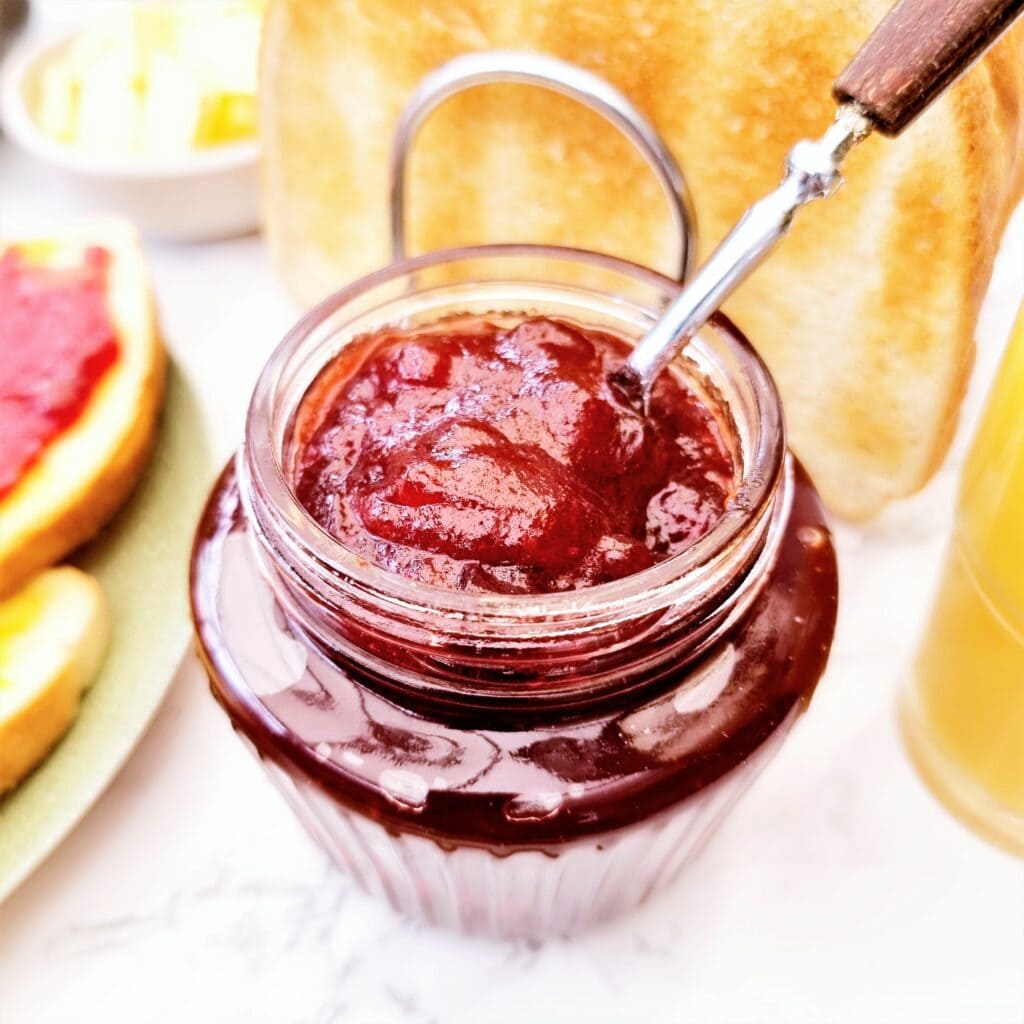 Big Scone Ingredients
Flour
I've written this recipe to use self-raising flour plus extra baking powder rather than starting with plain flour and adding more baking powder. I've tried both ways and this just works the best in my opinion.
If you do want to make your own self raising flour, check out this helpful flour guide from Charlotte's Lively Kitchen.
If you are in the US and using self-rising flour, you can omit the extra salt from the recipe as self-rising includes salt which self-raising here in the UK does not.
Butter
I only bake and cook with salted butter and I prefer to use proper block butter when making scones. You can use a spreadable butter or margarine but the water content is higher and I don't think you get such good results. The taste is better with proper butter too.
The butter must be as cold as possible. If the butter is at all softened, it will just melt into the flour with the additional heat of your hands. Cold hands are also helpful.
Sugar
I use caster (superfine) sugar because the smaller sugar crystals combine into the dough more easily. If you need to use regular granulated then you can but the texture of the scones may be a little less fluffy.
Please use white sugar as brown sugar will change the flavour and texture of the scones. Sweeteners have the wrong texture and properties and are best avoided.
Be Flexible
As with any of my scone recipes, you can always adapt them to include other flavourings etc. Adding dried fruit is a classic along with candied zest or fruits. I wouldn't recommend adding fresh fruits as this will affect the overall texture and bake of the scones.
To make Big Fluffy Fruit Scones, simply add 300g/1½ cups of raisins to the mix when you add the first bit of milk and continue as normal.
You can also add flavourings like ground ginger or lemon zest. Or extracts like orange, almond or vanilla.
Just be careful to not add anything too wet to the dough or you will start to change the texture and overall bake.
Vegetarian or Vegan Giant Scones
This big scone recipe is vegetarian as written. To make big vegan scones, there are a few simple swaps:
Switch the butter for vegan baking block.
Switch the milk for a flavour free and unsweetened plant-based milk.
Use plant-based milk or cream to glaze the scones before baking.
Make Allergy Friendly Big Fluffy Scones
This recipe is free from nuts.
Dairy or Egg Free Scones: Use the vegan swaps given above to make fluffy scones suitable for a dairy or egg allergy.
Gluten Free: Swap the flour for gluten free flour and make sure that the baking powder you use is suitable for gluten free diets.
Please note that this recipe may contain other allergens not referred to above and any variations suggested have not been tested unless otherwise stated. For more information regarding any dietary information provided on this website, please refer to my Nutritional Disclaimer.
Equipment Notes for Making Scones
There isn't anything too specialist needed for scones – mostly just standard kitchen equipment such as a mixing bowl, measuring scales and silicone spatula.
A flour shaker makes lightly dusting surfaces super easy and a silicone pastry brush is the best option for applying the egg or cream wash. If you don't have one, a very clean (ideally new) paintbrush will also do the job well.
A comprehensive list of the equipment used to make this recipe is included in the main recipe card below. Click on any item to see an example. There are no hard and fast rules so many items can be sensibly substituted to achieve the same results.
Get Ahead
Scones are both quick to prepare and bake so if remotely possible, I do suggest trying to make them as fresh as possible.
If you do really need to get ahead then a great way to do this is freezing them unbaked. Put them on a baking tray then move to a large sandwich bag once fully frozen. The individual scones can then be baked off from frozen when you want one (or more).
You can also bake then freeze in exactly the same way. Allow the scones to thaw naturally.
Leftover Big Fluffy Scones
If for some crazy reason your scones aren't devoured immediately, you can reheat them in the microwave – they only take around 30 seconds.
Or you can put them into an air fryer on fairly low to heat through.
Stale scones can be used in place of bread in a bread and butter pudding. Or even crumbled, tossed in melted butter and baked as a topping for stewed fruit or yoghurt.
Scone Baking Tips
Don't be tempted to skip lining the baking tray unless you have a super non stick tray that you have all the confidence in like mine in the images below.
Add a little more flour or milk to get a sticky but handle-able dough as required. This will be especially true if subbing a gluten free flour or using a plant based milk.
You can pat the dough out ready for cutting on a clean work surface but using a wooden board makes clean up easier.
Alternatively, pat the scone dough into a round. Use a large sharp knife to cut the dough into slices like a cake. Put the slices straight onto the baking tray for triangle scones with no waste. Be warned that the rise won't be as good as if you cut rounds.
Don't forget to let me know in the comments if you try making this recipe – I want to know what you think and if you made any substitutions, how did it turn out?
Still Have Questions?
Simple! Just contact me and I will do my best to help as quickly as I am able. Head over to my Contact Me page, any of my social media channels or post a comment at the bottom of this page and I'll see what I can do.
Pin Big Fluffy Scones For Later
Hit one of the share buttons to save this page to your Pinterest boards so you can come back and find it at anytime!
---
Keep Up to Date
Make sure you SUBSCRIBE to my newsletter and avoid missing out on any of my newest and bonus content. Don't worry, I promise not to spam you or bombard you too often. Plus you'll receive a copy of my FREE 7 Day International Meal Plan!

Also please don't forget to follow me over on my social media channels over at Facebook, Twitter, Instagram and Pinterest. I love to interact with my followers and I'd love you to share my content with your friends too.
The Recipe
Big Fluffy Scones Recipe
---
These Big Fluffy Scones aren't just on the larger side or simply not dainty and small, they're truly big! And like all of my scone recipes, they're most certainly fluffy too.
Ingredients
500

g

Self Raising Flour (Self-Rising)

-

plus a little extra or dusting

120

g

Salted Butter

100

g

Caster Sugar (Superfine Sugar)

1

tsp

Baking Powder

1

tsp

Sea Salt Flakes

300

ml

Skimmed Milk
Optional for Glaze – Choose 1
1

Egg

1

tbsp

Milk

2

tbsp

Double Cream (Heavy Cream)
Instructions
Preheat the oven to 200℃ fan | 220℃ | 430℉ or equivalent.

Line a large baking tray with greaseproof paper or reusable baking mat if needed.

Measure

500g Self Raising Flour

and

120g Salted Butter

into a medium mixing bowl.

Using your fingertips, rub the butter into the flour until breadcrumb like in texture.

Stir

100g Caster Sugar

,

1 tsp Sea Salt Flakes

and

1 tsp Baking Powder

into the flour/butter mix.

Measure

300ml Skimmed Milk

into a small jug. Add around half the milk to the crumbed flour mix.

Mix gently until all the milk is absorbed.

Add more milk little at a time and keep stirring until the dough can be pressed together to form a clump.

You may not need to use all of the milk. If you add a little too much, simply add a little more flour.

Try to work the dough as little as possible and turn it out onto a lightly floured board.

Press the dough into a rough rectangle. Sprinkle extra flour as needed.

To make the scones extra light and fluffy, add some quick folds to the dough. Repeat whichever method you choose twice for best results. Pat back into the original size rectangle between folds.

The first method is to fold the dough in half…

Or you can use a knife to cut the dough into quarters…

…then stack the quarters on top of each other. I prefer this method as it creates the cleanest layers.

Press the dough back out into a rectangle which is just large enough to cut 4 scones. Use a 9cm/3½" round cookie cutter to check the size. Use the edges of your hands to push the sides of the dough in so the rectangle is even and as thick as possible.

Press the fluted or round edge of the cutter to cut 4 scones. Dip the cutters into a little flour before each cut to prevent sticking. Do not twist the cutter, press down and lift straight up,

Place each cut scone onto the baking tray.

Press the offcuts of dough together firmly without twisting them to preserve the layers.

Pat it out to the same thickness as before. Try to work the dough as little as possible. Cut out another round.

Repeat once more. You should just have enough dough. Make sure to keep the dough even and with square edges.

Crack and beat 1 Egg then brush the tops of the scones to glaze. Alternatively use roughly

2 tbsp Double Cream

or

1 tbsp Milk

.

Put the tray in the oven for circa 15 minutes.

Take out the oven when golden brown. Put on a rack to cool. Or eat them warm and smothered in butter.
Nutrition (Approx)
Calories:
544
kcal
|
Carbohydrates:
80
g
|
Protein:
12
g
|
Fat:
20
g
|
Saturated Fat:
12
g
|
Polyunsaturated Fat:
1
g
|
Monounsaturated Fat:
5
g
|
Trans Fat:
1
g
|
Cholesterol:
50
mg
|
Sodium:
541
mg
|
Potassium:
247
mg
|
Fiber:
2
g
|
Sugar:
20
g
|
Vitamin A:
681
IU
|
Vitamin C:
0.03
mg
|
Calcium:
118
mg
|
Iron:
1
mg
Download my FREE 7 day international meal plan!
Simply subscribe to the Feast Glorious Feast newsletter and I'll send you the link.