A hot dessert ready in just 10 minutes? I've got you covered – this super easy Microwave Jam Sponge Pudding comes together in a flash to create the fastest from-scratch pudding in the land. Served with lashings of custard, this speedy take on a traditional steamed jam sponge pudding is an instant classic.
This post may contain affiliate links. Please refer to my Disclosures Page for more details.
I've been making microwave sponge cakes for as long as I can remember. And I can remember until I was quite young!
I'm a quite impulsive eater and planning a dessert 6 or 7 hours in advance doesn't always work out. I change my mind in an instant. When I want sponge pudding, I want it now. And this recipe really is ideal – when I say it's ready in 10 minutes, I really do mean it.
The basic recipe is exactly the same as if I was making a treacle sponge pudding, lemon sponge pudding or if I was going the traditional route and steaming it.
How to Serve Jam Sponge Pudding
Because this pudding is cooked in 4 or 5 minutes, there is little reason not to cook it and eat it hot and fresh. Served warm is absolutely fine, especially if its covered in piping hot custard.
But this is not a dessert to serve cold. I just don't enjoy the texture of the sponge cold. Whist the microwave cooking method results in a perfectly light and soft sponge, once cool I find it dry and heavy. Not to fear, it reheats back to its lovely warm and soft state.
You'll see from my constant mentions and photos that custard is my go-to sauce for sponge pudding. Unlike with a good crumble which stands up to cream or ice cream, sponge needs custard in my book. But you do you.
Ingredients for Quick Jam Sponge
Jam
Obviously the jam is the main star of this show! Now that I've honed my recipe for homemade seedless jams, I usually have one of these on hand. I've used my Seedless Raspberry Jam for the version in these photos and I've linked to my other recipes below.
You can of course use any homemade or store-bought jam, conserve, preserve, jelly (US) or even a fruit compote or curd. You don't need to be crazy exact with the measurements, just make sure to be generous.
Margarine
I have specified margarine in this recipe rather than butter because I prefer the lighter texture that you get from a margarine or spread. The other benefit is that it is useable straight from the fridge.
By margarine I'm really talking about some kind of light spread. I'm not into "baking" margarines like Stork – they have an odd taste and I don't really understand why they're so popular. Just a regular, cheap spread will do nicely.
If you prefer to use butter, please do. My preference is only slight and I certainly wouldn't not make a sponge if I only had butter and I'd be unlikely to go and buy some specially. You do need to make sure that the butter is soft before you start or the batter won't mix properly.
Sugar
Nowadays I use white caster sugar in my sponges. But for most of my life, granulated was the only sugar on hand and that worked just fine.
You can use an unbleached/golden sugar but please don't substitute with brown or dark brown sugar as the quantities may be out and the flavours will likely clash with the jam.
Self-Raising Flour
If you prefer to use plain flour, you will need to add baking powder – you can use this guide from Charlotte's Lively Kitchen to work out how much you need to use.
I've also made this recipe many times with white spelt flour and you'd never know the difference.
Eggs
I mostly use large eggs but if you only have medium, this recipe will work just fine.
Be Flexible
You'll note that when I've talked about the jam that I've talked about various other toppings that you can use to make a steamed sponge pudding. That can be any type of jam, marmalade, fruit compote, golden syrup or fruit curd. The options are pretty endless.
Check my Microwave Syrup Sponge Pudding post for that specific variation.
You can also mix things up with the actual sponge. Adding a little lemon to the sponge is my favourite thing to do when sticking with a classic red fruit jam. I simply add 2 tbsp lemon juice to the cake batter. And some lemon zest if I'm feeling fancy and using fresh lemons rather than bottled juice.
Orange zest also adds some zip too as does a little orange or almond extract.
To make a microwave chocolate sponge pudding is easy too. Replace 2 tbsp of the flour with cocoa powder and simply don't use the jam. Although saying that a cherry jam and chocolate sponge would be wonderful.
Make it Allergy Friendly
This recipe is free from nuts.
Gluten Free Jam Sponge Pudding: To make the recipe gluten free, you will simply need to use a gluten-free flour blend.
If the blend you choose doesn't contain a raising agent, you will need to add baking powder.
Dairy Free Jam Sponge Pudding: The only dairy in this recipe is the margarine. Plant based margarine is incredibly easy to come by nowadays so simple sub that for the regular margarine.
Egg Free Jam Sponge Pudding: If you can use a liquid egg replacer (whole eggs not just egg white), that should be simple swap.
If you cannot get hold of such a product, use 1 tbsp vegetable oil in place of each egg. The texture won't be quite the same but you'll end up with a perfectly serviceable egg free pudding.
Please note that this recipe may contain other allergens not referred to above and any variations suggested have not been tested unless otherwise stated. For more information regarding any dietary information provided on this website, please refer to my Nutritional Disclaimer.
Make it Vegetarian or Vegan
This microwave sponge pudding recipe is vegetarian friendly as written.
To make a vegan jam sponge pudding you will need to take on board my suggestions above to make the recipe both dairy and egg free. Not that tricky at all.
Equipment Notes for Microwave Sponge Pudding
Microwave
I think it should be quite obvious by this point that the speed of this recipe does hinge on having a Microwave.
I use the microwave on full power and the times given are for a 700/800w microwave. If you have a more or less powerful microwave, you may need to adjust the cooking times by 30 seconds one way or the other.
Although saying that, providing that you use an oven safe pyrex dish, you could easily cook this in the oven. But it would take about 45 minutes to cook.
Electric Mixer
I do almost always use electrical assistance to make a quick sponge. It is much easier to get an all-in-one cake mixture to mix properly this way.
For a relatively small amount of mix, I find whipping out my Electric Hand Mixer preferable to using my big stand mixer bowl. But if that is what you have, use it.
You can mix this by hand using just a spatula or wooden spoon but I would usually mix the butter and sugar together first then add the eggs and vanilla and mix then the flour. Its going to take a couple more minutes but this will ensure that everything is properly mixed together and it will cook evenly.
Cooking Dish
Despite the images in the recipe showing me using a glass pyrex bowl to make this sponge, I do more often than not just use a basic thin plastic mixing bowl. I own a bunch of them in various sizes and use them for nearly everything. But they're not very clear and are not helpful to show you what I'm doing!
You can really use any microwave safe dish you like. Plastic will not absorb as much heat as pyrex glass or ceramic so the cooking time I've given is less as the food itself will cook faster. The pryrex bowl that I have used in the recipe process images is 1 litre in size.
What you should avoid using is melamine or bamboo dishes. They absorb all the heat, get far to hot and leave your food uncooked.
A comprehensive list of the equipment used to make this recipe is included in the main recipe card below. Click on any item to see an example. There are no hard and fast rules so many items can be sensibly substituted to achieve the same results.
Get Ahead
But not by much! You can make up the jam and sponge batter a couple of hours in advance at most. It isn't ideal to let a batter with a raising agent sit for too long (unless it is intentional like with this Ma Lai Gao Steamed Cake) but this recipe is so forgiving, a couple of hours won't hurt.
You can then throw the bowl in the microwave just before you want to eat.
Leftover Microwave Jam Sponge
Leftovers can be stored in the fridge and reheated again in the microwave. Heat in 30 second bursts because a portion won't take long at all.
Quick Sponge Pudding Tips
Hot jam is very very hot so please be extra careful when turning out the pudding. If you're worried, don't turn it out and simply serve from the bowl.
This recipe is said to serve 6 in the recipe. This is the kind of portion that you'd serve after a decent roast chicken dinner. If you want a heartier portion, this recipe will serve 4 as written.
You can always pop a microwave on for another 30 seconds but you can't rewind time. So if you are not sure about the power of your microwave, err on the side of caution.
It is often said that baking is a science and this puts the fear of god into people. I often eyeball this recipe and its not failed yet so don't stress over it. Don't go too crazy either, I will not be taking responsibility if you use 8 eggs and wonder why you have a kitchen explosion of slop.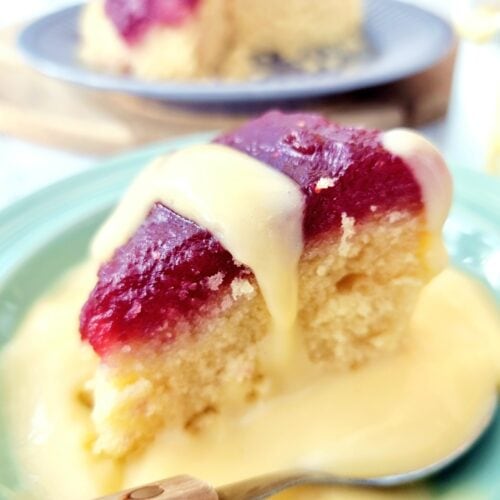 Don't forget to let me know in the comments if you try making this recipe – I want to know what you think and if you made any substitutions, how did it turn out?
Still Have Questions?
Simple! Just contact me and I will do my best to help as quickly as I am able. Head over to my Contact Me page, any of my social media channels or post a comment at the bottom of this page and I'll see what I can do.
Pin Microwave Jam Sponge Pudding For Later
Hit one of the share buttons to save this page to your Pinterest boards so you can come back and find it at anytime!
---
Keep Up to Date
Make sure you SUBSCRIBE to my newsletter and avoid missing out on any of my newest and bonus content. Don't worry, I promise not to spam you or bombard you too often. Plus you'll receive a copy of my FREE 7 Day International Meal Plan!

Also please don't forget to follow me over on my social media channels over at Facebook, Twitter, Instagram and Pinterest. I love to interact with my followers and I'd love you to share my content with your friends too.
The Recipe
Microwave Jam Sponge Pudding
---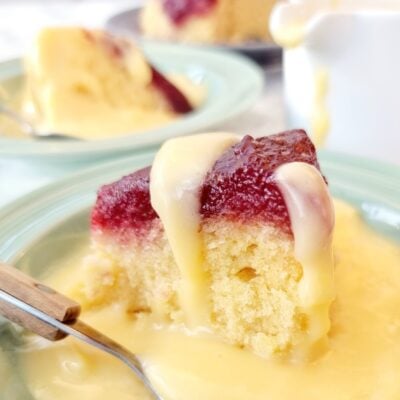 A hot dessert ready in just 10 minutes? I've got you covered – this super easy Microwave Jam Sponge Pudding comes together in a flash to create the fastest from-scratch pudding in the land. Served with lashings of custard, this speedy take on a traditional steamed jam sponge pudding is an instant classic.
Ingredients
175

g

Jam

-

you choice of flavour

120

g

Margarine

-

plus extra for greasing

120

g

Caster Sugar (Superfine Sugar)

120

g

Self Raising Flour (Self-Rising)

2

Eggs

1

tsp

Vanilla Extract
Instructions
Grease a microwaveable bowl and measure in

175g Jam

. Push it slightly up the sides of the bowl if it is thick enough.

Measure

120g Margarine

,

120g Caster Sugar

and

120g Self-Raising Flour

into a medium sized mixing bowl (or stand mixer bowl).

Crack in

2 Eggs

and add

1 tsp Vanilla Extract

.

Use an electric hand whisk or stand mixer to beat the ingredients together until fully combined.

Note – Do not continue mixing past this stage as you could make the sponge tough.Note – Use a spatula to scrape the sides of the bowl to make sure everything is properly mixed in.

Transfer the sponge batter into the microwaveable bowl on top of the jam layer. Roughly smooth out the top.

Microwave on full power for 5 minutes if using a glass/pyrex bowl and 4 minutes if using a plastic bowl.

Once cooked the sponge may look a tiny bit wet on the top but don't be fooled, the sponge will be fully cooked.

Use a plastic knife or spatula to loosen the edges of the sponge from the side of the bowl.

Carefully turn the sponge out onto a serving plate or you can simply use a large spoon to serve straight from the bowl.

Note – Be very careful as the jam will be piping hot.

Serve hot with lashings of custard.
Nutrition (Approx)
Calories:
397
kcal
|
Carbohydrates:
55
g
|
Protein:
5
g
|
Fat:
18
g
|
Saturated Fat:
4
g
|
Polyunsaturated Fat:
5
g
|
Monounsaturated Fat:
8
g
|
Trans Fat:
0.01
g
|
Cholesterol:
55
mg
|
Sodium:
219
mg
|
Potassium:
72
mg
|
Fiber:
1
g
|
Sugar:
34
g
|
Vitamin A:
795
IU
|
Vitamin C:
3
mg
|
Calcium:
23
mg
|
Iron:
1
mg
Download my FREE 7 day international meal plan!
Simply subscribe to the Feast Glorious Feast newsletter and I'll send you the link.