Perfect for the Coronation, this Victoria Sandwich Cake with Buttercream takes the simple traditional jam filled sponge cake and adds just a little something extra. Just as wonderful with a cup of tea or as a celebration centrepiece, you'll come back to this classic recipe time and time again!
This post may contain affiliate links. Please refer to my Disclosures Page for more details.
The Victoria Sponge is similar to what is known as "pound cake" in the US. Basically all the ingredients weigh the same as each other.
It's a very versatile sponge. I use it as the base of my Vanilla Butterfly Cakes, Halloween Fairy Cakes and Fiery Ginger Loaf Cake too.
Creaming Method vs All-in-One Method
There are two methods to making sponges. The first is the 'all-in-one-method' where all of the ingredients are bunged in at the same time and beaten together. This is the preferred method of Saint Mary Berry and Saint Delia Smith. They are also joined by Nigella Lawson and myself when making a denser Pound Cake.
The second is my preferred method for a light sponge where the fat and sugar are 'creamed' first. The eggs are then added and the flour folded in. Both James Martin and Jamie Oliver agree with me.
More interestingly is Felicity Cloake's 'Perfect' recipe which compares a number of popular recipes and concludes that the creaming method is indeed superior. Who am I to argue with "perfect"!
The Filling
Traditionally the only filling in a Victoria Sandwich Cake is pure jam but I find this a bit boring so I add buttercream with the jam. The jam 'should' be raspberry but I prefer strawberry. I especially prefer my homemade Smooth Strawberry Jam.
Also traditionally, the sandwich is topped with only caster sugar but I do much prefer the less crunchy texture and more even coverage of a light dusting of icing sugar.
The joy of a Victoria Sandwich Cake is that it is a building block for whatever filling, topping or addition your heart desires. I recently used blackcurrant jam and it was a game changer. It looked and tasted gorgeous.
Any of my favourite fruit curds make fabulous fillings too. Peach Curd is a more subtle summer classic. And my Plum Curd is a later summer burst of tate and colour. Both are amazing cake fillings.
Unless you are entering a strict Women's Institute style competition, there is nothing at all wrong with customising a classic recipe to make it your own. Unless we're talking about my classic scones where I take the exact opposite standpoint.
The Women's Institute Victoria Sponge
When looking for a WI recipe link to include with my above comments, I came a video produced by the WI Cookery School which I've been to a couple of times.
The decorating starts at around the 11 minute mark. You'll see the finished cake is not exactly a showstopper! The rest of the video is worth a watch as although some of our techniques do differ, for the most part I agree with many of the slightly controversial suggestions:
Margarine does indeed make a for a lighter and better textured cake than using butter,
Curdled eggs are not a disaster at all, and
I've never bothered sieving my flour either.
There are quite a few differences in our technique however:
I will never be bothered to weigh eggs – if the fat, sugar and flour are each out by 5 or 10g it really doesn't matter,
The eggs get bunged straight in the mixture – whisking them first makes no difference (I've tried it!),
I don't think added vanilla is required,
I like to add baking powder for a little extra lift to the texture. This also helps achieve a flatter topped cake.
The addition of milk is my preference and I bake the sponge at a slightly lower temp for a little longer as I think this is the trick to a nice moist sponge, and
I'll always make 2 sponges over one large one.
And of course I add buttercream to the filling.
The Victoria Sponge Proportions
One of the reasons that a Victoria Sandwich Cake is such a stalwart of the British baking establishment is that the recipe is effectively memorable right off the bat.
The basic rule is that however many eggs you use (lets say 5 for example), you use double the number in ounces of your fat, sugar and flour (so to continue the example; 10oz of each). Sadly this doesn't really work with metric measurements.
It can only be a good thing to not need to reference the internet or a book when needing to just whip up a sponge cake in a hurry. Of course cooking websites such as this should always be your first port of call otherwise!
You can toggle between seeing the recipe in grams and ounces by toggling between "Metric" (grams) and "US Customary" (ounces) in the recipe section below. (FYI – you can do this on all of my recipes except cups are usually used rather than ounces where appropriate).
Make Victoria Sandwich Cake into a Feast
I truly believe that you can make any dish into a proper feast! Whether thats a feast for one after work on a Tuesday, a casual feast for four on a Friday evening or a feast for 12 for a special occasion!
A good slice of cake and a cup of tea is indeed a Feast in itself! But if you combine a Victoria Sponge with little savouries like my Sausage Rolls, throw in some Scones and some other sweets like my Black Forest Poke Cake, Fiery Ginger Loaf Cake and Russian Slices, you have a whole Afternoon Tea Feast on your hands!
Don't forget to head over to my Feast Collection pages to find all of my tips and tricks to help you host a fun and stress-free feast. Plus remember to check out my recipe index to create your own awesome Feast!
Ingredients for Victoria Sandwich Cake
Butter
Please do not be tempted to substitute the butter for margarine in the buttercream part of the recipe. The butter texture is essential to this bit but do make sure the butter is softened before starting the mixing. (There is a vegan option however which I talk about below).
Sugar
I have swapped between using granulated (regular) and caster (superfine) sugar in this recipe my whole life. I do generally keep caster sugar for baking and granulated for in my tea but you can really use either/or.
Jam
Do use whatever jam you prefer. If that's pumpkin & ginger jam, then go for it! Lemon curd also work brilliantly too. Obviously I highly recommend using my Homemade Strawberry Jam.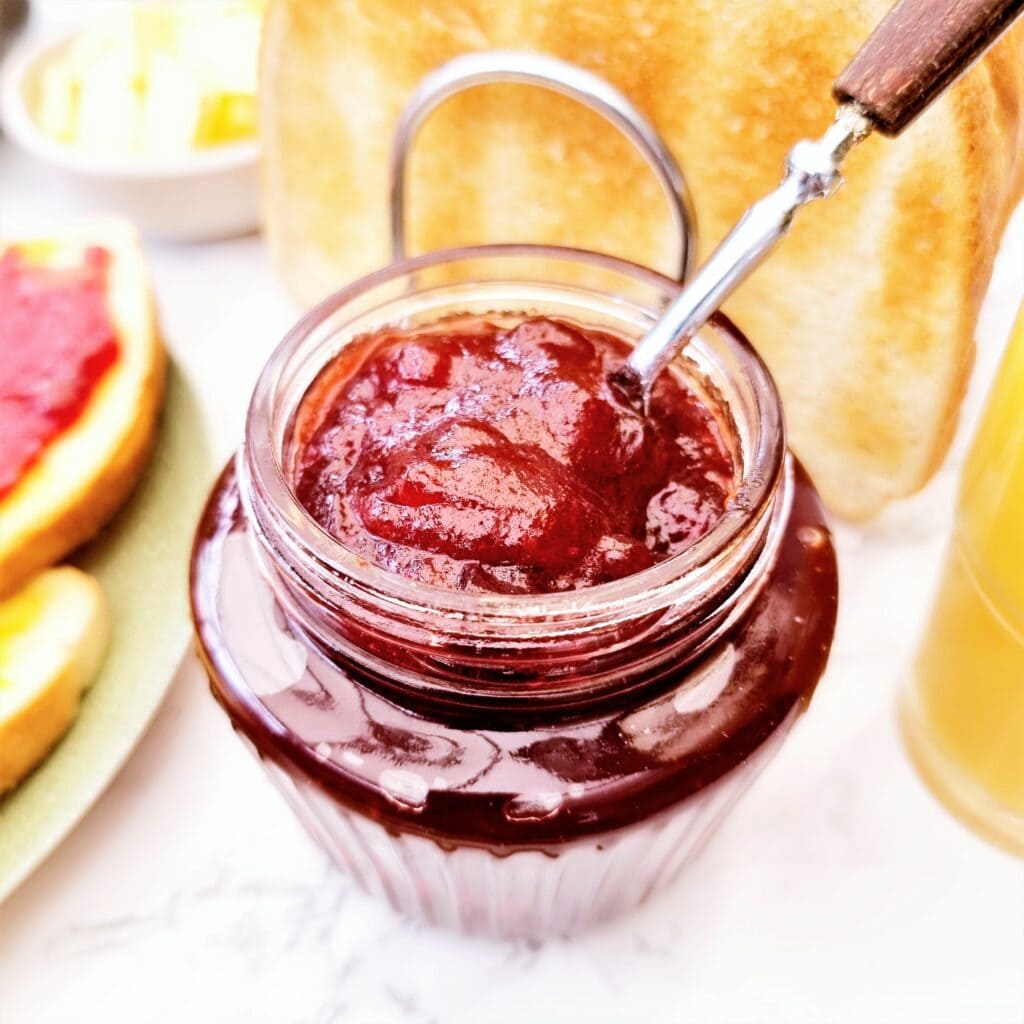 Be Flexible
One of the most obvious ways to adapt this recipe is to make cupcakes using a muffin tin filled with paper cake cases. Use the buttercream recipe for the cake to ice the top. You can adjust the recipe quantities in the recipe card below.
As discussed above, the jam is a movable feast. Any of your favourite preserves would work well. Or, if you don't like it, or don't have any, just leave it out.
If you are going to be serving the cake quite quickly after filling and icing it, you could use freshly whipped cream instead of the buttercream. The addition of some fresh berries would make it very English garden party, whether using cream or buttercream.
I've experimented many times with my Victoria Sandwich recipe over the years. It's the basis for my Fiery Ginger Loaf Cake and I made a chocolate version for many years by removing a tablespoon of flour and replacing it with cocoa powder. Nowadays I actually prefer to make my Chocolate Muscovado Cake instead.
Make it Vegetarian or Vegan
Like almost all good cake, my Victoria Sandwich Cake is suitable for vegetarians!
Victoria Sponge is relatively easy to make into a vegan cake but as you substitute out the eggs, the texture is a little different. It's still a really good cake so do give it a go. You will need to make the following substitutions:
Use a dairy free spread instead of the margarine in the sponge.
Swap the egg for a liquid egg replacer. These are much more common than they once were – check the free from aisle in the chiller section.
Use a plant based milk or water instead of the milk throughout the recipe.
Dairy free spread will not make great buttercream so make sure to substitute the butter with baking block. You need the harder texture for the buttercream to hold. I would also add a little vanilla extract as you will be missing the flavour of the butter and it may be a little bland otherwise.
Make it Allergy Friendly
This Victoria Sponge recipe is free from nuts.
Dairy Free: Follow the instructions for the vegan substitutions but don't swap the egg.
Egg Free: Swap the egg for a liquid egg replacer.
Gluten Free: Use a gluten free flour instead of the self raising flour. Use a flour with added raising agent otherwise add additional gluten free baking powder. And obviously ensure that the baking power you use either way is gluten free. The finished texture will be slightly different but still good.
Please note that this recipe may contain other allergens not referred to above and any variations suggested have not been tested unless otherwise stated. For more information regarding any dietary information provided on this website, please refer to my Nutritional Disclaimer.
Equipment Notes for Victoria Sandwich Cake
As I grew up making cakes with an electric hand mixer and I do still mostly stick with this method. But I do sometimes use my Kenwood stand mixer with paddle attachment.
It is perfectly possible to make cakes with a mixing bowl and a wooden spoon. This is still an absolutely valid way of doing it, especially for beginners. But you will get a lighter sponge with electrical assistance and the buttercream will really thank you.
For a neater, more uniform look, you could pipe the buttercream using a large disposable piping bag and a set of nozzles.
A 10oz/280g mixture makes a lovely deep cake in two 8″/20cm cake tins. Using two 9″/23cm cake tins for this amount of mixture still makes a decent depth cake but it will cut into more slices. Bear in mind that the buttercream and jam will also be spread thinner to cover the larger area. You might want to consider increasing the jam and buttercream quantities by at least 25%.
I line my tins with either round paper liners or circle paper liners just on the bottom of the tin. The round liners do create a texture on the sides of the cakes so choose your poison accordingly.
---
To see more of my recommended equipment items for new bakers, have a look at my post featuring all the essential equipment you might need.

It is also perfect inspiration for gifts for a budding baker in your life!
---
A comprehensive list of the equipment used to make this recipe is included in the main recipe card below. Click on any item to see an example. There are no hard and fast rules so many items can be sensibly substituted to achieve the same results.
Get Ahead
Victoria sponge cake freezes amazingly well. Many professional cake makers will bake their sponges in advance and then defrost and decorate right before serving. I think this is a great tip for the home cook too. You need to make sure that you wrap your sponges in cling film really really well and only wrap them once 100% cool.
The other option is to freeze the cake once it is decorated. It feels a little wrong but you can totally make and decorate the cake then freeze it whole or in slices. Do exactly the same wrapping wise as with the sponges. I would leave it in the fridge for a little while first to make sure that the filling and icing are set up.
Leftover Victoria Sandwich Cake
If you haven't scoffed the lot, or more importantly, don't think that you're going to get through it in a couple of days, consider freezing the remainder following the above instructions.
If my sponge is heading towards slightly stale, I quite often give it a 15 second blast in the microwave. But then I rather like hot sponge and slightly melted buttercream. I appreciate that might not be to everyone's taste!
There are loads of ways to use up stale sponge. A classic idea is to use it as the base for a trifle. There isn't a stale cake in the world that a good soaking of booze can't revive! (It might be a good idea to scrape out the buttercream and jam first though!)
The absolute best idea is to use stale sponge to make my perennially popular Russian Slice. More booze is involved and I therefore rest my case!
Victoria Sandwich Cake Tips
The mixture will likely split as you add the eggs. Do not panic, do not start again, do not weep gently. Keep whisking, it turns out that it really doesn't matter. Some of my greatest ever sponges have been from split batters.
Don't use an electric mixer to combine the flour as the gluten in the flour will overwork and your cake sponge will turn out tough.
'Done' will be when the sponges are light golden brown on top and a skewer poked into the middle of the sponge comes out with only crumbs stuck and no liquid batter. I don't condone overcooking as the cake will be dry but on this occasion, 'actually cooked' should be aimed for.
Serve in great hunking slices with a cup of tea. In a cup and saucer (obvs).
Look I have to admit that I generally eat a good portion of the cake batter straight from the mixing bowl every time I make a cake. If this is also your proclivity, consider upping the ingredient quantities for the sponge. I have no shame or regrets. Nor should you.
Oh, and I also love salted potato sticks dipped in leftover buttercream. Try it. Whats the worst that can happen?
Don't forget to let me know in the comments if you try making this recipe – I want to know what you think and if you made any substitutions, how did it turn out?
Still Have Questions?
Simple! Just contact me and I will do my best to help as quickly as I am able. Head over to my Contact Me page, any of my social media channels or post a comment at the bottom of this page and I'll see what I can do.
Pin Victoria Sandwich Cake with Buttercream For Later
Hit one of the share buttons to save this page to your Pinterest boards so you can come back and find it at anytime!
Keep Up to Date
Make sure you SUBSCRIBE to my newsletter and avoid missing out on any of my newest and bonus content. Don't worry, I promise not to spam you or bombard you too often. Plus you'll receive a copy of my FREE 7 Day International Meal Plan!

Also please don't forget to follow me over on my social media channels over at Facebook, Twitter, Instagram and Pinterest. I love to interact with my followers and I'd love you to share my content with your friends too.
More Simple Sweet Bakes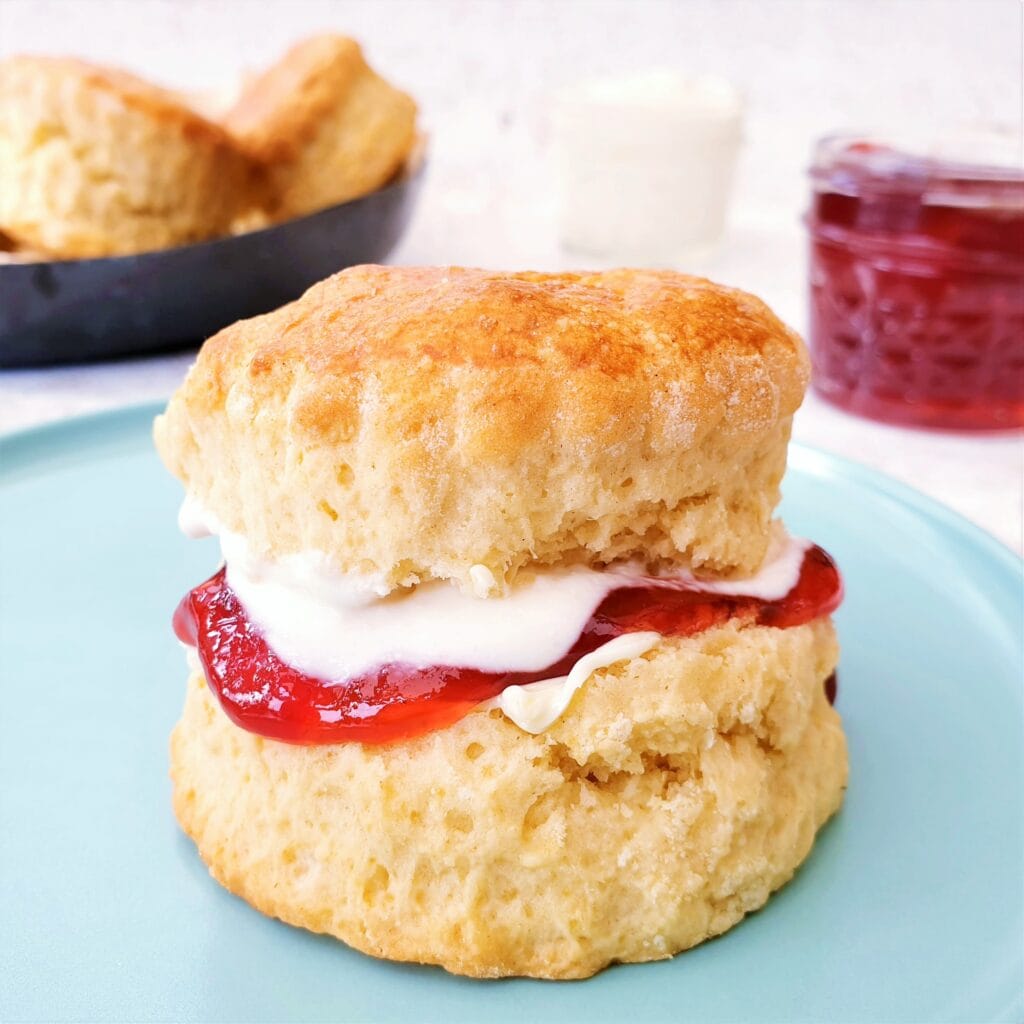 The Recipe
Victoria Sandwich Cake with Buttercream Recipe
---
This Victoria Sandwich Cake with Buttercream takes the simple traditional jam filled sponge cake and adds just a little something extra. Just as wonderful with a cup of tea or as a celebration centerpiece, you'll come back to this classic recipe time and time again!
Ingredients
Sponge
280

g

Margarine

280

g

Caster Sugar (Superfine Sugar)

5

Egg

4

tbsp

Milk

1

tbsp

Baking Powder

280

g

Self Raising Flour (Self-Rising)
Filling & Topping
160

g

Icing Sugar (Confectioner's Sugar)

80

g

Salted Butter

1

tbsp

Milk

150

g

Strawberry Jam

1

tsp

Icing Sugar (Confectioner's Sugar)

-

for dusting
Instructions
Preheat the oven to 160c fan /180c / 350F or the equivalent.

Line 2 cake tins with liners or butter and flour the tins.
Make the Sponge
Weigh

280g Margarine

and

280g Caster Sugar

into a large mixing bowl. Beat together until light and creamy.

Give the batter a good whisk between each egg addition.

Add the next egg and repeat until all the eggs have been added. Don't worry if it starts to split and look a bit ugly – just keep beating it!

Add

4 tbsp Milk

and

1 tbsp Baking Powder

then whisk to combine.

Add

280g Self Raising Flour

.

Fold this into the batter by hand until just combined.

Split the mixture between the two tins and spread out to even layers.

Bake for 20 minutes then check if it is done by inserting a skewer into the centre. if it comes out clean, it is cooked. If needed, give the cakes another couple of minutes then check until it is done.

Leave the sponges to cool on a rack. Leave them in the tin at first unless you used liners in which case it should be easy to lift them out still in the paper and onto the rack.

Wait until the sponges are totally cold before filling and icing.
Make the Buttercream & Assemble
Make the buttercream by sieving

160g Icing Sugar

into a large bowl and adding

80g Butter

with

1 tbsp Milk

.

Whisk for 5 or so minutes until it is light and fluffy.

Lay the flattest of the two sponges onto your presentation plate. If you have a large dome, simply slice it off to to make a flat base.

Spread

150g Strawberry Jam

over the sponge. Use a spatula to spread the jam – don't go too close to the edges because gravity will do that work for you later.

Either use a piping bag or simply dollop the buttercream on top of the jam. Either way, I find that smaller dollops more evenly spread is the best option. Again don't go too close to the edge.

Put the second sponge on top. Be gentle! Use a small sieve to dust the top with 1 tsp Icing Sugar

Serve in great hunking slices with a cup of tea. In a cup and saucer obviously!
Notes
Important! If you have adjusted the serving size of this recipe, the cooking time will vary. A larger cake will take longer to cook and a smaller cake will take less. But if you are increasing the recipe, you might want to consider making multiple smaller cakes rather than a massive one. Don't forget that the tin size will also need to be adjusted.
This recipe was updated in June 2021. The updated recipe does not include an additional layer of buttercream and swirl of jam on top. To add this extra layer, simply double the buttercream ingredients and swirl in small dollops of jam.
Nutrition (Approx)
Calories:
608
kcal
|
Carbohydrates:
76
g
|
Protein:
7
g
|
Fat:
32
g
|
Saturated Fat:
10
g
|
Polyunsaturated Fat:
7
g
|
Monounsaturated Fat:
14
g
|
Trans Fat:
1
g
|
Cholesterol:
99
mg
|
Sodium:
363
mg
|
Potassium:
217
mg
|
Fiber:
1
g
|
Sugar:
52
g
|
Vitamin A:
1336
IU
|
Vitamin C:
1
mg
|
Calcium:
91
mg
|
Iron:
1
mg
Download my FREE 7 day international meal plan!
Simply subscribe to the Feast Glorious Feast newsletter and I'll send you the link.