Here you'll find all of my fabulous Smooth & Seedless Jam Recipes in one easy place. With no pesky pips, my recipes are all written to make small batches but can easily be scaled up to make larger quantities. And they all come with detailed step by step instructions so they're perfect every time.
I am simply not a fan of chunky jams or preserves. Whilst its relatively easy to buy seedless strawberry and raspberry jams, other smooth jams are much harder to come by. And lets face it, even when a store-bought jam is an option, the homemade version will always be superior.
Being able to make jam is almost an essential skill if you grow your own fruits. Its such a great way to preserve those fruits to enjoy them year round and of course a homemade jar of jam makes an incredible gift too.
You can also use frozen fruit too which makes for ultimate flexibility.
Seedless Jam Recipes
With just two additional ingredients and no pectin needed, this easy Seedless Mixed Berry Jam recipe is easily adaptable to use whatever berries you have on hand. I've used a mix of fresh and frozen strawberries, raspberries, blueberries, blackcurrants and blackberries to make this simple but delicious smooth berry preserve.
---
This simple step-by-step recipe for Seedless Raspberry Jam is both delicious and deliciously easy to make. With just 3 ingredients and no specialist sugar or pectin required, this is a great way to use fresh or frozen raspberries to make a lovely smooth jam with no bits.
---
This easy Seedless Blueberry Jam recipe is beautifully smooth and incredibly delicious with no added pectin needed. Use fresh or frozen blueberries to make a small batch of jam at any time of year with my simple step-by-step instructions and handy hints and tips.
---
This Seedless Stawberry Jam is a quick, easy and no fuss recipe for making a fabulously smooth and sweet strawberry preserve. It's perfect served classically with scones, as a cake filling or simply slathered on toast!
---
All the joy of tasty bramble jam but with none of the pesky seeds! This easy Seedless Blackberry Jam recipe includes full step by step instructions to make a small batch of preserves. The versatile recipe can easily be scaled up or even mixed with other berries so there is no excuse not to try it!
---
This Seedless Fig Jam is an easy way to preserve figs that is not only delectable spread on toast or used to make sweet treats, but equally great in savoury dishes, especially with cheese. The small batch recipe can easily be scaled up if needed and by sieving out the seeds and skin, the texture is smooth and delicious.
---
Smooth Fruit Jams
This Smooth Plum Jam recipe is super simple to make and is delicious to eat with no pesky lumps or little pieces of skin to get stuck in your teeth! The flavour of plum jam is simply divine and with my detailed step by step instructions, anyone can make this small batch of homemade jam in barely any time at all.
---
This Smooth Dark Sweet Cherry Jam is quick and easy to make with detailed instructions that ensure you can't possibly go wrong. This small batch jam can be made with fresh or frozen dark sweet cherries so you don't even need to wait for cherry season to make it!
---
Ways to Use Your Jam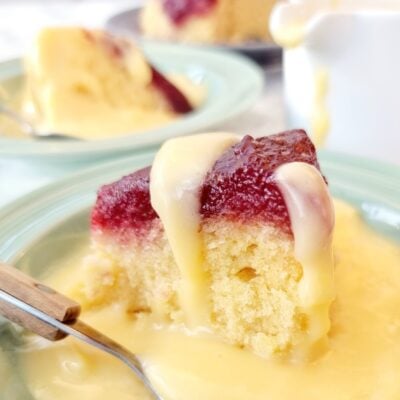 A hot dessert ready in just 10 minutes? I've got you covered – this super easy Microwave Jam Sponge Pudding comes together in a flash to create the fastest from-scratch pudding in the land. Served with lashings of custard, this speedy take on a traditional steamed jam sponge pudding is an instant classic.
---
This Victoria Sandwich Cake with Buttercream takes the simple traditional jam filled sponge cake and adds just a little something extra. Just as wonderful with a cup of tea or as a celebration centerpiece, you'll come back to this classic recipe time and time again!
---
This is the place to find all my greatest scone recipes in one place! The only difficult part about making delicious homemade scones is going to be choosing which ones!
From giant to tiny, plain or fruited, I've got the scone recipe for you. And if you want to keep things savoury, try cheese scones or American biscuits.
---
So now tell me what you favourite jam recipes are!
Pin Smooth & Seedless Jam Recipes For Later
Hit one of the share buttons to save this page to your Pinterest boards so you can come back and find it at anytime!
Keep Up to Date
Make sure you SUBSCRIBE to my newsletter and avoid missing out on any of my newest and bonus content. Don't worry, I promise not to spam you or bombard you too often. Plus you'll receive a copy of my FREE 7 Day International Meal Plan!

Also please don't forget to follow me over on my social media channels over at Facebook, Twitter, Instagram and Pinterest. I love to interact with my followers and I'd love you to share my content with your friends too.