This Korean Pork Rice Bowl with sticky rice & greens is one of my favourite ways to serve my ever popular Korean Belly Pork. The soft, sweet and slightly spicy pork is complemented by the gingery blandness of the sticky rice and balanced by the freshness of steamed greens. Try it, you won't be disappointed!
This post may contain affiliate links. Please refer to my Disclosures Page for more details.
I've talked about how I went to South Korea for the first time in 2017 in my post for Korean Belly Pork. I have always been obsessed with Asian flavours and cooking but that upcoming trip really focused my obsession on Korean food for a while.
After perfecting the recipe for that Korean Pork Belly, I then had to work out how to serve it. One of my favourite meals is my Sweet Chilli Salmon with Sticky Rice so it seemed obvious to me to serve my pork in a similar way. I just can't get enough of sticky rice and adding steamed greens perfectly balances the dish.
As my Belly Pork Recipe already includes a sauce, after following that recipe, all you need to do it cook the rice and steam the vegetables before serving it all together.

How to Serve Korean Pork with Sticky Rice & Greens
I usually serve this in a large Chinese soup bowl (a pasta bowl would be a great alternative) but if you are like my dad any hate anything not on an actual plate – serve it on a plate!
It is entirely up to you whether you serve the sauce on the side or dish up before serving. I like the sauce everywhere!
Make Korean Pork with Sticky Rice & Greens into a Feast
I truly believe that you can make any dish into a proper feast! Whether thats a feast for one after work on a Tuesday, a casual feast for four on a Friday evening or a feast for 12 for a special occasion!
As this is a complete meal, you don't really need to add anything else unless you want to add some extra vegetables. My Sesame Tenderstem Broccoli would be a great option as would my Chilli Garlic Edamame Beans
I often serve a bowl of Miso Soup on the side and if I'm feeling really decadent, I throw some dumplings in the steamer to have with it too. My Pork Siu Mai, Fun Guo and Har Gow dumplings only take 12 minutes to cook from frozen.
Don't forget to head over to my Feast Collection pages to find all of my tips and tricks to help you host a fun and stress-free feast. Plus remember to check out my other Asian inspired recipes.
Ingredients for Korean Pork with Sticky Rice & Greens
Korean Belly Pork
I do try to not refer you to other pages on my site as a matter of course. I know that flicking between two recipe pages can be very annoying. But in this case, it doesn't make any sense to repeat all of the information given in my Belly Pork recipe here.
So please do have a look at that post, read the information and follow the recipe over there. Don't forget that all of my recipes are printable too. Just head to the section called "The Recipe" and hit the "Print Recipe" button.
If you don't want to make you own Korean Pork from scratch then you could alternatively use a ready flavoured joint from the supermarket. Many shops have a "cook at home" type range that is ready in about 30 minutes. Do also feel free to use this recipe with another flavoured meat.
Rice
I have written a full and separate guide to cooking sticky rice. But all of the information to complete this full dish is also included in this post. You will want to serve this rice with everything though so make sure to save that post too!
I often use pudding rice rather than specialist sushi rice. Its almost exactly the same kind of short grain rice as sushi rice and at least half the price. The outcome is, to my eye, almost identical. Or I buy actual sushi rice in massive bags from Asian supermarkets.
You could substitute in another kind of rice entirely but you will not get the same effect. Thai sticky rice would be the nearest equivalent followed by paella and arborio rices. They are also short grain and starchy although in a different way. Regular long grain rice would be acceptable but won't be sticky.
It is possible to get brown sushi rice which I love but it is rarer than hen's teeth so good luck finding any!
---
To find out about more of my favourite Asian Ingredients, check out my guide to the Top 16 Asian Ingredients which I always keep stocked in my pantry.

I've also suggested a whole bunch of recipes to try once your cupboard is fully stocked!
---
Greens
Choose your favourite (or favourites). I would recommend one of the following:
Tender-stem or purple sprouting broccoli
Regular broccoli
Sugar snap peas (or mangetout)
Pak choi / bok choi
Swiss chard
Green beans
I would also serve with the following but I would generally prepare in a different way to steaming them:
Kale (pan fry)
Baby spinach (serve raw)
Brussels sprouts (par-boil then fry)
Asparagus (pan fry)
Courgette (pan fry)
Be Flexible
I've talked above about how you could use a belly or other pork recipe which isn't the one I've provided (obviously I recommend my version!) or use a pre-prepared version.
I've also given lots of suggestions about the different types of vegetables you could use. You could of course use another non-green veg. I do sometimes use roasted butternut squash or stir-fired red peppers and onion.
If you have another form of rice that you prefer, you can use that too. The two minute microwave bags of rice are brilliant when you are in a rush and would be especially great if you are using leftover pork. I would stick to a plain rice rather than one that is pre-flavoured if at all possible.
Make it Vegetarian
I have talked about alternatives to using the pork in my Korean Belly Pork post. All of the ingredients that I have given to turn the dish into a meal here are suitable for vegetarians.
Make it Vegan
I have again talked about vegan alternatives to using pork and how to make sure that the galze and sauce elements of that recipe are suitable for vegans in my Belly Pork recipe post. The rest of the ingredients here are suitable for vegans.
Make it Allergy Friendly
Please do review the allergy notes given in my original Pork Belly post. There are a number of suggestions for substitutions given. providing that the various pastes used are double checked for allergens, the whole recipe is dairy and egg free.
Please note that this recipe may contain other allergens not referred to above and any variations suggested have not been tested unless otherwise stated. For more information regarding any dietary information provided on this website, please refer to my Nutritional Disclaimer.
Equipment Notes for Korean Pork Rice Bowl
There are various options for steaming the greens. I generally use bamboo steamers lined with parchment circles. They are easy, quick to clean and balance perfectly on my medium sized saucepan. Using the steamer part of my saucepan set is another option as would be using an electric steamer.
The other option that I regularly use is my microwave steamer plate but in the case of preparing this recipe, I reserved the use of that plate for warming the belly pork in the microwave.
A regular microwave safe plate would be fine to heat the pork, just cover the meat with cling film before heating. If you have no microwave, the pork can be heated on the hob in a frying pan.
The vast majority of Japanese kitchens are very small but almost all contain an electric rice cooker. Throw the rice and water in, set it and leave it. It sounds very simple but as I don't actually cook rice everyday and I have room to store a range of saucepans, I do not own one.
Using a pan isn't difficult so that's the method I stick to. But if you have a rice cooker then ignore me completely and follow the instructions that came with it!
A comprehensive list of the equipment used to make this recipe is included in the main recipe card below. Click on any item to see an example. There are no hard and fast rules so many items can be sensibly substituted to achieve the same results.
Get Ahead
You can make this Korean Pork with Sticky Rice & Greens as a primary meal when cooking the Korean Belly Pork or use it as a way to use up leftovers. The pork can be cooked up to several days ahead and stored in the fridge or sliced and frozen.
You can also cook the rice in advance. I often do this and batch freeze portions of the rice. The best way to reheat is in the microwave as putting it on the hob will affect the stickiness. Either way you may need to add a little extra water if the rice starts to look a little dry.

I would ideally cook the greens last minute.
Leftover Korean Pork
Any leftover Korean Pork can be used in my Korean Pork Ramen. I actually highly advise this! Leftover rice can be used to make any number of my various sushi recipes. I would especially recommend trying my Onigiri recipe.

Both the pork and rice can be kept in the fridge for several days or frozen for a later date. I wouldn't especially recommend keeping the greens or freezing them.
Korean Pork with Sticky Rice & Greens Tips
I have provided timings within the recipe to help you whether you are cooking the pork fresh to use with this dish or whether you are reheating previous cooked pork.
If you don't fancy the greens steamed, you can always cook them with another method that you prefer.
Don't forget to let me know in the comments if you try making this recipe – I want to know what you think and if you made any substitutions, how did it turn out?
Still Have Questions?
Simple! Just contact me and I will do my best to help as quickly as I am able. Head over to my Contact Me page, any of my social media channels or post a comment at the bottom of this page and I'll see what I can do.
Pin Korean Pork Rice Bowl For Later
Hit one of the share buttons to save this page to your Pinterest boards so you can come back and find it at anytime!
Keep Up to Date
Make sure you SUBSCRIBE to my newsletter and avoid missing out on any of my newest and bonus content. Don't worry, I promise not to spam you or bombard you too often. Plus you'll receive a copy of my FREE 7 Day International Meal Plan!

Also please don't forget to follow me over on my social media channels over at Facebook, Twitter, Instagram and Pinterest. I love to interact with my followers and I'd love you to share my content with your friends too.
More Meaty Main Meals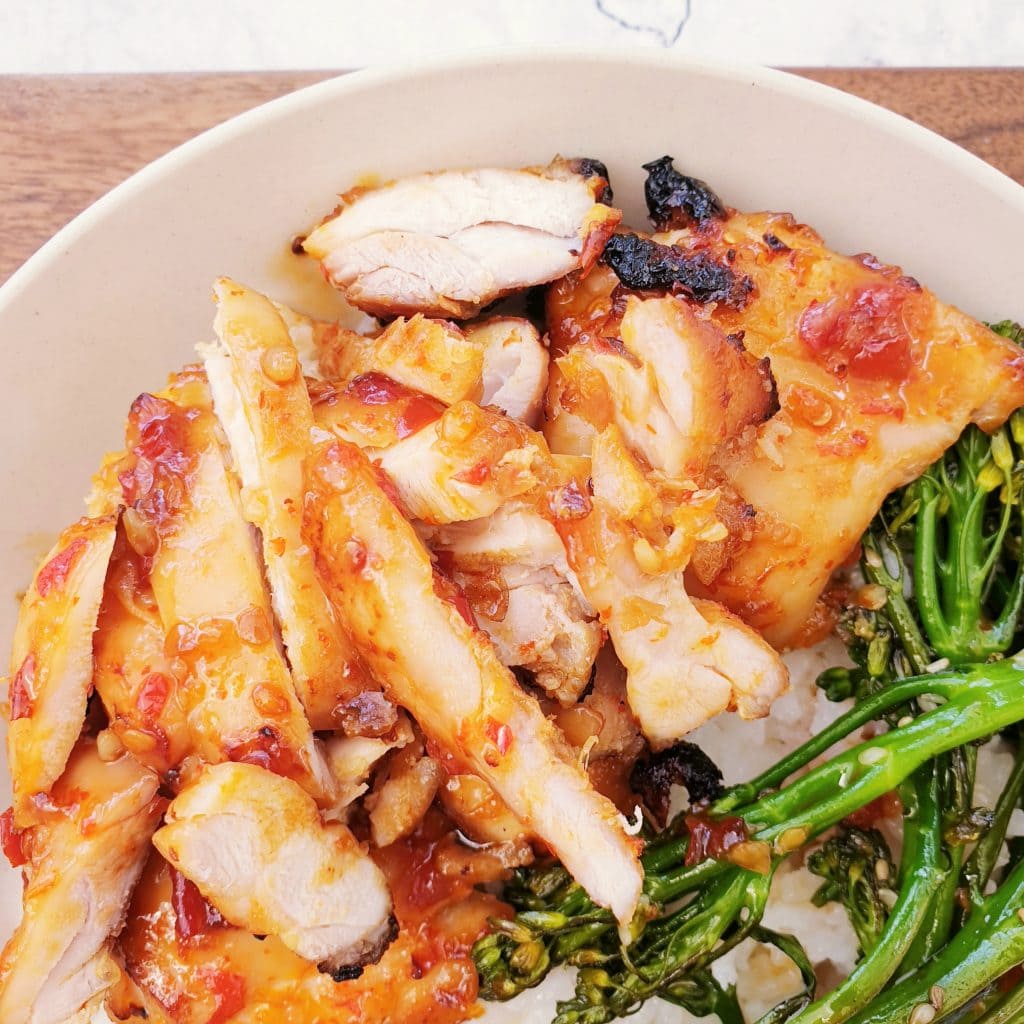 More Pork Recipes
The Recipe
Korean Pork Rice Bowl
---
This Korean Pork Rice Bowl with Sticky Rice & Greens is one of my favourite ways to serve my ever popular Korean Belly Pork. The soft, sweet and slightly spicy pork is complemented by the gingery blandness of the sticky rice and balanced by the freshness of steamed greens. Try it, you won't be disappointed!
Ingredients
For the Rice:
200

g

Sushi Rice

-

or Pudding Rice

2

tbsp

Ginger Paste
For the Greens:
250

g

Green Vegtables

-

eg broccoli

0.5

tsp

Sesame Oil

0.5

tsp

Sea Salt Flakes
Instructions
If cooking the pork at the same time as making this dish, start the steps given here when you put the pork in the oven to glaze. Otherwise prepare circa

500g Korean Belly Pork

ready for reheating.

Fill the kettle and pop it on to boil.

Start by putting

200g Sushi Rice

in a sieve and rinsing under a running cold tap for 10-20 seconds. Leave aside to drain.

Prepare

250g Greens

in the manner required. Trim any gnarly ends. Cut into more reasonable portions if using something larger like pak choi or broccoli. Place in a steamer basket and drizzle over

0.5 tsp Sesame Oil

and

0.5 tsp Sea Salt Flakes

.

Take the rinsed rice and add to a lidded saucepan with

2 tbsp Ginger Paste

. Add

400ml Cold Water

to the pan and stir the rice and ginger around.

Put the lid on and place on a medium heat until the water is boiling. At that point, fully seal the lid, turn the heat to low and leave to cook for 10 minutes.

Meanwhile finely chop

2 Spring Onions

and

2 tbsp Coriander

. Set aside.

Once the rice has boiled for 10 minutes. Turn off the heat and leave it to sit. Do not remove the lid.

Fill your steamer pan with boiling water from the kettle and put on a medium heat with the steamer basket and lid on top.

You will also want to start warming your sauce at this stage.

If you are using leftover or pre-prepared pork. Start to warm it through in a pan or in the microwave now.

The greens are ready when they are tender. I use a small knife to poke them to check. It will take around 10 minutes depending on what veg you chose.

When the greens are ready, the pork is warm and rice has sat off the heat for at least 10 minutes, you can start to serve.

Start with the rice in the bottom of the bowls. Add the steamed greens to the other side.

Add slices of the pork belly on top of the rice.

Add the sauce over the top or serve on the side.

Sprinkle over the spring onion and coriander garnishes.
Nutrition (Approx)
Calories:
1011
kcal
|
Carbohydrates:
90
g
|
Protein:
73
g
|
Fat:
36
g
|
Saturated Fat:
12
g
|
Cholesterol:
225
mg
|
Sodium:
824
mg
|
Potassium:
1370
mg
|
Fiber:
6
g
|
Sugar:
2
g
|
Vitamin A:
925
IU
|
Vitamin C:
115.3
mg
|
Calcium:
123
mg
|
Iron:
6.4
mg
Download my FREE 7 day international meal plan!
Simply subscribe to the Feast Glorious Feast newsletter and I'll send you the link.