My Chicken, Peanut & Lentil Soup is the meaty version of my vegan Peanut Lentil Soup. Its still gluten free but includes extra toppings to make a full and satisfying meal. Its also still extra easy to make and packed with flavour.
This post may contain affiliate links. Please refer to my Disclosures Page for more details.
I flip flop between making the vegan version of this soup and then adding this chicken and fried veg topper to make it into a meal that fully satisfies me.
The whole recipe came about after staring at the contents of my fridge for a while and trying to work out what on earth to do with the disparate ingredients. As I always keep coconut milk in the cupboard for just such emergencies, this satay based soup idea formed itself.
I don't eat or cook with a whole lot of lentils. I don't dislike them and I generally keep a couple of varieties next to my emergency coconut milk but I never really fancy them. But they turned out to be perfect for this recipe and I even had to go and buy another packet!
How to Serve Chicken, Peanut & Lentil Soup
Serve simply in a soup or pasta bowl. I like to use a pasta bowl when adding toppings as it leaves me with more space to take some mouthfuls of just the soup or introduce a bit of the topping for some mouthfuls. I'm a bit fan of variety throughout my meal.
I also often use my favourite enamel dishes to serve soups too.
An additional swirl of coconut milk makes for a pretty bit of extra presentation.
Make Chicken, Peanut & Lentil Soup into a Feast
I truly believe that you can make any dish into a proper feast! Whether thats a feast for one after work on a Tuesday, a casual feast for four on a Friday evening or a feast for 12 for a special occasion!
This soup has satay flavours that would work as part of an Asian Inspired Feast. It could be served in smaller portions as a starter and followed by something like my Sweet Chilli Salmon. Or kept as a meal size soup with Vietnamese Summer Rolls served as a starter and followed by my Mango Coconut Ice Cream.
Don't forget to head over to my Feast Collection pages to find all of my tips and tricks to help you host a fun and stress-free feast. Plus remember to check out my other Asian inspired recipes.
Ingredients for Chicken, Peanut & Lentil Soup
Chicken
I've chosen to use chicken thighs in this recipe because they have the most flavour of any part of the chicken. I've chose to use chicken thigh fillets because I absolutely hate taking the bone out of chicken thighs.
It isn't difficult to do and I would recommend using scissors rather than I knife but it is just one of those jobs that I would rather pay for someone else to do. If you want to buy cheaper whole thighs and do it yourself then by all means do.
Chicken breast would also work great here, just reduce the cooking time of the chicken a little.
Lentils
I have used dried red lentils the majority of the time that I have made this soup. But I've alternatively used green lentils too. I think really dark lentils like puy would be a little too heavy. Beware that green lentils may take longer to cook until tender.
Tinned lentils would also be fabulous to use. Treat them in exactly the same way as I have the dried. 100g dried lentils = 250g cooked lentils.
Coconut Milk
I have specified light tinned coconut milk but you can use any coconut milk or cream that you prefer. You could use regular milk too if you don't want such a prominent coconut flavour and being dairy free isn't an issue.
---
More Coconut Milk Recipes
For more great recipes featuring coconut milk, check out my post featuring the Best Coconut Milk Recipes from top food bloggers and this site.

There are soups, curries, sauces, chocolate tarts, ice creams and even scones to try.
---
Satay Sauce
There are numerous varieties of satay sauce available. Almost any will work brilliantly in this recipe. But you must be careful which you pick if you are making this recipe specifically to be gluten free or vegan. Check the ingredients carefully.
Of course I highly recommend using my homemade Satay Sauce. It only takes 15 minutes to make and keep brilliantly.
Be Flexible
In addition to choosing which lentils and which satay sauce you use, you can also replace the carrot with another vegetable in the soup. Something with some sweetness would be ideal like sweet potato, butternut squash or even parsnip.
The toppings that you could add here are beyond numerous. King prawns would work fabulously with the flavours of the soup, as would scallops, salmon or any white fish. Other meats such as duck or pork would also work.
The topping vegetables could also be changed depending on what you have around. Fried peppers and onions are one of my go-to options along with green options like my favourite sugar snap peas.
Make it Vegetarian or Vegan
The soup base obviously starts off as being both vegetarian and vegan. What you then add as the extra toppings can change this but doesn't need to.
Fried tofu would make a great chicken alternative as would quorn (note: not vegan). Or any of the other vegetarian/vegan meat substitutes that are now available.
Alternatively, just adding extra vegetables as a topping will still give the soup a little extra va-va-voom!
Make it Allergy Friendly
This recipe is naturally dairy, gluten and egg free.
Nut Free: The satay sauce contains peanuts so this should be avoided. If you are able to use other nuts such as cashews, a substitute can be made using cashew or another nut butter in the satay sauce.
Please note that this recipe may contain other allergens not referred to above and any variations suggested have not been tested unless otherwise stated. For more information regarding any dietary information provided on this website, please refer to my Nutritional Disclaimer.
Equipment Notes for Chicken, Peanut & Lentil Soup
There are a number of ways to blend the soup. I've suggested using a freestanding electric blender but as I have a blender attachment to my stand mixer, I tend to use that. My food processor also has a blender!
You can also blend the soup directly in the stockpot using a stick blender. Make sure that your stick blender is plastic if your stockpot is non-stick as a metal one will scratch the non-stick. You still need to be careful with the blade – keep it upright.
A comprehensive list of the equipment used to make this recipe is included in the main recipe card below. Click on any item to see an example. There are no hard and fast rules so many items can be sensibly substituted to achieve the same results.
Get Ahead
The soup can be made ahead of time and stored in the fridge for a couple of days before being reheated. The toppings can also be cooked in advance, kept in the fridge and reheated for a few minutes in a pan before serving.
It is also perfect for making up and freezing, either as a batch or in individual portions. I would be inclined to freeze and reheat the toppings separately.
And please never freeze or store fresh coriander.
Leftover Chicken, Peanut & Lentil Soup
The Satay Soup will keep for several days in the fridge. I often have a full meal soup one evening and then keep a couple of portions for lunches over the next few days.
Any leftover satay sauce can be used to make my Chicken Satay Skewers or my Satay Sprouts.
Chicken, Peanut & Lentil Soup Tips
If the soup is starting to look a little dry before the lentils are cooked, add more water. It doesn't want to be overly wet however as the tin of coconut milk will let down the soup further.
Blend the soup to whatever consistency that you prefer. I like it to be as smooth as possible. You could also decide to not blend the soup at all if you prefer.
Don't forget to let me know in the comments if you try making this recipe – I want to know what you think and if you made any substitutions, how did it turn out?
Still Have Questions?
Simple! Just contact me and I will do my best to help as quickly as I am able. Head over to my Contact Me page, any of my social media channels or post a comment at the bottom of this page and I'll see what I can do.
Pin Chicken, Peanut & Lentil Soup For Later
Hit one of the share buttons to save this page to your Pinterest boards so you can come back and find it at anytime!
Keep Up to Date
Make sure you SUBSCRIBE to my newsletter and avoid missing out on any of my newest and bonus content. Don't worry, I promise not to spam you or bombard you too often. Plus you'll receive a copy of my FREE 7 Day International Meal Plan!

Also please don't forget to follow me over on my social media channels over at Facebook, Twitter, Instagram and Pinterest. I love to interact with my followers and I'd love you to share my content with your friends too.
More Chicken Recipes
The Recipe
Chicken, Peanut & Lentil Soup Recipe
---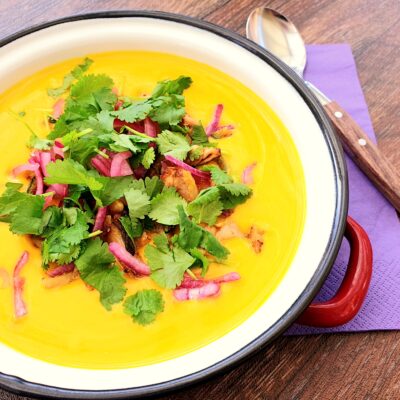 My Chicken, Peanut & Lentil Soup is the meaty version of my vegan Peanut Lentil Soup. Its still gluten free but includes extra toppings to make a full and satisfying meal. Its also still extra easy to make and packed with flavour.
Ingredients
For the Soup
600

g

Carrots

200

g

Onion

1

tbsp

Vegetable Oil

1

tbsp

Garlic Paste

125

g

Red Lentils

400

ml

Light Coconut Milk

150

g

Satay Sauce

Sea Salt Flakes
For the Toppings
60

g

Red Onion

1

tsp

Sugar

1

tsp

Lemon Juice

1

tbsp

Sea Salt Flakes

350

g

Chicken Thigh Fillets

-

Skinned and Boned

1

tbsp

Vegetable Oil

200

g

Courgette (Zucchini)

20

g

Fresh Coriander (Cilantro)
Instructions
Pop a kettle of water on to boil.

Peel, top, tail and dice

600g Carrots

and

200g Onion

.

Add to a soup pan or large saucepan along with

1 tbsp Vegetable Oil

and fry on a medium-high heat until the onion is lightly browned. Around 5 to 6 minutes.

Add

1 tbsp Garlic Paste

and fry for another minute.

Add

125g Red Lentils

to the pan along with circa

1 litre of boiling water

. Cover and leave to gently simmer for 20 minutes or until the lentils are soft all the way though.

Whilst the lentils cook, finely slice

60g Red Onion

and add to a bowl with

1 tsp White Sugar

,

1 tsp Lemon Juice

and

0.5 tsp Sea Salt Flakes

. Gently mix together to coat the onion and set aside.

Cut

350g Chicken Thigh Fillets

into small pieces and add to a large frying pan with

1 tbsp Veg Oil

and

0.5 tsp Sea Salt Flakes

. Start frying on a medium high heat.

Chop

200g Courgette

into thin strips and add to the chicken pan.

Meanwhile chop

20g Fresh Coriander

and set aside for the garnish.

When the chicken and courgette is cooked through and a little browned and crispy, remove the pan from the heat and set aside while you blend the soup.

Take the soup off the heat and blend the soup until smooth.

Return the soup to the pan, add

400ml Light Coconut Milk

and

150g Satay Sauce

. Leave to simmer for a further 5 minutes.

Check the seasoning and consistency and add Sea Salt Flakes to taste. Also any additional boiling water needed to achieve your preferred consistency.

Portion the soup into the serving bowls.

Top with the chicken and courgette mix.

Add the sliced and marinated onions.

And finish with the chopped coriander garnish. Serve hot.
Nutrition (Approx)
Calories:
649
kcal
|
Carbohydrates:
55
g
|
Protein:
27
g
|
Fat:
34
g
|
Saturated Fat:
16
g
|
Cholesterol:
85
mg
|
Sodium:
2539
mg
|
Potassium:
1224
mg
|
Fiber:
15
g
|
Sugar:
19
g
|
Vitamin A:
25565
IU
|
Vitamin C:
27
mg
|
Calcium:
107
mg
|
Iron:
3.8
mg
Download my FREE 7 day international meal plan!
Simply subscribe to the Feast Glorious Feast newsletter and I'll send you the link.