These Roasted Potato Cubes with Rosemary and Garlic are a very tasty side dish which is ready in no time at all. You might know them as parmentier potatoes or simply cubed potatoes but whatever you choose to call them, these crispy little spuds are terrific!
This post may contain affiliate links. Please refer to my Disclosures Page for more details.
Anytime it is possible to create a crispy edge on a potato, I take it! And the more crispy edges there are, the better. So making mini roast potatoes is a sure fire way of maximising the best bit of roasties.
Unlike with my recipe for larger Roast Potatoes I don't generally part boil* my cubed potatoes. This is because they are small enough to get lovely and fluffy on the inside in the oven without needing any extra help.
*I know the term is "par boil" but I hate it so I refuse to use it!
How to Serve Cubed Potatoes
I prefer my parmentier potatoes served piping hot. Because they're smaller they do tend to cool more quickly than their larger roast potato brethren.
99% of the time I'm going to be serving these potatoes as a side dish. They're ideal with a grilled fish or meats like Sirloin Steak and veg like Griddled Courgettes (Zucchini). The other cute use for them is to replace the bready croutons on a Classic Caesar Salad. This is especially handy if you're looking for a gluten free alternative.
Make Potato Cubes with Rosemary into a Feast
I truly believe that you can make any dish into a proper feast! Whether thats a feast for one after work on a Tuesday, a casual feast for four on a Friday evening or a feast for 12 for a special occasion!
"Meat and potatoes" isn't a phrase for no good reason. So I serve these potatoes with a good Sirloin Steak slathered in Garlic Butter with Roasted Mushrooms and Maple Tomatoes.
Or I switch out my regular Roast Potatoes in a roast dinner. Roasts and Christmas dinner tend to be a bit of a mix and match affair so don't miss some of my classic recipes and choose your own feast!
---
Don't miss my comprehensive collection of ideas for classic Christmas sides. I've included simple basic recipes and ways to level up each dish.
There is everything from roast potatoes, numerous stuffing ideas and red cabbage dishes to cranberry sauces and even a vegan gravy option.
---
Don't forget to head over to my Feast Collection pages to find all of my tips and tricks to help you host a fun and stress-free feast. Plus remember to check out my recipe index to create your own awesome Feast!
Ingredients for Roasted Potato Cubes
Potatoes
The type of potato that you use will affect the finished texture of the potato cubes. I've talked about the different types of waxy and floury potato in my How to Roast Potatoes post.
Saying this you can use any type with this cooking method or even baby, salad or new potatoes. You wouldn't want to peel this type.
Talking of peeling the potatoes, this is always my preference. However if you prefer to keep the skin on, then go for it, nothing else in the recipe will change.
Rosemary
I am lucky enough to grow my own rosemary and so I have a ready supply of fresh. You can also buy it fresh in many markets and superstores.
If you only have dried rosemary to hand, that is absolutely fine to use too. But as dried herbs tend to be more potent that their fresh counterparts, I've suggested that you use half of the quantity.
Garlic Salt
Just like in my Garlic Roasted Sweet Potatoes recipe, I use garlic salt in this recipe rather than fresh garlic. This means that you are able to get all of the garlic flavour without any chance of the garlic catching and burning.
---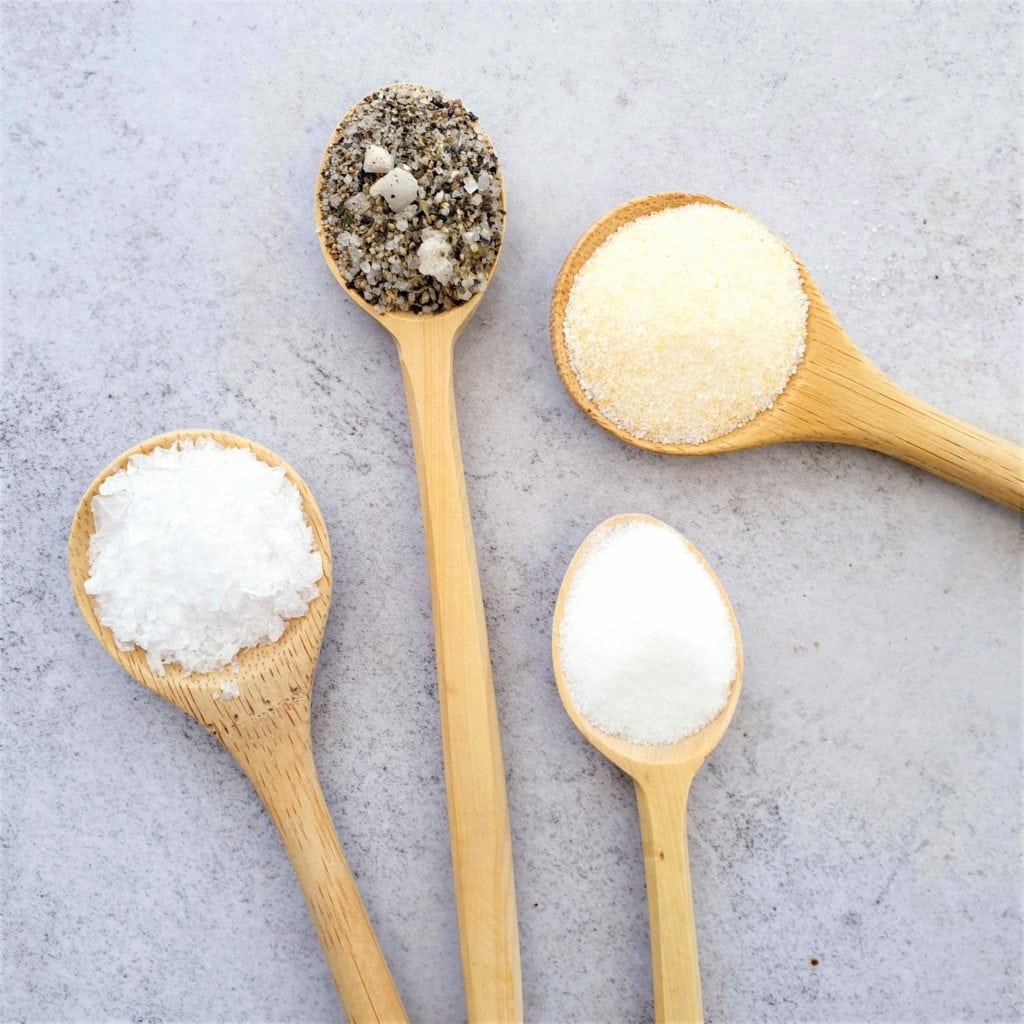 For the lowdown on using salt to properly season and enhance the flavour of your food, check out my Ultimate Guide on How to Use Salt.

There is guidance about which salt to use when, salt alternatives, using salt when baking and even what to do if you add too much salt!
---
Olive Oil
I don't often use a flavoured oil when roasting. But in this case where we are looking to highly flavour the potatoes, I think olive oil is the tastiest option.
You could use almost any other oil of your preference but I would avoid using butter as this will burn too easily during cooking.
Be Flexible
You can take the basic premises of roasting small potatoes and apply it to other root vegetables. I already make sometime similar with Sweet Potatoes so do check out that recipe. You could also roast cubed celeriac, yams or even Jerusalem artichokes.
You can also easily vary the flavourings. This recipe combines rosemary and garlic but you could switch the herb for any harder variety. Thyme and oregano are my go-to favourite alternatives. I would avoid soft herbs like coriander and basil and these don't stand up well to roasting.
You can also add some spice or other additional flavourings. For spice I would use dried chilli flakes. For additional flavours you could use za'atar, paprika or even cumin. Try to match or complement the flavours that you are using on the rest of your dish.
Make it Vegetarian or Vegan
This cubed potato recipe is suitable for both vegetarians and vegans without any substitutions needed.
Make it Allergy Friendly
This parmentier roast potato recipe is naturally free from egg, dairy, gluten and nuts.
Please note that this recipe may contain other allergens not referred to above and any variations suggested have not been tested unless otherwise stated. For more information regarding any dietary information provided on this website, please refer to my Nutritional Disclaimer.
Equipment Notes for Rosemary Potato Cubes
I am obsessed with my Vegetable Peeler which makes very quick work of peeling the potatoes without risking my fingers. I know that some people will peel spuds with a Sharp Knife but I much prefer to keep that for slicing the potato into cubes!
You will need some kind of Baking Tray. It doesn't really matter what type it is as long as it is big enough to fit all of the potato cubes in one layer with a little bit of room between each. You don't want the potatoes to steam which will happen if they're overcrowded. Use two baking sheets if you need to. Especially if you have increased the recipe quantities.
A Silicone Fish Slice will help you make short work of turning and serving the potatoes without scratching any non-stick baking trays.
A comprehensive list of the equipment used to make this recipe is included in the main recipe card below. Click on any item to see an example. There are no hard and fast rules so many items can be sensibly substituted to achieve the same results.
Get Ahead
There are quite a few good options for getting ahead of this recipe.
You can simply prepare the potatoes and leave them to sit in the water. Do this for up to maybe 24 hours but absolutely no more. You can also part roast them and put them aside for finishing off within a day or two.
It is also possible to freeze either part cooked or fully cooked potatoes. If this is my plan then I will generally at least undercook them a little. This ensures that they won't overcook and go dry when being reheated.
Leftover Parmentier Potato
Don't miss my Leftover Roast Dinner Pizza which is the perfect way to use up all manner of leftovers from any Sunday roast or Christmas dinner.
Any leftovers can easily be reheated or frozen. There are quite a few options for reheating. You can throw them back in the oven, into an air-fryer (my preferred option) or even in a frying pan over a low heat.
Leftovers are especially great as the basis of a breakfast hash topped with Poached Eggs or even thrown straight into soups and stews. Plus don't forget my suggestion to use them as a crouton replacement on a salad. Tasty!
Roasted Potato Cubes with Rosemary Tips
Please don't skip the step where the potatoes hang out in the water for a little while. This helps to take some of the starch out of them which helps them get nice and crisp in the oven.
Do make sure that you don't over crowd the baking tray or you will end up with steamed and not roasted potatoes.
Don't forget to let me know in the comments if you try making this recipe – I want to know what you think and if you made any substitutions, how did it turn out?
Still Have Questions?
Simple! Just contact me and I will do my best to help as quickly as I am able. Head over to my Contact Me page, any of my social media channels or post a comment at the bottom of this page and I'll see what I can do.
Pin Roasted Potato Cubes with Rosemary For Later
Hit one of the share buttons to save this page to your Pinterest boards so you can come back and find it at anytime!
Keep Up to Date
Make sure you SUBSCRIBE to my newsletter and avoid missing out on any of my newest and bonus content. Don't worry, I promise not to spam you or bombard you too often. Plus you'll receive a copy of my FREE 7 Day International Meal Plan!

Also please don't forget to follow me over on my social media channels over at Facebook, Twitter, Instagram and Pinterest. I love to interact with my followers and I'd love you to share my content with your friends too.
The Recipe
Roasted Potato Cubes with Rosemary
---
These Roasted Potato Cubes with Rosemary and Garlic are a very tasty side dish which is ready in no time at all. You might know them as parmentier potatoes or simply cubed potatoes but whatever you choose to call them, these crispy little spuds are terrific!
Ingredients
900

g

Potatoes

1

tsp

Rosemary

-

Fresh chopped or half as much dried

2

tsp

Garlic Salt

3

tbsp

Olive Oil
Instructions
Turn the oven to 200c fan or equivalent.

Half fill a large bowl with cold water. Peel

900g Potatoes

and put the peeled potatoes into the water so they don't discolour.

Cut each potato in 2cm slices, then 2 cm strips and finally, 2cm chunks. Put the chunks back in the water and repeat with the remaining potatoes.

Drain the water out of the bowl and dry the potatoes with a clean tea towel.

Dry the bowl too and return the now dry potatoes to the now dry bowl. Add

1 tsp Rosemary

(Fresh chopped or half as much dried), 2 tsp Garlic Salt and 3 tbsp Olive Oil. Toss together so all the cubes are evenly coated. I use my hands.

Spread the coated potato cubes out on a medium roasting tray and pop into the oven for

40 minutes

.

Take the tray out of the oven and use a spatula to loosen any stuck potatoes and give them a toss. Return to the oven for a further

20 minutes

or until they're golden and crispy all over.

Serve hot!
Nutrition (Approx)
Serving:
1
side
|
Calories:
266
kcal
|
Carbohydrates:
39
g
|
Protein:
5
g
|
Fat:
11
g
|
Saturated Fat:
2
g
|
Sodium:
1176
mg
|
Potassium:
947
mg
|
Fiber:
5
g
|
Sugar:
2
g
|
Vitamin C:
44
mg
|
Calcium:
27
mg
|
Iron:
2
mg
Download my FREE 7 day international meal plan!
Simply subscribe to the Feast Glorious Feast newsletter and I'll send you the link.