My Vegetarian White Bean Chili is a brilliant and hugely flavourful alternative to a traditional chili sin carne. The creamy veg and bean packed chilli is a quick one-pan dish made using tinned beans and is a great base for heaps of tasty garnishes.
This post may contain affiliate links. Please refer to my Disclosures Page for more details.
I've been making various version of this creamy chilli for a while now. I don't like normal chilli. Tomato sauces are not for me and I'm not a fan of mince or similar textured alternatives like lentils.
But I've found that this white bean chili gives me an amazing base to add loads of toppings, just like with a regular chilli. Using a mix of butter and haricot beans provides extra texture and interest to the dish too.
It provides a really great centrepiece to a vegetarian feast, can be used to top jacket potatoes or thinned a little and just eaten simply like a soup.
You might have noticed that I've variously used the US spelling of chili and the UK spelling of chilli throughout this posts. Whilst some of this is an unashamed attempt to coax google into showing this recipe to an international audience, I am also somewhat conflicted as to which is right in this context!
Of course I use the spelling "chilli" because I'm British. But this "Chili" is very much an American recipe so who knows! All you need to you is that despite the addition of a quantity of green chilli/chili, this isn't a hot dish. Although more can be added if you prefer a little more heat.
How to Serve White Bean Chili
As I've mentioned above, there are a many options. Make it into a soup, a topping for hot dogs or baked potatoes or just serve it simply as a side dish.
But the main way that I like to serve it is in a bowl topped with loads of good stuff like:
Crushed up tortilla chips
More fresh coriander
Finely sliced fresh chillis
Sour cream or more creme fraiche
Grated cheese
Sliced avocado
Finely sliced red onions (leave them to sit in a little salt, sugar and lemon juice for 10 minutes).
Being uncouth as I am, I do tend to make sure that all of my toppings are bite size and then just dig in with nothing more than a spoon and untold greed. You could keep it classy with a fork if you like but a knife is truly superfluous.
The portions given for this recipe allows for 2 really generous main course portions. For smaller appetites or lunches, the recipe can be nearly halved.
Make Vegetarian White Bean Chili into a Feast
I truly believe that you can make any dish into a proper feast! Whether thats a feast for one after work on a Tuesday, a casual feast for four on a Friday evening or a feast for 12 for a special occasion!
I've included this recipe in my Vegetarian Americana Feast where its the star of the show! Its served with all the toppings including my Garlic Roasted Sweet Potatoes. My Cheesy Garlic Rolls also make an appearance along with Guacamole and chips for with pre-feast drinks.
For the carnivores amongst us, I do also sometimes serve some of my Oven Fried Chicken Thighs on the side.
Don't forget to head over to the Big Americana Feast post for all of my tips and tricks to help you host a fun and stress-free feast. Plus remember to check out my other feast collections and all my Americana inspired recipes.
Ingredients for Vegetarian White Bean Chili
Green Bell Pepper
I very rarely advocate the use of green peppers. Or unripe peppers as they actually are! But in this case, not only do they keep the finished dish nice and pale, the slight sourness adds to the overall flavour of the dish.
Chillis
I have used green chillis in this recipe to preserve the overall green/white colour of the dish rather than for any great flavour reason. So feel free to use red chillis if you prefer.
As for the spicyness of the chillies, this is something that is really hard to comment on. It will depend hugely on the particular chilli that you buy as to how spicy it is. I found that one of my green chillies was much spicier than the other despite being from the same source.
It is often worth just tasting a tiny tiny piece of chilli to determine how spicy it is. You can then use more or less as you prefer.
---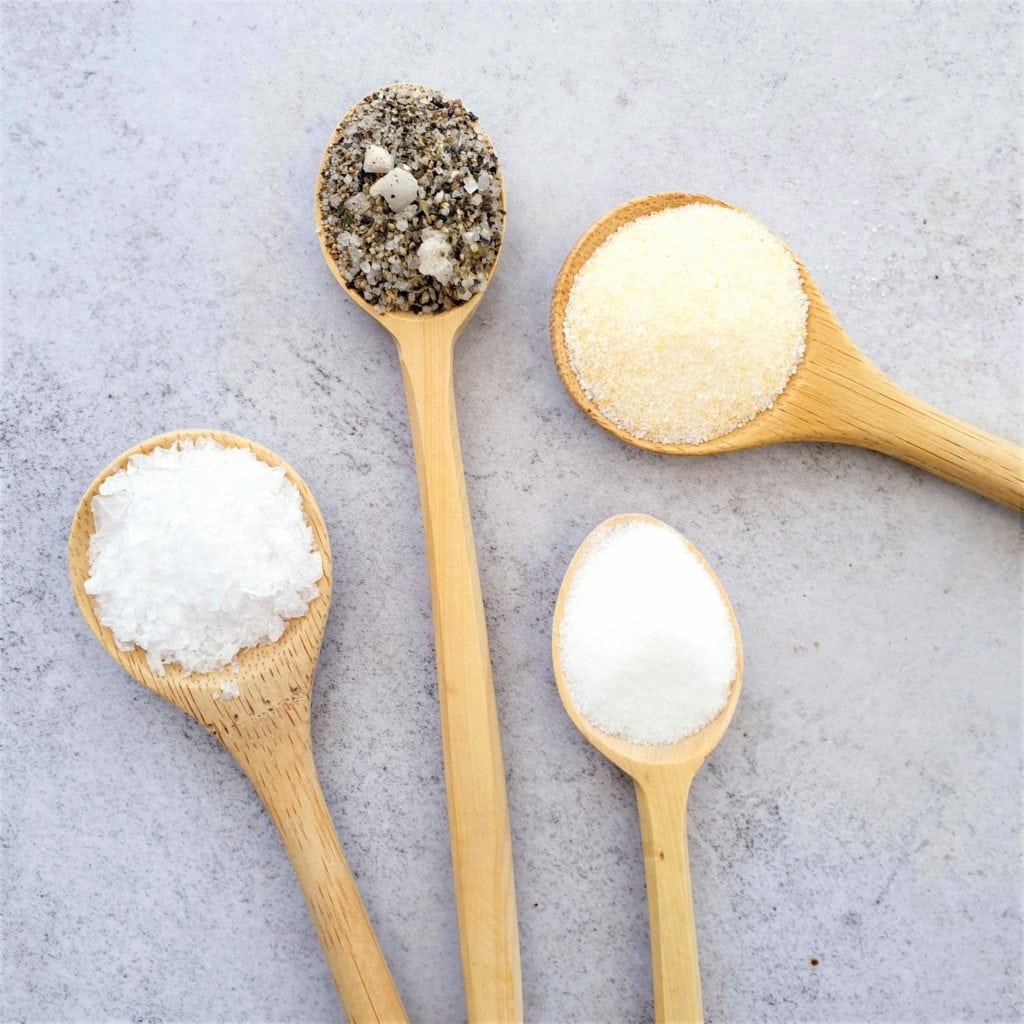 For the lowdown on using salt to properly season and enhance the flavour of your food, check out my Ultimate Guide on How to Use Salt.

There is guidance about which salt to use when, salt alternatives, using salt when baking and even what to do if you add too much salt!
---
Beans
I am a massive fan of tinned beans. I have zero desire to soak and cook beans from dried. And the tinned (or canned) versions are super cheap and convenient.
Wow. And there was me thinking that we all talk the same language!
Cumin
I only use dried cumin. I know that fresh ground spices are supposed to be the be all and end all of culinary proficiency. But I like handy ready ground spices. And to my mind, the flavour is just as good. I buy large bags of the stuff from the world food aisle.
Try it even if you think you don't like cumin. The flavour is unique but not overt in this recipe. The white chilli really loses something without it.
Be Flexible
This is the kind of recipe that is easily adapted in a million ways!
Apart from varying the additional toppings, the base vegetables can be varied, the spices can be added to, the beans can be endlessly varied and other ingredients can be added.
So why not try a less pale version with red peppers, sweet potato, onion and courgette as the base? You could use black beans and white kidney beans along with paprika and dried oregano to amp up the flavourings.
Or how about a version which uses the same base vegetables and beans but also includes pieces of crispy fried tofu, chicken or pork.
Make it Vegetarian or Vegan
This white bean chili is suitable for vegetarians without any adaptations.
To make it suitable for a vegan diet, you will need to substitute the milk for a plant based milk and the creme fraiche for a plant based cream.
I would advise some caution in using coconut or another highly flavoured milk alternative as the flavour of the finished dish will be affected. I strongly imagine that the flavour will still be great but might err towards the south-east asian rather than the south-western US.
Make it Allergy Friendly
This recipe is free from nuts and egg.
Gluten Free: This recipe is naturally gluten free although you should exercise caution when choosing which vegetable stock cube or concentrate to use.
Dairy Free: Follow the instructions for making the recipe suitable for vegans given above.
Please note that this recipe may contain other allergens not referred to above and any variations suggested have not been tested unless otherwise stated. For more information regarding any dietary information provided on this website, please refer to my Nutritional Disclaimer.
Equipment Notes for White Bean Chili
You might have noticed that whilst I have stated that you should use a large frying pan to make this dish, in the pictures I have used my shiny new cast iron skillet.
I purposefully bought a large deep sided skillet which is perfect for making one-pot dishes like this. The heat distribution is especially good with cast iron. But if you don't have one (they're surprisingly cheap), a large frying pan or even a large saucepan is just fine.
Other than that, all the other equipment needed is of the basic nature. Measuring scales, spoons and a jug are useful as is a sieve or small colander and a good sharp knife to make the veg chopping a breeze.
A comprehensive list of the equipment used to make this recipe is included in the main recipe card below. Click on any item to see an example. There are no hard and fast rules so many items can be sensibly substituted to achieve the same results.
Get Ahead
This white bean chili is absolutely perfect for making ahead of time. It is great to batch cook and freeze in portions or freeze as a whole dish. It can also be made just a couple of days ahead of time, stored in the fridge and then reheated.
Actually I think that this is one of those dishes that actually benefits from being made in advance as it allows time for the flavours to develop.
As the chilli is thickened with cornflour, you may find that you want to add a little extra liquid when you are reheating it.
Leftover Vegetarian White Bean Chilli
As I've mentioned above, I think that this vegetarian white chili actually improves with age and it keeps extremely well. I am therefore often inclined with intentionally make more than I need so that I have leftovers.
It can be kept in the fridge for a few days or frozen in individual portions. And again, bear in mind that you might want to add a little extra liquid when reheating.
Vegetarian White Bean Chili Tips
You don't need to continuously stir the veg as its frying but do keep an eye on it. Keep moving it around the pan at least every now and again.
You can add a bunch of toppings to the pan of cooked chili and it will look lovely when served. But this is a pain to serve. Any fresh herbs will wilt and it is unlikely that everyone will end up with equal portions of the toppings. So my tip is to serve any garnishes on the side or on individual servings.
Don't forget to let me know in the comments if you try making this recipe – I want to know what you think and if you made any substitutions, how did it turn out?
Still Have Questions?
Simple! Just contact me and I will do my best to help as quickly as I am able. Head over to my Contact Me page, any of my social media channels or post a comment at the bottom of this page and I'll see what I can do.
Pin Vegetarian White Bean Chili For Later
Hit one of the share buttons to save this page to your Pinterest boards so you can come back and find it at anytime!
Keep Up to Date
Make sure you SUBSCRIBE to my newsletter and avoid missing out on any of my newest and bonus content. Don't worry, I promise not to spam you or bombard you too often. Plus you'll receive a copy of my FREE 7 Day International Meal Plan!

Also please don't forget to follow me over on my social media channels over at Facebook, Twitter, Instagram and Pinterest. I love to interact with my followers and I'd love you to share my content with your friends too.
More Veggie Recipes
The Recipe
Vegetarian White Bean Chili Recipe
---
My Vegetarian White Bean Chili is a brilliant and hugely flavourful alternative to a traditional chili sin carne. The creamy veg and bean packed chilli is a quick one-pan dish made using tinned beans and is a great base for heaps of tasty garnishes.
Ingredients
200

g

Onion

200

g

Courgette (Zucchini)

150

g

Green Bell Pepper

100

g

Mushrooms

20

g

Green Chilli

2

tbsp

Vegetable Oil

1

tbsp

Sea Salt Flakes

20

g

Fresh Coriander (Cilantro)

2

tbsp

Garlic Paste

1

tbsp

Cumin

1

tbsp

Lime Juice

400

g

Canned Haricot Beans (Navy Beans)

400

g

Canned Butter Beans (Lima Beans)

500

ml

Milk

1

tbsp

Vegetable Stock Concentrate

1

tbsp

Cornflour (Cornstarch)

150

ml

Crème Fraiche
Instructions
Chop

200g Onion

,

200g Courgette

,

150g Green Bell Pepper

and

100g Mushrooms

into similar sized small cubes. Also finely chop

20g Green Chilli

.

Add the veg to a large frying pan with

2 tbsp Vegetable Oil

,

1 tbsp Sea Salt Flakes

. Fry on a medium heat for

10 minutes

until the veg has softened a little.

Finely chop the stalks from

20g Fresh Coriander

and add to the pan along with

2 tbsp Garlic Paste

,

1 tbsp Cumin

and

1 tbsp Lime Juice

. Continue frying for 2 minutes.

Drain and rinse

400g Tinned Haricot Beans

and

400g Tinned Butter Beans

by running them under the cold tap in a sieve.

Add the rinsed beans to the pan along with

500 ml Milk

and

1 tbsp Vegetable Stock Concentrate

.

Gently stir together and leave to gently simmer for

10 minutes

.

Meanwhile mix

1 tbsp Cornflour

with a little water to make a slurry (thin paste).

Add the cornflour to the pan and stir until fully combined and the sauce has thickened.

Stir in

150ml Crème Fraiche

and the remaining

Fresh Coriander Leaves

.

Remove from the heat and serve.
Nutrition (Approx)
Calories:
760
kcal
|
Carbohydrates:
91
g
|
Protein:
33
g
|
Fat:
33
g
|
Saturated Fat:
20
g
|
Cholesterol:
44
mg
|
Sodium:
5991
mg
|
Potassium:
2019
mg
|
Fiber:
19
g
|
Sugar:
26
g
|
Vitamin A:
2168
IU
|
Vitamin C:
99
mg
|
Calcium:
584
mg
|
Iron:
8
mg
Download my FREE 7 day international meal plan!
Simply subscribe to the Feast Glorious Feast newsletter and I'll send you the link.