You can have these Chewy Peanut Butter Cookies out the oven in around 20 minutes. You only need one bowl, the dough doesn't need chilling and best of all you don't need to mess up a work surface and roll it out! And that's why these no-fuss, flavour packed crinkle cookies are my new fave!
This post may contain affiliate links. Please refer to my Disclosures Page for more details.
I'm not kidding, I've eaten roughly eleventy million of these things since I came up with the idea! Admittedly that's because I've done a lot of tests to get the recipe just right. And I can confirm that it is now absolutely banging.
The reason it took so many tests is because I was determined to make a peanut butter version of my Chewy Ginger and Chocolate Chip Cookies. But because the peanut butter adds extra fat and volume and liquid, the recipe needed some tweaking.
The reasons that I wanted to adapt that recipe and method is because I simply love the chewy texture of the finished cookies. Or peanut butter biscuits if you're so inclined. And the method is so easy. I hate creating unnecessary washing up and waiting for cookie dough for 24 hours is way out the realms of my patience.
20 minutes is all it takes to get these cookies mixed and out the oven. Another 5 minutes to cool and you can be diving right in. And that is my kind of peanut butter cookie!
How to Serve Peanut Butter Cookies
I do have a soft spot for them warm and straight out the oven. Just try and stop me grabbing a couple while they're supposed to be cooling. They're also great to just steal out the cookie tin for a quick snack or dunk in a cup of tea for elevenses or a quick afternoon cuppa.
You can also make cookies into a more substantial dessert by grabbing your favourite ice cream, two cookies and making a sandwich! Or for an easier to eat option, warm one cookie for 10 seconds in the microwave and top with a scoop of ice cream and a little sauce!
Make Soft Peanut Butter Cookies into a Feast
I truly believe that you can make any dish into a proper feast! Whether thats a feast for one after work on a Tuesday, a casual feast for four on a Friday evening or a feast for 12 for a special occasion!
In reality, a few cookies and and a cup of tea or glass of milk is a mini feast in itself. Variety is the spice of my life so I also like to grab a couple of ginger cookies too.
What these cookies do make is an excellent gift. Whether you dress them up as Christmas cookies, Easter cookies or just a friendly gift at any time. Throw in a bag of Popcorn Snack Mix and some Sticky Toffee Cupcakes and you'll have friends for life.
They are also an excellent addition to a bake sale. They are quick and easy to whip up alongside some easy Scones, Vanilla Butterfly Cakes and Mini Sausage Rolls.
Don't forget to head over to my Feast Collection pages to find all of my tips and tricks to help you host a fun and stress-free feast. Plus remember to check out my recipe index to create your own awesome Feast!
Ingredients for Chewy Peanut Cookies
Peanut Butter
I've used a bog standard smooth peanut butter in this recipe. Skippy or a similar type brand rather than a whole nut fancy kind. Now you could try subbing in a fancy one but I can't guarantee the results. The balance of this recipe was quite tricky, so I'm a little less inclined to be loosey-goosey with my suggestions.
The same goes for using crunchy peanut butter. It will more than likely work well but I haven't tested this variation yet.
Salted Butter
Regular readers will know that I only really use salted butter. I even make my own. These cookies are on the salty side. Think the saltiness of a classic digestive biscuit. Now I think this is perfect and is the exact taste I was looking for.
If you do try them and find that you prefer them less salty, the way to achieve that is to use unsalted butter instead. The rest of the saltiness comes from the peanut butter and bicarbonate of soda which can't be changed.
Please do not use margarine for these as the texture won't be right.
Golden Syrup
Golden Syrup is a very British product often with no direct equivalent available in other countries. You can substitute molasses for a slightly darker cookie or corn syrup for a lighter, less rich cookie. Honey would be another alternative but obviously that is going to change the flavour profile again.
Or if you really want to do things from scratch, you can make your own homemade golden syrup.
Sugar
Unusually for many cookies, I've used white caster (superfine) sugar for this recipe. As much as a love a brown sugar cookie, I really wanted the peanut flavour to shine in this recipe and a sugar with its own flavour can mask that.
Be Flexible
Additions are you best option to be flexible here as it has the least chance of affecting the bake, texture and spread of the cookies. Chocolate chips or chunks would be a great option. Actual chunks of peanuts would be the most obvious option!
For more chocolate, a light drizzle of dark or milk chocolate, or ever a good coating would be great too.
For an autumnal twist with notes of treacle and cinnamon, you should try my Chewy Gingerbread Cookies – they're really delicious.
The given recipe makes 16 cookies. If you wish to halve it you will need 0.5 of an egg. Please don't be tempted to throw the whole egg in. Put a small bowl onto your scales, set the scales to zero, break in the egg and take note of the weight. Give the egg a good whisk and then simply use enough egg so only half the weight remains in the bowl.
Make it Vegetarian or Vegan
This peanut butter cookie recipe is naturally vegetarian. You will need to make a few swaps to create a vegan peanut butter cookie however.
Firstly you will need to replace the butter with a vegan substitute. Try to use a hard block substitute rather than a soft margarine. The egg will also need to be replaced. It would be best to use a liquid egg replacer but you can try 1 tbsp vegetable oil instead.
Make it Allergy Friendly
Gluten Free: To make gluten free peanut butter cookies, you will need to swap the self raising flour for a gluten free flour blend. I recommend trying Free From Fairy as it is almost impossible to tell it is gluten free. You will need to add baking powder if the gf flour is not self raising.
Nut Free: Whilst peanuts are not technically nuts, it would be remiss of my to declare this is a nut free recipe. I could be worth trying a nut free butter like sunflower seed butter but I would probably recommend just making ginger cookies instead!
Dairy Free: Replace the butter with a dairy free alternative to make dairy free peanut butter cookies. Like with a vegan substitute, it is best to look for a hard block replacement rather than a softer margarine.
Egg Free: You might not end up with quite the same texture cookie but you can try the egg replacement suggestions that I've provide for the vegan version above.
Please note that this recipe may contain other allergens not referred to above and any variations suggested have not been tested unless otherwise stated. For more information regarding any dietary information provided on this website, please refer to my Nutritional Disclaimer.
Equipment Notes for Peanut Butter Crinkle Cookies
This recipe uses one mixing bowl or saucepan and doesn't need any electrical equipment. I simply use a silicone spatula to mix the dough.
A good sized baking tray is essential. The dough needs room to spread. I use my largest and still cook them 8 at a time. And a cooling rack is handy, especially when baking in batches.
A comprehensive list of the equipment used to make this recipe is included in the main recipe card below. Click on any item to see an example. There are no hard and fast rules so many items can be sensibly substituted to achieve the same results.
Get Ahead
Whist this peanut butter cookie dough doesn't need any chilling time, it does sit and wait to be baked fairly well. I've waited up to an hour before baking but haven't experimented much longer. It really is easier to just whip them up and get them into the oven. But if you do need to wait, make sure to roll the dough into balls before leaving it.
To get much further ahead is easy. Simply roll the dough into balls, space them out a little on a tray and freeze them. As soon as they are frozen, they can be transferred to a bag or container. I do prefer to leave my cookie dough balls to thaw before baking as usual.
You can bake from frozen but you will need to reduce the oven temp a little and keep an eye on them. They will take a little longer to cook.
Leftover Cookies
These cookies last a really long time in an airtight container. A good few weeks so leftovers are unlikely to be a great issue. You could freeze them if you really need to.
Chewy Peanut Butter Cookies Tips
The more you flatten the cookie dough balls on the baking tray, the more they will spread and crispier they will be. Not giving them a little squash at all will mean thicker, cakier cookies with less crack.
The shorter cooking time you give the cookies, the chewier they will be. If you are wanting a more biscuit like cookie, bake them for longer.
However you are intending to bake them, they will look undercooked when you take them out of the oven. Do not panic. This is entirely normal. They will also look quite puffy and thick but they will settle as they cool.
Don't be tempted to move the cookies off the baking tray until the cookies are starting to hold their shape. It'll only take 5 minutes.
Don't forget to let me know in the comments if you try making this recipe – I want to know what you think and if you made any substitutions, how did it turn out?
Still Have Questions?
Simple! Just contact me and I will do my best to help as quickly as I am able. Head over to my Contact Me page, any of my social media channels or post a comment at the bottom of this page and I'll see what I can do.
Pin Chewy Peanut Butter Cookies For Later
Hit one of the share buttons to save this page to your Pinterest boards so you can come back and find it at anytime!
---
Keep Up to Date
Make sure you SUBSCRIBE to my newsletter and avoid missing out on any of my newest and bonus content. Don't worry, I promise not to spam you or bombard you too often. Plus you'll receive a copy of my FREE 7 Day International Meal Plan!

Also please don't forget to follow me over on my social media channels over at Facebook, Twitter, Instagram and Pinterest. I love to interact with my followers and I'd love you to share my content with your friends too.
---
More Simple Sweet Bakes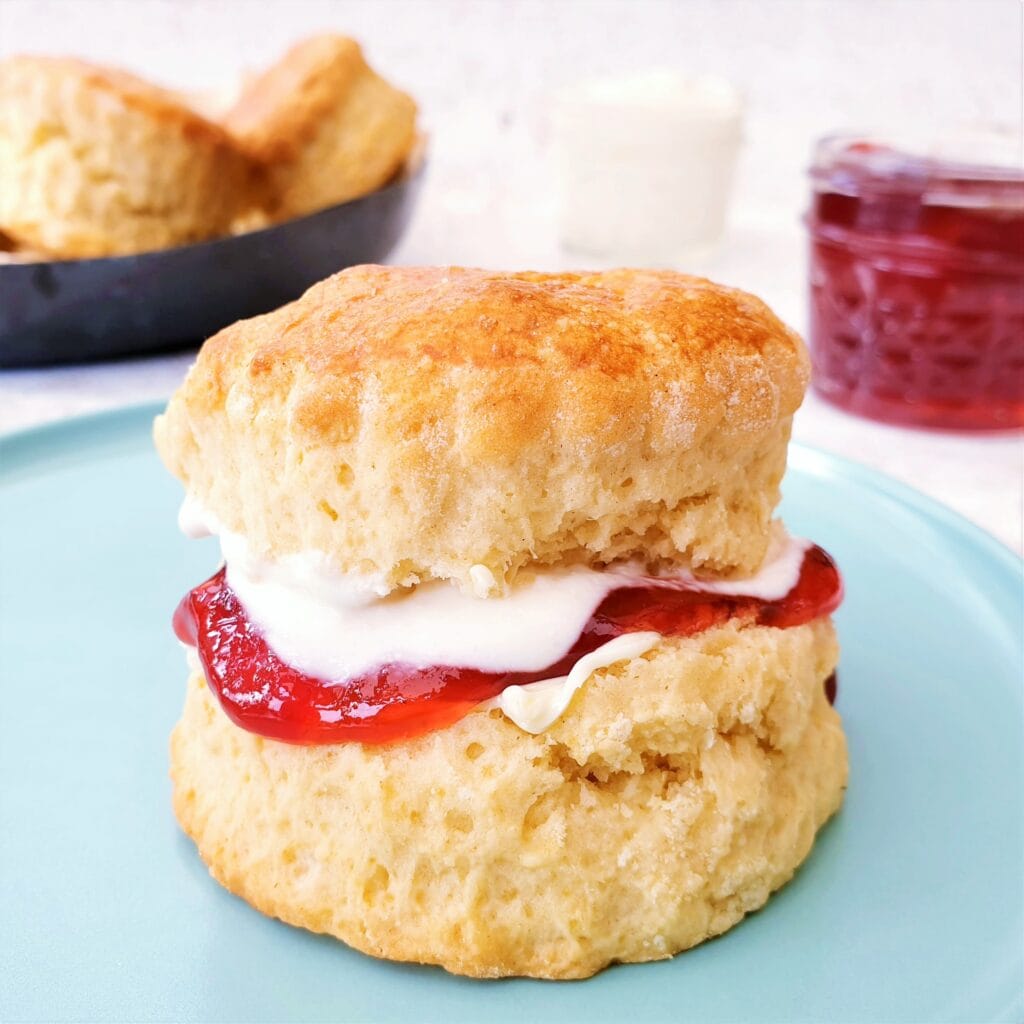 ---
The Recipe
Chewy Peanut Butter Cookies
---
You can have these Chewy Peanut Butter Cookies out the oven in around 20 minutes. You only need one bowl, the dough doesn't need chilling and best of all you don't need to mess up a work surface and roll it out! And that's why these no-fuss flavour packed crinkle cookies are my new fave!
Ingredients
200

g

Peanut Butter

160

g

Salted Butter

120

g

Golden Syrup

1

Egg

200

g

Caster Sugar (Superfine Sugar)

350

g

Self Raising Flour (Self-Rising)

2

tsp

Bicarbonate of Soda (Baking Soda)
Instructions
Turn the oven on to 190c fan | 210c | 400f. Line a large baking tray (or multiple smaller trays).

Measure

200g Peanut Butter

,

160g Salted Butter

and

120g Golden Syrup

into a microwave safe mixing bowl or medium saucepan.

Blast in a microwave in 30 second stints. Give the mix a little stir each time until the butter has fully melted and everything has come together smoothly. If you can't microwave, stir it over a medium heat on the stove. Don't overheat the mix. Remove from the microwave or heat once done.

Crack in

1 Egg

and mix quickly to combine. If you think the mix is overly hot, give it a minute or two to cool a little to prevent the egg from scrambling.

Measure

200g Caster Sugar

,

350g Self Raising Flour

and

2 tsp Bicarbonate of Soda

directly into the warm peanut butter mix.

Stir everything together until a soft dough forms.

Turn the dough out onto a board and form into a neatish square/rectangle. Use a sharp knife to cut the dough into quarters and then each quarter into quarters. If you have adjusted the recipe quantity you will either want to do this in batches or make more/less cuts to end up with

16

dough pieces.

Roll each dough piece into a smooth ball and place on the baking tray.

Make sure each ball has plenty of room to spread as it cooks. Repeat until you run out of room on the tray.

Give each ball a light press down with the palm of you hand. The more you press the thinner the cookies will be and the more they will spread. Thinner cookies will be more crisp and thicker cookies will be more chewy.

Bake the cookies for

8 minutes

. They should be a light golden brown and still very soft to the touch. They will firm up as they cool. For crispier cookies, bake them for up to 4 or 5 minutes longer.

You can take this opportunity to roll the remaining dough into balls ready to go onto the tray and be baked next.

Allow the cookies to cool on the tray for at least 5 minutes before moving them to a cooling rack to finish cooling.

Repeat with any remaining dough balls and serve!
Nutrition (Approx)
Calories:
300
kcal
|
Carbohydrates:
37
g
|
Protein:
6
g
|
Fat:
15
g
|
Saturated Fat:
7
g
|
Trans Fat:
1
g
|
Cholesterol:
32
mg
|
Sodium:
270
mg
|
Potassium:
109
mg
|
Fiber:
1
g
|
Sugar:
20
g
|
Vitamin A:
265
IU
|
Calcium:
13
mg
|
Iron:
1
mg
Download my FREE 7 day international meal plan!
Simply subscribe to the Feast Glorious Feast newsletter and I'll send you the link.