If you haven't tried Fresh Fig Curd before, I am giving you zero excuses not to give it a whirl. My quick and easy recipe is ready in around 20 minutes with no double boiling or faffing around. And the smooth and silky curd is a taste sensation!
This post may contain affiliate links. Please refer to my Disclosures Page for more details.
My curd obsession continues. After developing a super simple method and sharing my Quick & Easy Peach Curd and Quick & Easy Plum Curd, I have a hit list of fruits that I'm experimenting with. Not all of them work but after a few tweaks, fig curd has turned out to be an absolute corker.
Fruit Curd Recipes
There are a couple of things that I am trying to keep consistent in all of my curd recipes.
Small Batch Curds
Firstly I don't want to write a recipe that makes 12 jars of something. I find that many recipes make far more curd/jam/chutney than normal humans can possibly consume.
So this recipe using 250g of fresh figs makes around 250ml of curd. That is a fair quantity of not terribly cheap figs (unless you have a mature fruiting tree in your garden – yay!). So this is the quantity I usually make. I'd rather make the curd fresh for a specific use than store it.
If you want to make more, all the recipe quantities are easily multiplied in the recipe card at the bottom of this page.
Using Whole Eggs and Egg Yolks in Curd
The second thing I like to do is to use whole eggs in my curd recipes. Even with the best of intentions, leftover egg whites rarely actually get turned into the meringue we hope they might.
Despite my best will in the world, I had to use one egg yolk for every whole egg in this recipe. At least with the relatively small number of eggs involved, the odd wasted egg white isn't too big a disaster . I actually usually add mine into my next batch of scrambled eggs where it isn't really noticed.
Lemon in Curd
The other thing to note with this recipe is that lemon juice is a wonder ingredient.
I use lemon juice sparingly in my fruit curds. It depends on the fruit whether the brightness, zing and acidity is needed. Sometimes it overwhelms a more subtle fruit. And sometimes it becomes the answer.
So as you're looking at your slightly sludgy brown curd thickening away in the pan, you'll just have to trust me when I say that magic happens when you add the lemon juice!
Fruit to Butter/Sugar Ratio
Fruit curds are sweet and always involve sugar. Butter is also a key element which provides emulsification, flavour and texture.
Fruits vary wildly in their sweetness. So getting the correct balance of these elements along with the eggs is key to great curd.
This fig curd contains much less sugar and butter than my other curds. Any more than what I ended up using and the curd is overwhelmingly sweet (even for my sweet tooth) or really tasted kind of fatty.
So although you can easily play around with the overall quantities of ingredients to make a smaller or larger batch, please don't mess with the ratio of ingredients.
Blending Fruit Curd
This is where the magic of my quick and easy method really happens. Many recipes call for the fruit to be pureed and then the other ingredients like eggs, sugar and butter are stirred in over the heat at various stages.
With my method, the butter and sugar are melted and dissolved into the figs before everything gets blitzed together. The heat can be higher at this stage which makes this process speedier than normal.
And then I blitz the egg/egg yolk into the still warm mixture. The eggs start to be cooked by the warmth and have the chance to be fully incorporated. The mixture starts to emulsify and gets ever so slightly aerated.
The curd is nearly ready and we haven't even cooked it out yet. What this method doesn't require is 30 to 40 minutes of stirring the mixture over a double boiler, which so many recipes require.
Once the curd mix is sieved back into the saucepan, it is simply a case of heating it until thickened. And whilst you don't want to heat it on a very high heat, I find that because of all that pre blitzing, we can get away with cooking it much more quickly. It usually takes between 3 and 5 minutes depending on how confident you are.
How to Serve Figgy Curd
Fig curd does need to be stored in the fridge. It isn't suitable for sealing in a jar or canning. But it tastes much better at room temperature rather than fridge cold. So it is worth remembering to take it out a little while before you want to use/eat it.
Unless using a recipe that specifically requires it to be heated, you won't want to warm it. And do be careful not to leave it out for a long time on a very warm day as it will go very runny and fall right off your cake!
Make Fresh Fig Curd into a Feast
I truly believe that you can make any dish into a proper feast! Whether thats a feast for one after work on a Tuesday, a casual feast for four on a Friday evening or a feast for 12 for a special occasion!
I find that fruit curds are super versatile. Fig curd is an amazing topping for an autumnal pavlova or as part of a smaller dessert with meringues, whipped cream and sliced fresh figs.
It is also amazing as a filling in an otherwise classic Victoria Sandwich Cake alongside my favoured buttercream.
And of course, you can use my Small Pastry Cases or simply buy some to make a figgy version of my Peach or Plum Curd Tarts. I'd top each with half a fig and a drizzle of honey for serious taste and visual impact.
My final suggestion for now is to add a couple of spoonfuls to a bowl of yoghurt. A sprinkling of granola or biscuit crumbs turns some plain yoghurt and curd into a smashing breakfast or dessert.
Don't forget to head over to my Feast Collection pages to find all of my tips and tricks to help you host a fun and stress-free feast. Plus remember to check out my recipe index to create your own awesome Feast!
Ingredients for Fresh Fig Curd
Figs
As long as you are using ripe purple figs (not green), it doesn't matter what variety you choose.
As is quite common in the UK, I grow the Brown Turkey variety but I don't really get many figs from my small tree. So I do tend to buy them. Figs tend to be in prime season in late summer but they grow well for at least half the year.
Whilst it is great to shop local wherever possible, I do generally gravitate towards Turkish grown figs as they do tend to be plump and juicy. Although they are best in late summer/early autumn, like most fruits nowadays, they are available to buy year round.
What I do not recommend using is dried figs. I'm intending to develop a recipe for dried figs at some point but there is no way you can just sub them in this recipe.
Butter
I only use salted butter in my cooking and baking. I really like to make my own Homemade Butter but I do just buy it too! The important things are that you use proper butter and not margarine. If you use a substitute the curd might not set properly.
If you are not in the UK. please look to use a "European style" butter and not a strong flavoured cultured butter.
Equally if you have to use unsalted butter, please add in some extra salt along with the butter.
Sugar
White sugar in best in this recipe. Caster/superfine or granulated is great. Confectioners /icing sugar cannot be directly substituted due to the differing weights.
Brown sugar will add an overwhelming and unwelcome flavour so please avoid this too.
Eggs
I used UK large sized eggs in this recipe. This would be the preference. If you use smaller eggs, the curd will set less firm. Larger eggs may result in a firmer set. XL eggs should be avoided – you don't want the curd to actually taste of egg.
Lemon Juice
In general it is preferable to juice an actual lemon. Then make sure that any pips and pulp are sieved out. But if you don't have a fresh lemon, bottled lemon juice will be fine.
What you don't want to do is miss it out entirely as the lemon juice is a crucial ingredient in the curd.
Be Flexible
It is totally possible to add additional flavours to fig curd.
I am a huge fan of orange with fig as I've proved with my Fig & Orange Chutney. To do this, I would swap half the water in the recipe for orange juice and/or add some orange zest at the very first stage of cooking. You do need to be careful not to overwhelm the fig flavour so don't go nuts.
A little lemon zest in the base recipe would amplify the lemon flavour is you wished.
For a vanilla kick, add fresh vanilla seeds or use vanilla extract (not essence).
nd for a boozy kick, you could replace a quarter of the water with a spirit. Dark or spiced rum, bourbon, whiskey or brandy would all be good options.
I wouldn't recommend using this recipe for another fruit. I had to test and adjust this curd recipe quite extensively to get it just right for the figs. Either my plum or peach curd recipes would be a much better starting point if you wanted to experiment in that way.
For a citrus juice based version try my Clementine Curd recipe.
Make Fig Curd Vegetarian or Vegan
This fig curd recipe is suitable for vegetarians.
But it is not a vegan fig curd. Whether a vegan fig curd is even possible is a matter for debate. Many vegans won't eat figs because a tiny fig wasp pollinates each fig and is then absorbed by the fig.
I think there are some rather sensible arguments for that not making figs an animal product. But there is no reasoning with some people so wanting to veganize a fig curd is probably an unlikely scenario.
Make it Allergy Friendly
This recipe is free from gluten and nuts.
Dairy Free: To make dairy-free fig curd you will need to switch the salted butter for a dairy free substitute. You will need to use a sub which is a hard block and not a margarine or the curd may not set as well.
Egg Free: Eggs are crucial to this recipe so I would actually recommend seeking out a dedicated egg-free recipe if needed.
Please note that this recipe may contain other allergens not referred to above and any variations suggested have not been tested unless otherwise stated. For more information regarding any dietary information provided on this website, please refer to my Nutritional Disclaimer.
Equipment Notes for Fruit Curd
There are a couple of items of equipment that you need to make this smooth fig curd.
You absolutely need some kind of blender. My preferred type for this kind of job is a stick blender. It creates minimal waste, minimal washing up and you can really see what you are blending.
If you don't have one, you can of course use any electric blender. Just make sure to use a silicone spatula to scrape it out really well.
The other required piece of basic kit is a good fine sieve. This is essential to both remove any of the remaining fig skin and fibres and make sure the mixture is super smooth before it is thickened.
You can store the finished curd in any airtight container you like, you do not need to use jars. But if you do have jar envy, these are the quilted jam jars I use!
A comprehensive list of the equipment used to make this recipe is included in the main recipe card below. Click on any item to see an example. There are no hard and fast rules so many items can be sensibly substituted to achieve the same results.
Get Ahead
You can store this fresh fig curd in the fridge in an airtight container for a couple of weeks.
I don't generally freeze curd so it isn't something I've tested. I do have a feeling it may split. But I also have a feeling that a quick blast with a blender would bring it back to life. Let me know how it goes if you try!
Fig Curd Tips
Once you add the egg/egg yolk to the mixture, make sure to not delay the next stage of blending. I've not had any issue with adding the eggs to a relatively hot mixture. But letting them sit will allow them to start cooking.
If you do find that the mixture breaks or splits during the final heating and thickening stage, simply give it another blitz with the blender. It should come back together perfectly. I have found that this is a more common requirement with this variety of curd so I have added the instructions into the recipe.
If you find that the mixture is very thick at the sieving stage, you can stir in a little extra water to help it go through.
Fruit Curds – Hints, Tips & FAQs
For more help and information about making any flavour fruit curd, head over to my fruit curds FAQs post.
Don't forget to let me know in the comments if you try making this recipe – I want to know what you think and if you made any substitutions, how did it turn out?
Still Have Questions?
Simple! Just contact me and I will do my best to help as quickly as I am able. Head over to my Contact Me page, any of my social media channels or post a comment at the bottom of this page and I'll see what I can do.
Pin Fresh Fig Curd For Later
Hit one of the share buttons to save this page to your Pinterest boards so you can come back and find it at anytime!
---
Keep Up to Date
Make sure you SUBSCRIBE to my newsletter and avoid missing out on any of my newest and bonus content. Don't worry, I promise not to spam you or bombard you too often. Plus you'll receive a copy of my FREE 7 Day International Meal Plan!

Also please don't forget to follow me over on my social media channels over at Facebook, Twitter, Instagram and Pinterest. I love to interact with my followers and I'd love you to share my content with your friends too.
---
More Simple Sweet Bakes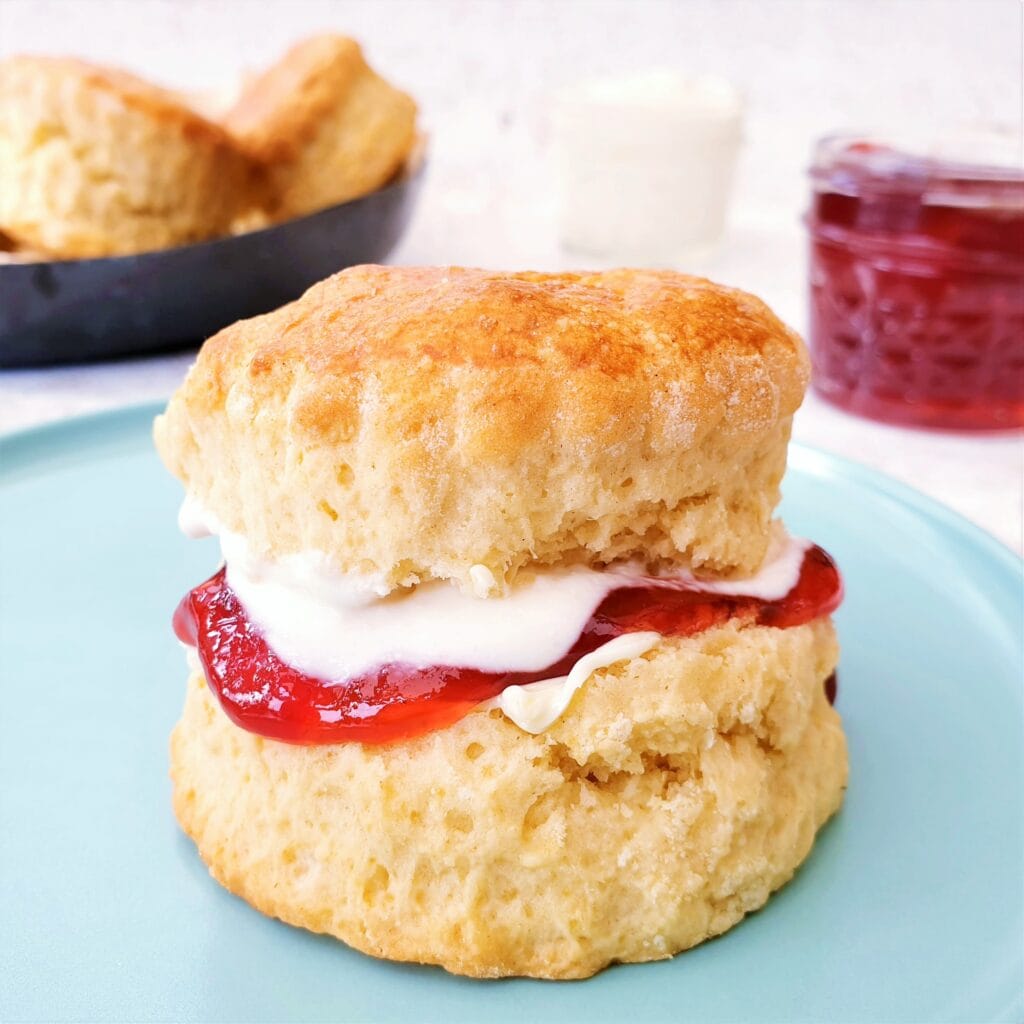 ---
The Recipe
Fresh Fig Curd
---
If you haven't tried Fresh Fig Curd before, I am giving you zero excuses not to give it a whirl. My quick and easy recipe is ready in around 20 minutes with no double boiling or faffing around. And the smooth and silky curd is a taste sensation!
Ingredients
250

g

Ripe Figs

100

ml

Water

1

small pinch

Sea Salt Flakes

30

g

Salted Butter

40

g

Sugar

2

Eggs

-

large

1

tbsp

Lemon Juice
Instructions
Trim the top and bottom off

250g Ripe Figs

. Trim to the point where you reach pink flesh. Cut the figs into rough 1cm/½" chunks.

Add the chopped figs to a medium saucepan along with

100 ml Water

and a small pinch of Sea Salt Flakes. Cook the figs over a medium heat until the pieces are soft enough to easily squash with a spatula – around 5 minutes.

Add

30g Salted Butter

and

40g Sugar

to the figs.

Continue to stir over the heat until the sugar and butter have melted – around 1 to 2 minutes.

Pour the mixture into a large jug or blender jug ready to puree.

Use a stick blender or regular blender to puree the fig mixture until it is as smooth as possible.

Take

2 Eggs

and seperate half. Put the separated egg white aside to use another time.

Add the whole egg and egg yolk to the fig mix and blend again until everything is incorporated.

Strain the mixture back into the saucepan. This will remove the remaining pieces of fig skin.

Stir the mix over the heat until it has thickened. You can raise the heat a little at the beginning to get the heat up. And you can continue to adjust the heat so that the mixture is no hotter than a very light simmer.

If you are underconfident, keep the heat low – it will just take longer to thicken. Keep stirring and make sure to keep scraping along the bottom of the pan. Do not walk away or take your eyes of the pan.

The curd is ready once it coats the back of a spoon or spatula. This should take no more than 4 to 5 minutes. You will know it is ready when it stops getting any thicker.

Take the curd off the heat and stir in

1 tbsp Lemon Juice

.

If your curd decides to break/split during the thickening process or after the lemon juice is added, you can simply blend it again before storing and it will come back together as a smooth curd.

I do find that this is more worth doing with this fig curd than any of the other curds I've made due to the late addition of the lemon juice.

Pour into jars or storage containers.
Nutrition (Approx)
Serving:
1
tbsp
|
Calories:
39
kcal
|
Carbohydrates:
5
g
|
Protein:
1
g
|
Fat:
2
g
|
Saturated Fat:
1
g
|
Polyunsaturated Fat:
1
g
|
Monounsaturated Fat:
1
g
|
Trans Fat:
1
g
|
Cholesterol:
19
mg
|
Sodium:
20
mg
|
Potassium:
39
mg
|
Fiber:
1
g
|
Sugar:
5
g
|
Vitamin A:
89
IU
|
Vitamin C:
1
mg
|
Calcium:
8
mg
|
Iron:
1
mg
Download my FREE 7 day international meal plan!
Simply subscribe to the Feast Glorious Feast newsletter and I'll send you the link.