This post may contain affiliate links. Please refer to my Disclosures Page for more details.
First up, I'm going to recommend buying a Camembert and eating it fairly swiftly. You should certainly not buy it and leave it in the fridge for 3 weeks wondering why the fridge stinks every time you open it. Definitely don't then pack it into the car boot, spend the day driving to Ikea, back again and then driving to Oxfordshire.
Because by the time you get to Oxfordshire, your car will reek riper than ripe. And you probably will do too. This may or may not have happened. It was however worth it because whilst rather decadent, a whole baked cheese treated as a fondue is bloody delicious.
Baked Camembert is one of those dishes that everyone loves to order for a starter in a pub but never thinks to make at home. OK, it is a little decadent, but it is so easy to make and has instant wow factor. I'm on a mission to make it a regular staple in our homes. Maybe not every day but certainly as a treat!
How to Serve Baked Camembert
It equally makes a great starter dish for 3 or 4 served with simpler items, perhaps just bread and salad. I find a little fresh salad really goes someways to counter the richness of the melty cheese. Red onion especially so.
Talking of onions, a red onion chutney is my go to accompaniment. The sweetness also work very well to cut through some of the cheesiness.
Make Baked Camembert into a Feast
I truly believe that you can make any dish into a proper feast! Whether thats a feast for one after work on a Tuesday, a casual feast for four on a Friday evening or a feast for 12 for a special occasion!
Garlic and cheese are obvious and classic bedfellows! My Super Cheesy Pull-Apart Garlic Bread is my all time favourite way of combining these flavours and I often add fresh or dried thyme to its close cousin – my Cheesy Garlic Rolls. I heard that garlic bread is the future don't you know!
It is also the perfect starter to any manner of Winter Feasts. Perhaps a meal of Roast Chicken, Yorkshire Puddings and Roasted Sweet Potatoes would be an idea. And you can't forget a hearty dessert like my Upside Down Fig Pudding.
Don't forget to head over to my Feast Collection pages to find all of my tips and tricks to help you host a fun and stress-free feast. Plus remember to check out my recipe index to create your own awesome Feast!
Ingredients for Baked Camembert
Camembert
Camembert is often sold as a 'baking camembert' where a little ceramic dish is provided for the cheese to bake in. (It is always handy to keep them!).
More often than not, they come in a flimsy cardboard box. In this case, simply remove the lid and line it with tin foil. Place the base in the upturned lid and the box/dish will stop the cheese from spreading as it bakes.
The cheese will be much easier to deal with if it is fridge cold – especially slicing off the top layer of rind. The cooking times given also assume that this is the case. Reduce the cooking time of the cheese if it is room temp when you start.
Maple Syrup
Maple syrup can be pricey but so make sure that you buy 'pure maple syrup' and not 'maple flavoured syrup' if at all possible. Spend a little more and use it sparingly. Also, Aldi sell the good stuff quite cheaply.
Thyme
I have specified dried thyme in the recipe as I appreciate that this is the kind of warming comforting dish for winter when fresh thyme might be less readily available. Fresh thyme would be brilliant if available.
Garlic
This is one of the few occasions where I dictate that fresh garlic should be used rather than garlic paste or garlic salt. The thin slices of the fresh cloves allow them to be shoved deep into the cheese so the flavour permeates the camembert.
Be Flexible
Whilst camembert is the traditional choice of cheese for baking in this way, many bries (or 'brie cheeses' as they're known in my house) come in similar sizes and boxes ripe (pun intended) for oven baking. The french cheese Epoisses is also another classic melting cheese.
Other flavours can be added to the cheese before baking as you desire. Honey makes a happy substitution for the maple syrup and other herbs like rosemary, oregano and marjoram would also complement instead of the thyme.
A little homemade chutney served alongside would also be delicious.
Make it Vegetarian
This recipe is suitable for vegetarians but you must ensure that the Camembert that you buy is not made with animal rennet. The traditional recipe is not vegetarian although there are many varieties made nowadays that are.
Make it Vegan
With a bit of internet searching, I've discovered that Vegan Camembert does exist! It is made from cashew milk and apparently has the melting qualities of a real camembert. So that may be worth a try!
Make it Allergy Friendly
This Baked Camembert recipe does not contain any nuts, egg or gluten.
Dairy Free: Check out my vegan substitute suggestions above.
Please note that this recipe may contain other allergens not referred to above and any variations suggested have not been tested unless otherwise stated. For more information regarding any dietary information provided on this website, please refer to my Nutritional Disclaimer.
Equipment Notes for Baked Camembert with Garlic, Maple & Thyme
I have written this recipe assuming that your cheese comes in a little wooden box. I have previously had to staple the box to make it stay together but using the foil trick helps to stop the box coming apart.
But using a specialist cheese baking dish is a great option if you have one. Otherwise a shallow tapas dish that's languishing in the back of the cupboard might be just the right size too.
A comprehensive list of the equipment used to make this recipe is included in the main recipe card below. Click on any item to see an example. There are no hard and fast rules so many items can be sensibly substituted to achieve the same results.
Get Ahead
This is a great recipe to prepare in advance and then pop in the oven to bake right before you want to serve. Take the recipe right to the stage where the cheese is ready to bake and then cover is and leave in the refrigerator until you're ready.
The cheese could also be wrapped and frozen at that point.
---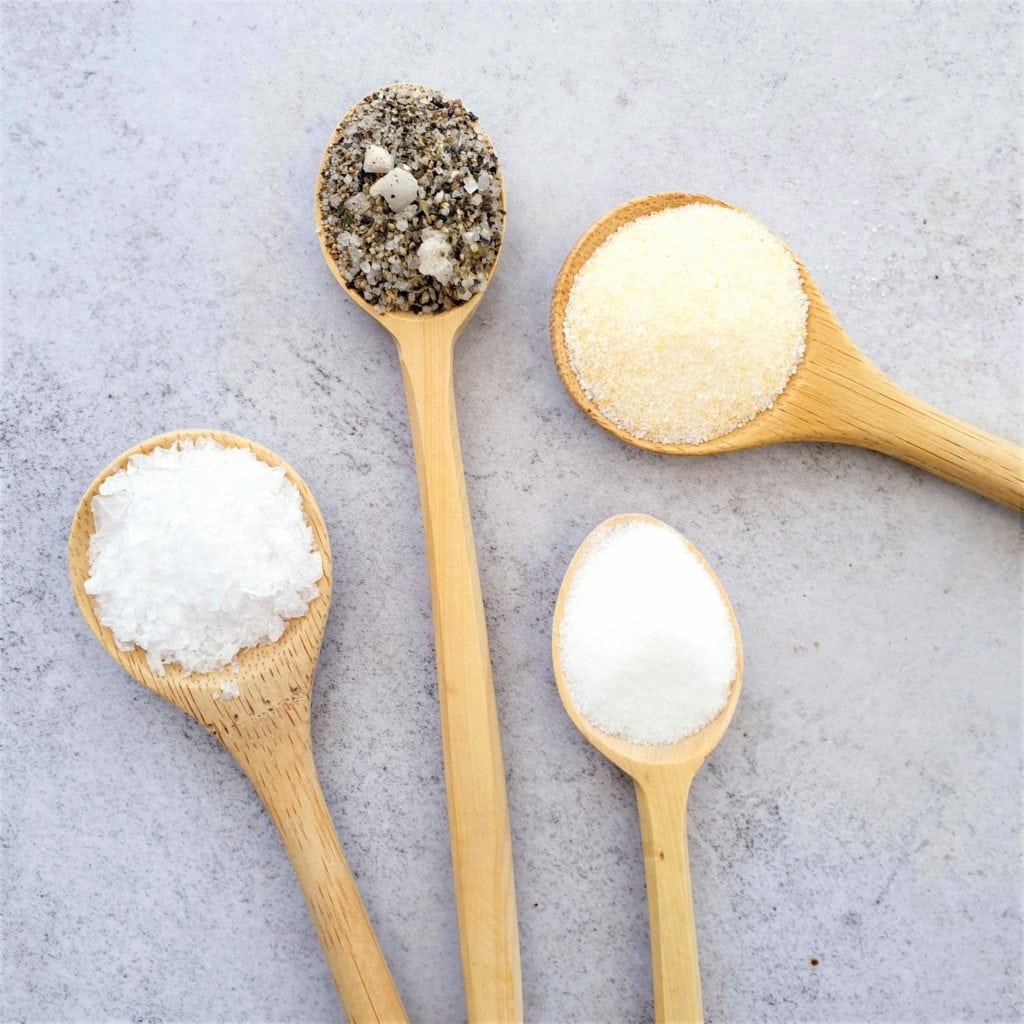 For the lowdown on using salt to properly season and enhance the flavour of your food, check out my Ultimate Guide on How to Use Salt.

There is guidance about which salt to use when, salt alternatives, using salt when baking and even what to do if you add too much salt!
---
Leftover Baked Camembert
It is highly unlikely that there will be any leftovers. In the unlikely event that there is, I would simply re-bake it and dig in within the next few days. After cheese has melted and then cooled, the texture is rarely amazing so I wouldn't expect to just eat it without remelting.
Baked Camembert Tips
Make sure to shove the garlic slices as far into the cheese as you can. Too much garlic sticking out the top will result in it catching and becoming bitter.
Don't forget to let me know in the comments if you try making this recipe – I want to know what you think and if you made any substitutions, how did it turn out?
Still Have Questions?
Simple! Just contact me and I will do my best to help as quickly as I am able. Head over to my Contact Me page, any of my social media channels or post a comment at the bottom of this page and I'll see what I can do.
Pin Baked Camembert with Garlic, Maple & Thyme For Later
Hit one of the share buttons to save this page to your Pinterest boards so you can come back and find it at anytime!
Keep Up to Date
Make sure you SUBSCRIBE to my newsletter and avoid missing out on any of my newest and bonus content. Don't worry, I promise not to spam you or bombard you too often. Plus you'll receive a copy of my FREE 7 Day International Meal Plan!

Also please don't forget to follow me over on my social media channels over at Facebook, Twitter, Instagram and Pinterest. I love to interact with my followers and I'd love you to share my content with your friends too.
More Cheesy Recipes
The Recipe
Baked Camembert Recipe with Garlic, Maple & Thyme
---
My Baked Camembert with Garlic, Maple & Thyme might sound a little unusual but trust me, the sweetness of the syrup perfectly complements the richness of the gooey cheese. Served with a selection of leftover meats, veg and toast soldiers, its a perfect meal or starter to share.
Ingredients
250

g

Whole Camembert

0.5

Clove

Garlic

1

tsp

Fresh Thyme Leaves

-

half quantity of dried

1

tbsp

Maple Syrup

0.25

tsp

Sea Salt Flakes
Instructions
Turn the oven on to 180c or equivalent.

Prepare a 250g Whole Camembert by taking it out of its box and setting aside on a board.

Fold a piece of foil large enough to cover the outside of the box lid.

Fold the foil around the outside of the lid and place the bottom of the box back into the lid. You should now have a relatively leakproof box to bake your cheese in.

Carefully slice off the top layer of rind trying to keep the Camembert in one piece. Set the top rind aside as you will reunite it with the rest of the cheese shortly.

Finely slice 0.5 Clove Garlic.

Using a sharp knife, poke slits in the top of the cheese and poke the slices of garlic into the slits.

Sprinkle 1 tsp Fresh Thyme Leaves, 1 tbsp Maple Syrup and 0.25 tsp Sea Salt Flakes over the exposed camembert.

Replace the lid on top of the cheese.

Put the cheese on a small baking tray and pop in the preheated oven. Set a timer for 20 minutes.

Once the cheese is cooked, serve as soon as possible.

To eat, remove the rind lid (make sure to eat it or scrape of the gooey cheese!) and dip away.
Nutrition (Approx)
Calories:
404
kcal
|
Carbohydrates:
8
g
|
Protein:
25
g
|
Fat:
30
g
|
Saturated Fat:
19
g
|
Cholesterol:
90
mg
|
Sodium:
1344
mg
|
Potassium:
256
mg
|
Sugar:
7
g
|
Vitamin A:
1025
IU
|
Vitamin C:
0.7
mg
|
Calcium:
496
mg
|
Iron:
0.4
mg
Download my FREE 7 day international meal plan!
Simply subscribe to the Feast Glorious Feast newsletter and I'll send you the link.