Candied Pistachios are a fun if a slightly unusual decoration for a trifle or just a tasty snack. I've simplified the candying method so they're quick and simple to make with no lengthy boiling required!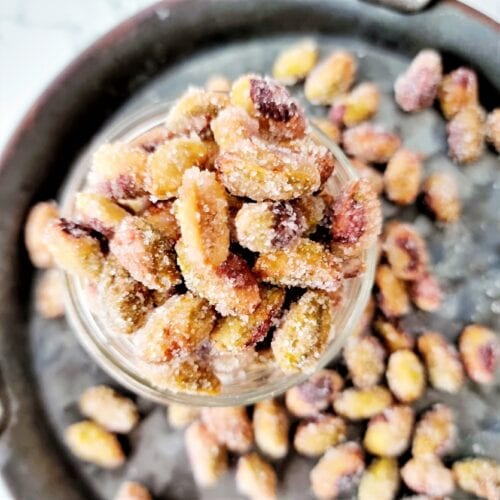 This post may contain affiliate links. Please refer to my Disclosures Page for more details.
Like several of the recipes that I created in order to simplify the elements of the official Coronation Trifle recipe by Adam Handling, this work became somewhat redundant when the powers that be quietly replaced with official recipe with another.
The topping of candied pistachios became "chopped nuts" despite the trifle photo remaining unchanged. Publishing photos that bear no resemblance to the final recipe is one of my bugbears! "Roasted strawberries" became just fresh/raw strawberries but I published my simplified recipe for those anyway too.
I actually still quite like these sugared pistachios as a topping. I've given a few options in my Cheat's Coronation Trifle recipes for decorations – for the 10 minutes that these take to make, they really are worth considering.
I tried the original method which involved both oven roasting and boiling in sugar syrup for an undisclosed amount of time. The results from my method are near identical. All it involves is heating the nuts in sugar, adding a tiny bit of water and then tossing the cooling nuts in granulated sugar. It takes less than 10 minutes hands on time and roughly another 20 minutes until they're cool enough to use on top of a trifle. Or just eat.
This recipe makes more than enough to top a trifle to serve 6. You'll still have a few left over for a little snacky snack without breaking the bank.
More Coronation Recipes!
In a last minute turn of event, the royal family have released an official coronation quiche recipe. So of course I had to make a cheat's version of that too! I've also put together a collection of my recipes which are perfect for celebrating the coronation and a little round up of all the official recipes.
Created as a quicker and easier version of the official coronation quiche recipe, this Spinach, Edamame Bean & Parsley Quiche turned out delicious! Using ready made pasty and with no blind baking, this simpler recipe includes full step by step images and detailed instructions to make this shortcrust pastry quiche foolproof.
Ingredients for Candied Pistachios
Pistachios
You must look for unsalted and otherwise unflavoured pistachios for this recipe. You can buy ready shelled pistachios but I usually buy them in the shell as this is much more economical. I also feel like they keep their freshness for much longer.
Working out how many shell on or off pistachios is easy – the nut is equal to the weight of the shell. So 80g of pistachios in the shell will yield 40g of shelled nuts and 40g of shells to be disposed off.
How to Shell Pistachios
For the most part it is easy to just use your fingers to prise the shell apart and remove the nut. The dried nuts naturally split along the seam giving you an entry point. However sometimes that seam is very small and no matter how dexterous you are, you won't be able to use your hands without hurting yourself.
You don't need any special tools to deal with those difficult nuts. You just need to grab one of the half shells from another nut you've already dealt with and use that to prise the shell open. Place the thin end in the gap and twist. Ta-da!
Sugar
It is important to use white granulated sugar for this recipe (this is just your regular sugar in the US). The crunch of the sugar crystals is important to the final product.
You could use golden granulated sugar if you prefer a slightly more caramelly flavour to the candied nuts.
Make it Vegetarian or Vegan
These candied pistachios are suitable for vegans and vegetarians as written.
Make it Allergy Friendly
This recipe is free from egg, dairy and gluten.
I would normally discuss here how to make a nut free version of this recipe. But unfortunately unless there is another nut which isn't an allergy issue, I don't think this is a recipe suitable for adapting!
Please note that this recipe may contain other allergens not referred to above and any variations suggested have not been tested unless otherwise stated. For more information regarding any dietary information provided on this website, please refer to my Nutritional Disclaimer.
Equipment Notes for Candied Pistachios
You need no specialist equipment to make this recipe at all. A small saucepan is useful as you want the nuts to be in the smallest area possible. Using a big pan will mean the sugar spreads and melts on the pan and not on the nuts.
I always recommend using a silicone spatula for baking. In this case the sugar isn't going to stick to the spatula. If you don't have one, just use what you have, you just might have a harder time doing the washing up.
You will also need a tray to tip the nuts onto to coat and cool. The baking tray I used has ridiculously great non stick properties. If you don't have one that you trust implicitly, just line any old tray. If you have a silicone mat of any kind that is best. I would avoid baking paper as I think it will just stick. Foil is a good option but I would make sure to give it a very light oil first just to be sure.
A comprehensive list of the equipment used to make this recipe is included in the main recipe card below. Click on any item to see an example. There are no hard and fast rules so many items can be sensibly substituted to achieve the same results.
Get Ahead
You can make these nuts up to a couple of weeks in advance. I would leave them to cool in a single layer on their tray for at least 4 hours before putting them into an airtight container. Make sure to keep them somewhere cool. You won't need to use the fridge unless if is very hot where you are.
The biggest problem with being this organised is that they are rather moreish and you might find that you end up needing to make another batch for your trifle.
Candied Pistachio Tips
I've written lots of little warning notes and specifics into this recipe itself. The main things to take into account are that you should not walk away from the pan, don't allow the sugar to start caramelising, don't touch molten sugar until its sufficiently cool but don't dilly dally in getting the sugar coating on or it won't stick.
Ways to Use Candied Pistachios
They really are perfect as just a simple snack. They'll be wonderful around Christmas time and they make a great gift too.
They're also great to use on other desserts. Try them crushed on top of vanilla ice cream or even sprinkled over a stack of pancakes or rice pudding.
The official Coronation trifle created for the coronation of King Charles III wasn't well promoted but I went ahead and made an easier to follow and make version of the Strawberry & Ginger Trifle anyway! This Cheat's Coronation Trifle retains all the essence and flavour of the original but with less effort, cost and time.
More Nutty Recipes
Don't forget to let me know in the comments if you try making this recipe – I want to know what you think and if you made any substitutions, how did it turn out?
Still Have Questions?
Simple! Just contact me and I will do my best to help as quickly as I am able. Head over to my Contact Me page, any of my social media channels or post a comment at the bottom of this page and I'll see what I can do.
Pin Easy Candied Pistachios For Later
Hit one of the share buttons to save this page to your Pinterest boards so you can come back and find it at anytime!
---
Keep Up to Date
Make sure you SUBSCRIBE to my newsletter and avoid missing out on any of my newest and bonus content. Don't worry, I promise not to spam you or bombard you too often. Plus you'll receive a copy of my FREE 7 Day International Meal Plan!

Also please don't forget to follow me over on my social media channels over at Facebook, Twitter, Instagram and Pinterest. I love to interact with my followers and I'd love you to share my content with your friends too.
The Recipe
Easy Candied Pistachios for Coronation Trifle
---
Candied Pistachios are a fun if a slightly unusual decoration for a trifle or just a tasty snack. I've simplified the candying method so they're quick and simple to make with no lengthy boiling required!
Ingredients
40

g

Shelled Pistachios

-

40g shelled = 80g in shell

3

tbsp

Sugar

1

tbsp

Water
Instructions
Make sure to have a baking tray handy, If it isn't super non-stick like mine, make sure to line it – a silicone liner is the best bet as paper may stick. Greased foil would be an alternative option.

If you need to, start by shelling pistachios. The shells weigh the same as the nut so it is easy to work out how many pistachios in their shell you need.

Place

40g Shelled Pistachios

and

2 tbsp Sugar

into a small saucepan (or frying pan).

Start heating the nuts and sugar over a medium high heat. You must under no circumstances walk away from this pan so make sure you have

1 tbsp water

and the baking tray easily to hand.

Keep heating and stirring until the sugar starts to melt. Add the water at this point and keep stirring.

Once the sugar is fully melted and coating the nuts, remove the pan from the heat and tip the nuts onto the baking tray. The sugar doesn't want to be caramelised, just melted so don't hang around.

Use the spatula to start to separate the nuts from each other on the tray – don't stress about it and whatever you do, don't touch with your fingers.

After 30 seconds or so, the nuts will have already cooled a fair amount. Sprinkle over the remaining

1 tbsp Sugar

.

As soon the nuts are cool enough to handle (surprisingly quickly), start tossing them in the sugar and separating any clumps with your fingers. You can add a little more sugar if needed.

You're finished once all of the pistachios are separated and have a sparking coating of sugar.

Allow to cool fully – around 20 minutes and they're ready to use.
Nutrition (Approx)
Serving:
10
g
|
Calories:
73
kcal
|
Carbohydrates:
9
g
|
Protein:
2
g
|
Fat:
4
g
|
Saturated Fat:
0.5
g
|
Polyunsaturated Fat:
1
g
|
Monounsaturated Fat:
2
g
|
Sodium:
1
mg
|
Potassium:
81
mg
|
Fiber:
1
g
|
Sugar:
8
g
|
Vitamin A:
21
IU
|
Vitamin C:
0.2
mg
|
Calcium:
9
mg
|
Iron:
0.3
mg
Download my FREE 7 day international meal plan!
Simply subscribe to the Feast Glorious Feast newsletter and I'll send you the link.