My Vegetarian Americana Feast is an entirely meat free collection of recipes to help you host an Americana inspired Feast. A white bean chili is truly the star of the show along with loads of great topping suggestions, sweet potatoes and my epic garlic breads. I finish with a chocolate monkey bread for something a little different!
Host a Vegetarian Americana Feast
Don't forget to check out my comprehensive guide to hosting a Big Americana Feast.
And definitely don't forget to download my helpful checklist and shopping list to ensure totally stress-free hosting!
Vegetarian Americana Feast Recipes
This is my suggested collection of recipes which provide a nicely rounded vegetarian meal. I have split the collection into three 'courses'.
In this collection, I have designed the appetizer course to be served super informally. Its just guac and chips! If you are stuck for space then of course you can serve this at the table. But I prefer to throw a few bowls around when people are arriving and we're having a drink.
There are not a whole bunch of main course (entree) recipes in this collection. Instead we have the hero dish of the white bean chili and then I've given you a load of suggestions for toppings.
My garlic sweet potato makes an excellent additional topping and there is truly nothing that a piece of garlic bread can't accompany.
For the lowdown on all my suggestions for hosting a big Americana Feast, make sure to check out my main Americana Feast post.
Almost everything can be prepared in advance and reheated or cooked just before serving. Read the get ahead instructions in each recipe carefully for more information.
Appetizers
Holy Guacamole! Did you know that you can own a house and enjoy avocado on a regular basis? I'm living proof folks! Guacamole is a family favourite around these parts this is my recipe for a fully loaded but nearly smooth guacamole. So tasty!
Serve with a bunch of tortilla chips and don't underestimate the amount of guacamole that will be eaten. I think that you need at least half an avocado per person. Possibly more if your friends are greedy! (mine are!)
Both any spare chips and guacamole can be utilised as chili toppings later so don't worry about leftovers.
Entrees
My Vegetarian White Bean Chili is a brilliant and hugely flavourful alternative to a traditional chili sin carne. The creamy veg and bean packed chilli is a quick one-pan dish made using tinned beans and is a great base for heaps of tasty garnishes.
I recommend serving a full portion of chili per person. As this is the main dish rather than part of a larger buffet, I would not pare down the portion size.
There are many toppings to choose from you. In the chili recipe post, I suggest:
Crushed up tortilla chips
Fresh coriander
Finely sliced fresh chillis
Sour cream or creme fraiche
Grated cheese
Sliced avocado
Finely sliced red onions (leave them to sit in a little salt, sugar and lemon juice for 10 minutes)
Lime wedges
It could be your decision whether to make up bowls and serve them like my photographs or whether to serve everything individually for people to top their own chilis.
Garlic Roasted Sweet Potatoes are one of my favourite side dishes. They go with almost everything from fish to pork chops and even make a great addition to salads, tacos and soups. Talk about versatile! As a bonus my recipe includes my top tip for avoiding that burnt horrible garlic taste.
It will depend on how much you want to feature the sweet potato as part of your menu on how many portions you make. To not go too overboard I would recommend going for a half portion per person.
My Cheesy Garlic Rolls are the perfect grab-and-go version of my ever popular Cheesy Pull Apart Garlic Bread. The enriched bread is gorgeously soft, the cheese stringy and the garlic bordering on spicy. You're going to want to make a double batch!
You are going to need at least one roll per person. They are super moorish so I'd actually recommend making at least 2 per person. And I really do mean AT LEAST!
Dessert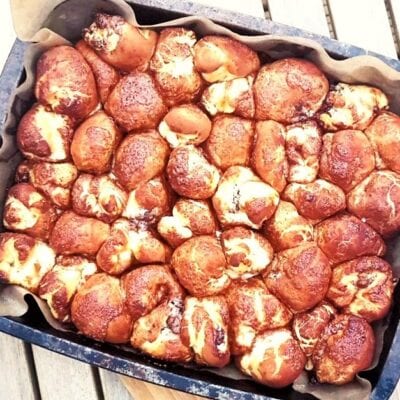 Chocolate Monkey Bread isn't really traditional in the UK but it should be! Made in tray bake form for more even cooking, this sweet chocolate bread is really easy and fun to make.
This is a great informal dessert. You can serve it with ice cream or cream or just leave it for people to casually to pick at. For something a little more showstopping, you could make my Chocolate Peanut Cheesecake or my Chocolate Lime Pie.
Drinks for Americana Feasts
Check out my dedicated post all about Americana Inspired Drinks.
I've included ideas for soft and alcoholic drinks as well as some ideas for hot drinks. There should be something for everyone and something for every season.
I've also given you loads of advice about how and in what to serve your drinks.
Looking for Other Americana Collections?
This collection is designed to be a wholly vegetarian menu but if you are looking for something a little meatier, check out my other Americana inspired collections.
Everyday Americana Feasts
Whats more, I've put together a selection of Americana inspired menus which don't require you to have any friends! They're smaller menus perfect for 1 or 2 people. But they can also be easily scaled up to feed more people in a slightly simpler way.
Still Have Questions?
Simple! Just contact me and I will do my best to help as quickly as I am able. Head over to my Contact Me page, any of my social media channels or post a comment at the bottom of this page and I'll see what I can do.
Download the Big Americana Feast Preparation Checklist
Complete the form below to receive a copy of my free and comprehensive Big Americana Feast Preparation Checklist right into your email inbox!
The checklist includes worksheets to help you plan your guest list, the final menu, and everything you need to serve the feast. It also includes timelines and checklists for preparing the food in advance, preparing the table and food serving area, and hosting on the day. Plus it includes a bonus shopping list!
Pin Vegetarian Americana Feast Collection For Later
Hit one of the share buttons to save this page to your Pinterest boards so you can come back and find it at anytime!
Keep Up to Date
Make sure you SUBSCRIBE to my newsletter and avoid missing out on any of my newest and bonus content. Don't worry, I promise not to spam you or bombard you too often. Plus you'll receive a copy of my FREE 7 Day International Meal Plan!

Also please don't forget to follow me over on my social media channels over at Facebook, Twitter, Instagram and Pinterest. I love to interact with my followers and I'd love you to share my content with your friends too.