Ginger is a wonderfully versatile ingredient with loads of tasty sweet & savoury culinary uses in the kitchen. Whether you have fresh ginger, ground ginger, stem ginger or even ginger beer, you'll find an option in this list of 8 Sweet & Savoury Ginger Recipes!
This post may contain affiliate links. Please refer to my Disclosures Page for more details.
As a lifelong cinnamon dodger, ginger is one of my favourite alternative flavours. But I don't just stick to ginger cakes and bakes.
I love to use it in lots of different dishes, sometimes as a background note and sometimes as a main flavour. So I've created this list of some of my favourite ginger recipes to tickle your taste buds and maybe introduce you to some new uses.
Types of Ginger
Ginger is a root which is from the same horticultural family as turmeric, cardamom and galangal. It is used as a culinary spice and can be quite fiery in flavour.
I keep various types of ginger in my pantry as they all have slightly different uses. These are my favourite types.
Fresh Ginger Paste
This is largely what I use in my savoury recipes. There are three main reasons why I generally refer to "ginger paste" in my recipes rather than fresh root ginger.
How many times have you seen a recipe call for a "1 inch piece of ginger" or "a thumb size piece of ginger"? And then looked at the gnarly piece of ginger in your hand and wondered what the hell that actually means? I certainly have! There is almost no way of ensuring that the amount of ginger you end up with is the same as what the recipe writer intended.
So if you use a fine grater (I always recommend a Microplane grater) you can then measure the paste you create with your handy measuring spoons. And bingo, you are going to be much closer to the amount of ginger needed for the recipe.
The next reason is that I buy ginger paste in a jar. I basically find it a much more manageable way to minimise food waste. And I don't dirty my beloved grater.
And lastly, I like ginger to be finely grated into a paste because it disperses much more easily throughout whatever you are cooking. No one really wants to chow down on a chunk of ginger.
All of these reasons are exactly the same as why I refer to "garlic paste" in my recipes too. For loads of garlic ideas, check out my collection of 26 Best Garlic Recipes.
Ground Ginger
Ginger power is dried ginger root which is simply ground into a powder. It can be bought in almost any store.
I prefer to buy the large bags found in Asian supermarkets or the world food aisle at the supermarket. These provide much better value than the small bottles in the usual spice aisles.
Like all ground spices, ginger will lose some flavour as it ages. But it will really have to try to go totally tasteless – we're talking many years. Just make sure to store it in a airtight container as moisture is its natural enemy.
Stem Ginger
Stem ginger is fresh ginger root that has been boiled in a sugar syrup until soft all the way through. The sugar permeates the ginger to make a sweet and spicy treat.
It is usually packed and sold in jars with the cooking syrup around it. It lasts for a long time and is a perfect pantry staple. You can make your own too.
Ginger Syrup
Don't forget the syrup from the stem ginger jar! It can be used as a ingredient in its own right as well as an additional ingredient to the ginger balls themselves.
Crystallised or Candied Ginger
Don't confuse these with stem ginger as they are a slightly different product. Crystallised ginger is cooked in a similar way but the ginger chunks are removed from the sugar syrup and rolled in sugar. So the overall product is dryer.
It can be substituted for stem ginger in many recipes but ultimately it is firmer in texture and a little more difficult to deal with. Plus you miss out on the bonus syrup.
Ginger Beer
Ginger beer in its own right is not alcoholic, despite the name. It is simply a carbonated drink with a prominent spicy ginger flavour. Nowadays you can buy boozy versions too and these tend to be referred to as "Alcoholic Ginger Beer".
Even if you don't want to boil a ham in ginger beer, do try it just as a drink! It is especially delicious with a nip of rum and a little fresh lime.
Savoury Ginger Recipes
Many of my go-to savoury ginger recipes are of an Asian persuasion. I use a dab in my Sticky Rice, almost always add some to my Crab Uramaki and use it for an extra tang in my Steamed Chinese Dumplings.
These are 4 of my favourite recipes where ginger is front and centre as a flavour.
---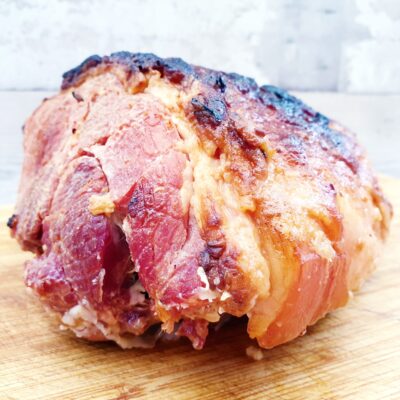 My Ginger Beer Boiled Ham with a Southern Comfort glaze is inspired by a Nigella Lawson recipe with added booze. The ginger beer permeates the ham to give a great twist on a classic party centrepiece. And I am rarely allowed to attend a party unless I bring a ham. True story.
---
My Miso Soup with Ginger & Tofu is my go-to side for almost any of my favourite Chinese and Japanese inspired dishes. Its light but filling, tasty but subtle and includes a little extra hit of tofu-based protein. Best of all, its ready in less than 10 minutes.
---
These simple Ginger & Chilli Courgettes are soft, spicy and the perfect vegan friendly side to any number of Asian inspired dishes. The courgettes (also known as zucchini) are gently and slowly fried then doused in seasoning just before serving.
---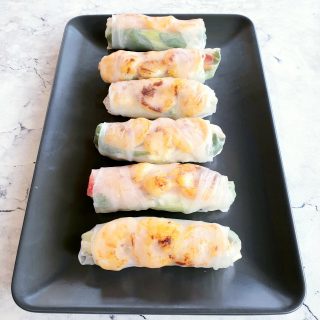 Vietnamese Summer Rolls are incredibly easy to make, naturally gluten free and everything you need is available right in the supermarket. King Prawn adds a touch of luxury to a stunning dish with barely any cooking. They're perfect for a warm summers day!
---
Sweet Ginger Recipes
As often as I reach for the fresh ginger paste in my savoury recipes, I'm reaching for the ground or stem ginger to whip up a sweet treat. I make a batch of my ginger cookies at least twice a month. They're a perennial favourite with friends and family too.
And you'll probably be able to tell that I'm a bit obsessed by the combination of peach and ginger. I use stem ginger in both my boozy peach compote and crumble recipe.
I especially love it when ginger is almost spicy in flavour. And I quite often throw a little extra in just to really make my taste buds sing!
---
Chewy Ginger Cookies are best when chewy and crispy in all the right places, just like these. They should maybe be called Ginger Biscuits but whatever your opinion, this is an easy one bowl recipe with no messy dough to scrape off the counter.
---
My Peach and Ginger Crumble is a tasty twist on a classic British pudding. Read on to find out how to use tinned peaches to create a quick and easy dessert for a Sunday Dinner or cheeky weeknight treat. Just add custard and feel smug that you're getting in one of your 5-a-day!
---
I love the kick of this Fiery Ginger Loaf Cake. Its a simple and moist store-cupboard ginger cake topped with a ginger buttercream and crunchy sugar topping. Whats not to love? Easily adaptable to make cupcakes or a layer cake as you please. Check it out now!
---
My Peach Compote with Ginger & Bourbon recipe combines three of my favourite flavours into a super simple sauce which is incredibly versatile. Perfect whether served with pancakes, a simple sponge or just added to vanilla ice cream. Best of all, it only takes about 10 minutes to make.
---
So now you know my favourite ginger recipes, hit the comments and tell me yours!
Pin 8 Sweet & Savoury Ginger Recipes For Later
Hit one of the share buttons to save this page to your Pinterest boards so you can come back and find it at anytime!
Keep Up to Date
Make sure you SUBSCRIBE to my newsletter and avoid missing out on any of my newest and bonus content. Don't worry, I promise not to spam you or bombard you too often. Plus you'll receive a copy of my FREE 7 Day International Meal Plan!

Also please don't forget to follow me over on my social media channels over at Facebook, Twitter, Instagram and Pinterest. I love to interact with my followers and I'd love you to share my content with your friends too.