Ham, Mac'n'Cheese & Green Bean Casserole is a lovely combination for any meal. It is most certainly a feast. It is best prepared in advance and then simply reheated just before serving. Otherwise its a brilliant weekend feast. The salty ham pairs beautifully with the cheesy pasta and the green beans provide both an element of fun and veg!
I've written a comprehensive guide how to host a Big Americana Feast. But you can have an American Feast on a much smaller scale. I regularly make myself a feast for one!
I've put together a selection of smaller collections of my recipes which you can use everyday. This is my ham, cheesy pasta and creamy green bean casserole menu. Don't forget to have a look at my other everyday Americana Feasts too!
Everyday Ham, Mac'n'Cheese & Green Bean Americana Feast Recipes
Ok I admit that unlike the majority of my everyday feast collections, this one is a little harder to whip up after work on a Wednesday.
But prepare everything in advance and its super easy to throw together and reheat at any time. Everything can even be frozen in portions for maximum convenience.
---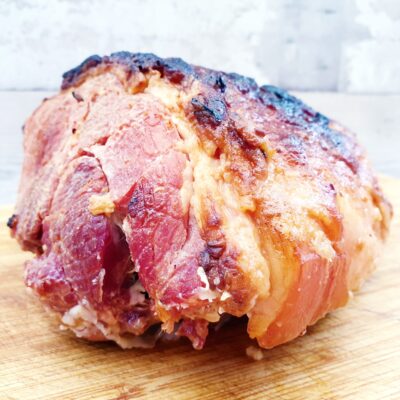 My Ginger Beer Boiled Ham with a Southern Comfort glaze is inspired by a Nigella Lawson recipe with added booze. The ginger beer permeates the ham to give a great twist on a classic party centrepiece. And I am rarely allowed to attend a party unless I bring a ham. True story.
---
My ham recipes yields roughly enough ham to feed 12 people. You can of course choose to cook a smaller ham to serve less people. But if I'm spending the time and effort to boil and glaze a ham, I want the maximum benefit from that time spent.
So I will usually make a large ham and then eat the leftovers throughout the week and/or freeze it in portions for a later time. I am especially partial to a sandwich made with my ham and a good helping of creamy coleslaw.
---
Green Bean Casserole is an American classic that is barely known in the UK. Using tinned mushroom soup as a casserole sauce isn't a very British thing but you know what, America might well be on to something!
---
Sometimes I do just eat ham and the macaroni cheese but it is a good idea to try to throw some veg in the mix! I'm not sure that green bean casserole is the healthiest of the options. But it really rounds out the prep-ahead nature and sheer American-ness of this meal!
The recipe given serves 4 and this can be adjusted in the recipe card if needed.
---
Baked Macaroni Cheese is the ultimate American side dish! My basic mac'n'cheese recipe includes a creamy and velvety sauce packed with three cheeses topped with a crunchy panko and mozzarella crust. Its perfect as a side or gussied up with any manner of extras to make a whole feast on its own.
---
My simple and unadorned macaroni cheese provides the perfect foil to the salty ginger ham. The recipe is also set to serve 4 as a main course. You may find that you have some leftovers when serving it as a side. This is no bad thing!
Drinks for Americana Feasts
Check out my dedicated post all about Americana Inspired drinks.
I've included ideas for soft and alcoholic drinks as well as some ideas for hot drinks. There should be something for everyone and something for every season.
I've also given you loads of advice about how and in what to serve your drinks. Who says that you can't have a glass of something special even when you're feasting alone!
Looking for Bigger Americana Recipe Collections?
If you are looking to make a slightly more special meal with a larger variety of Americana inspired dishes, check out my Big Americana Feast recipe collections.
Still Have Questions?
Simple! Just contact me and I will do my best to help as quickly as I am able. Head over to my Contact Me page, any of my social media channels or post a comment at the bottom of this page and I'll see what I can do.
Keep Up to Date
Make sure you SUBSCRIBE to my newsletter and avoid missing out on any of my newest and bonus content. Don't worry, I promise not to spam you or bombard you too often. Plus you'll receive a copy of my FREE 7 Day International Meal Plan!

Also please don't forget to follow me over on my social media channels over at Facebook, Twitter, Instagram and Pinterest. I love to interact with my followers and I'd love you to share my content with your friends too.
Pin For Later
Hit one of the share buttons to save this page to your Pinterest boards so you can come back and find it at anytime!