A good Sushi Platter is a feast in itself! And easy enough to put together to make it something that I'd consider an everyday feast. With a selection of crab and raw salmon sushi rolls, deep fried scallop balls and simple prawn on rice, this menu provides a brilliant range of flavours and textures.
I've written a comprehensive guide how to host a Big Asian Feast. But you can have an Asian Feast on a much smaller scale. I regularly make myself a feast for one!
I've put together a selection of smaller collections of my recipes which you can use everyday. This is my sushi centric feast. Don't forget to have a look at my other everyday Asian Feasts too!
Everyday Sushi Platter Feast Recipes
You can obviously pick and choose which sushi dishes you make to form your platter. The four that I've suggested here include a happy balance of varieties and textures. But do feel free to experiment with them!
Uramaki Sushi with Chilli Crab is definitely my favourite sushi roll of all time. I might just be perverse and like that its the wrong way round. But it might be because it is so tasty and easy to make, despite looking really impressive!
---
These Salmon Maki Sushi Rolls are my take on the most classic looking sushi. Raw fresh salmon is wrapped in sticky sushi rice and crispy seaweed. The bite-size rolls are a world away from dodgy supermarket sushi and surprisingly easy to make.
---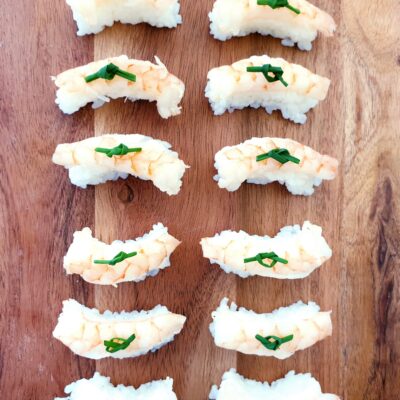 King Prawn Nigiri is the simplest item in a sushi set. Sushi rice is formed into a block before being topped with cooked king prawn. I like to add a chive garnish for extra flourish, interest and flavour. Keeping it simple for the win.
---
Fried Onigiri is not traditional sushi! But no matter, my Japanese take on arancini with Miso marinated Scallops makes a great addition to a sushi platter. The coating provides great crunch and the scallop filling is full of fabulous flavour.
---
The sushi can be served with any dipping sauces that you like. It is classic to serve them simply just with soy sauce and sushi ginger. Wasabi paste is another option.
---
My Miso Soup with Ginger & Tofu is my go-to side for almost any of my favourite Chinese and Japanese inspired dishes. Its light but filling, tasty but subtle and includes a little extra hit of tofu-based protein. Best of all, its ready in less than 10 minutes.
---
My Salt & Chilli Edamame Beans are inspired by the tasty morsels served by Wagamamas. But with my version, there is no popping beans out of pods or wasting precious seasoning on the inedible bits! Did I mention they're ready in under 10 minutes?
---
When serving sushi, I like to also serve something warm and filling like small bowl of soup. This just provides a nice flavour and texture contrast. The same is true of the edamame beans. They are simply finger food to eat with and around the sushi.
Drinks for Asian Feasts
Check out my dedicated post all about Asian Inspired Drinks.
I've included ideas for hot and cold drinks, soft drinks and cocktails. There is something for everyone! Oh and don't forget to check out the bubble tea options!
I've also given you loads of advice about how and in what to serve your drinks. Who says that you can't have a glass of something pretty and sparking when you're feasting alone!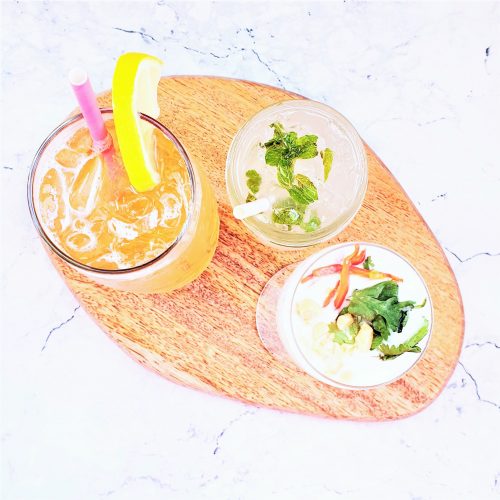 Looking for Other Big Asian Collections?
If you are looking to make a slightly more special meal with a larger variety of Asian dishes, check out my Big Asian Feast recipe collections.
Still Have Questions?
Simple! Just contact me and I will do my best to help as quickly as I am able. Head over to my Contact Me page, any of my social media channels or post a comment at the bottom of this page and I'll see what I can do.
Keep Up to Date
Make sure you SUBSCRIBE to my newsletter and avoid missing out on any of my newest and bonus content. Don't worry, I promise not to spam you or bombard you too often. Plus you'll receive a copy of my FREE 7 Day International Meal Plan!

Also please don't forget to follow me over on my social media channels over at Facebook, Twitter, Instagram and Pinterest. I love to interact with my followers and I'd love you to share my content with your friends too.
Pin For Later
Hit one of the share buttons to save this page to your Pinterest boards so you can come back and find it at anytime!