My Sweet Chilli Chicken & Rice bowl served with Sesame Tenderstem Broccoli is the perfect everyday feast. You can throw this dish together in barely anytime and still have a lush tasty dinner.
I've written a comprehensive guide how to host a Big Asian Feast. But you can have an Asian Feast on a much smaller scale. I regularly make myself a feast for one!
I've put together a selection of smaller collections of my recipes which you can use everyday. This is my Sweet Chilli Chicken & Rice. Don't forget to have a look at my other everyday Asian Feasts too!
Everyday Sweet Chilli Chicken & Rice Feast Recipes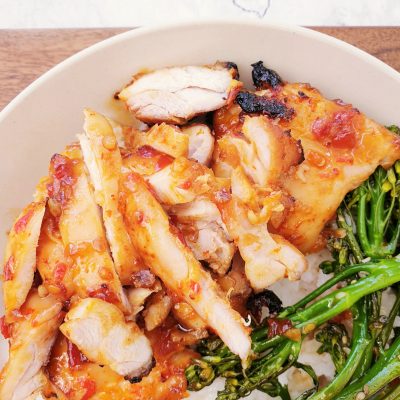 Sweet Chilli Chicken Thighs are marinated with three simple ingredients and then grilled to juicy perfection in 15 minutes. They're perfect to serve on a rice bowl, throw into a wrap for lunch or even take out on a picnic.
---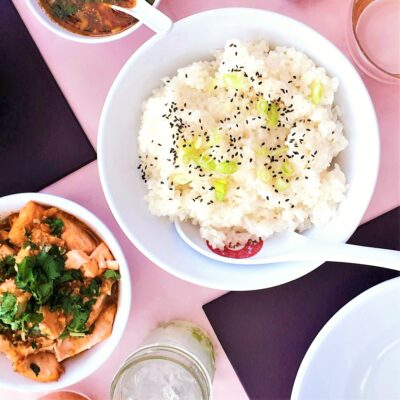 I always thought that I'd never master the secret of How to Cook Sticky Rice but then I found the easiest ever method that works every single time. With no need for a rice cooker or any specialist equipment, this easy step by step guide shows you how to make glutinous rice in just 25 minutes.
---
Sesame Tenderstem Broccoli is a brilliant side dish that can be thrown together in minutes with very few ingredients. Tenderstem (or broccolini) is one of my go-to greens and I love coming up with new ways to serve it!
---
My Miso Soup with Ginger & Tofu is my go-to side for almost any of my favourite Chinese and Japanese inspired dishes. Its light but filling, tasty but subtle and includes a little extra hit of tofu-based protein. Best of all, its ready in less than 10 minutes.
---
Serving the rice bowl with miso soup is how I really make this meal into a feast. Lets be honest, there is almost nothing that I don't have a bowl of miso soup on the side of!
Feel free to omit the tofu if you wish.
Drinks for Asian Feasts
Check out my dedicated post all about Asian Inspired Drinks.
I've included ideas for loads of great cocktails as well as bubble tea, soft drinks and hot coffees and teas. Vietnamese Egg Coffee anyone?!
I've also given you loads of advice about how and in what to serve your drinks. Who says that you can't have a glass of something special when you're feasting alone!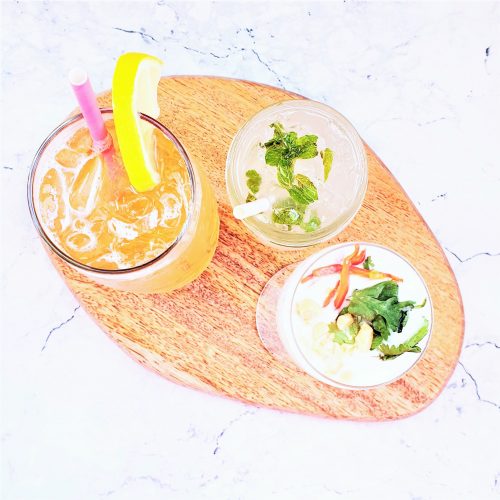 Looking for Other Big Asian Feast Collections?
If you are looking to make a slightly more special meal with a larger variety of Asian inspired dishes, check out my Big Asian Feast recipe collections.
Still Have Questions?
Simple! Just contact me and I will do my best to help as quickly as I am able. Head over to my Contact Me page, any of my social media channels or post a comment at the bottom of this page and I'll see what I can do.
Keep Up to Date
Make sure you SUBSCRIBE to my newsletter and avoid missing out on any of my newest and bonus content. Don't worry, I promise not to spam you or bombard you too often. Plus you'll receive a copy of my FREE 7 Day International Meal Plan!

Also please don't forget to follow me over on my social media channels over at Facebook, Twitter, Instagram and Pinterest. I love to interact with my followers and I'd love you to share my content with your friends too.
Pin For Later
Hit one of the share buttons to save this page to your Pinterest boards so you can come back and find it at anytime!