My Big Asian Feast Collection includes all the recipes needed to create and host a Big Asian Feast! It includes steamed dumplings and cake inspired by China, soup, nibbles and mains inspired by Japan and best of all, it includes my absolute favourite pork belly dish with Korean flavours!
Host an Asian Feast
Don't forget to check out my comprehensive guide to hosting a Big Asian Feast.
And definitely don't forget to download my helpful checklist and shopping list to ensure totally stress-free hosting!
The Big Asian Feast Recipes
This is my suggested collection of recipes which provide a nicely rounded meal. The collection is split into three sit down courses. Plus another recipe to serve as nibbles when people arrive.
Feel free to be flexible. If you don't fancy some or all of a course, simply don't serve it! Or substitute in one of my other Asian inspired recipes.
Nibbles
My Salt & Chilli Edamame Beans are inspired by the tasty morsels served by Wagamamas. But with my version, there is no popping beans out of pods or wasting precious seasoning on the inedible bits! Did I mention they're ready in under 10 minutes?
---
I also often serve a big bowl of prawn crackers too. Sometime I pop them myself but mostly I just grab a bag from my local Chinese takeaway or supermarket.
Starters
How hearty this starter course is will depend on how many dumplings you serve to each person. You may decide to keep it quite light and just serve one of each type per person. Or 2-3 of each for those with larger appetites.
Alternatively, you may prefer to serve more of each dumpling but have less variety. So perhaps 3 to 4 dumplings each but only 2 different varieties. (6 to 8 each in total).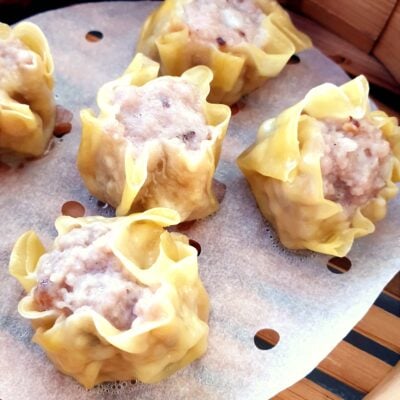 Sui Mai (shumai) is a type of Chinese steamed dumpling that is ever popular as part of a dim sum feast. Minced pork and prawn are wrapped in a ready made wonton wrapper and simply steamed. They are fun and easy to make in a large batch to stash extras in the freezer for later.
---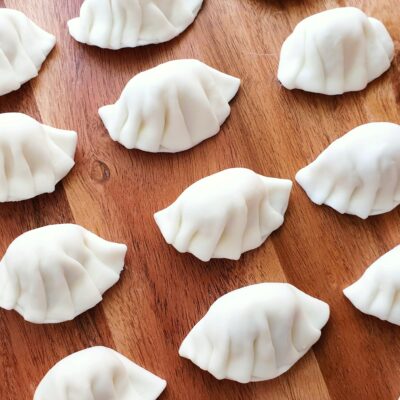 Har Gow (ha gau or har gau) are the white skinned prawn dumplings that are my personal highlight on any dim sum platter. They are surprisingly easy, fun to make and much cheaper than buying them ready prepared.
---
These Tofu Crystal Dumplings are my vegan version of the classic steamed Har Gow dumplings which I love. They're folded slightly differently to mark them apart but the highly flavoured tofu filling is easily on par with the original prawn filling.
---
A Dumpling Dipping Sauce is essential when making and eating Chinese dumplings like siu mai, har gow and fun gwor. This dipping sauce really is the ultimate in simplicity with just 2 ingredients. And it takes less than a minute to make!
---
Other dumpling options include my Fun Guo pork dumplings and my Tofu Siu Mai.
Dumplings can be served with any additional dipping sauces you fancy.
---
My Miso Soup with Ginger & Tofu is my go-to side for almost any of my favourite Chinese and Japanese inspired dishes. Its light but filling, tasty but subtle and includes a little extra hit of tofu-based protein. Best of all, its ready in less than 10 minutes.
---
The soup is really optional. Or it could be served with the main course instead if you prefer.
Main Course
This selection of dishes is designed to be served family style so everyone just helps themselves.
---
My Korean Belly Pork is one of my most popular recipes and one of my absolute favourites. The perfectly glazed and soft Pork Belly is not too spicy but has a little warmth, sweetness and bags of umami. I know that this Korean Bossam Pork dish will be your instant favourite too.
---
Sweet Chilli Salmon is my go to fish dish for a quick weeknight meal or gussied up with sides and extras as part of an Asian inspired feast. I serve my sticky salmon with sticky rice & steamed greens for a full meal with pungent flavours. Best of all, its really quite quick to make and rather impressive to boot.
---
This Crispy Tofu Teriyaki stir fry combines fried tofu chunks with sweet veg and a deeply sticky savoury sauce packed with umami. It's a vegan recipe that's enough to satisfy a carnivore and a perfect addition to an Asian style feast or served simply with rice for an easy weeknight dinner.
---
Sesame Tenderstem Broccoli is a brilliant side dish that can be thrown together in minutes with very few ingredients. Tenderstem (or broccolini) is one of my go-to greens and I love coming up with new ways to serve it!
---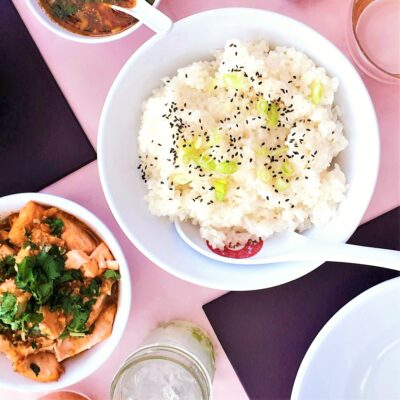 I always thought that I'd never master the secret of How to Cook Sticky Rice but then I found the easiest ever method that works every single time. With no need for a rice cooker or any specialist equipment, this easy step by step guide shows you how to make glutinous rice in just 25 minutes.
---
Dessert
This Chinese Steamed Cake is my version of a classic dim sum dish. There are no unusual ingredients or techniques (except the steaming bit!), just great flavour and a lovely and moist muscovado perfumed cake.
---
Best served warm with cream or ice cream. Or even custard.
Drinks for Asian Feasts
Check out my dedicated post all about Asian Inspired Drinks.
I've given you loads of ideas of hot, cold, soft and alcoholic drinks to serve with your Big Asian feast. And I've made some suggestions on how to serve and when to serve them.
Looking for Other Asian Feast Collections?
This collection is designed to contain as many prep-ahead elements as possible. My alternative feast collection is also perfect for getting ahead of the game.
I've also put together a fully vegetarian menu collection. It can also be made vegan very easily!
Everyday Asian Feasts
Whats more, I've put together a selection of Everyday Asian Feast menus which don't require you to have any friends! They're smaller menus perfect for 1 or 2 people. But they can also be easily scaled up to feed more people in a slightly simpler way.
Still Have Questions?
Simple! Just contact me and I will do my best to help as quickly as I am able. Head over to my Contact Me page, any of my social media channels or post a comment at the bottom of this page and I'll see what I can do.
Download the Big Asian Feast Preparation Checklist
Complete the form below to receive a copy of my free and comprehensive Big Asian Feast Preparation Checklist right into your email inbox!
The checklist includes worksheets to help you plan your guest list, the final menu, and everything you need to serve the feast. It also includes timelines and checklists for preparing the food in advance, preparing the table and hosting on the day. Plus it includes a bonus shopping list!
Pin Big Asian Feast Collection For Later
Hit one of the share buttons to save this page to your Pinterest boards so you can come back and find it at anytime!
Keep Up to Date
Make sure you SUBSCRIBE to my newsletter and avoid missing out on any of my newest and bonus content. Don't worry, I promise not to spam you or bombard you too often. Plus you'll receive a copy of my FREE 7 Day International Meal Plan!

Also please don't forget to follow me over on my social media channels over at Facebook, Twitter, Instagram and Pinterest. I love to interact with my followers and I'd love you to share my content with your friends too.