Bagel, Avocado & Eggs. Sounds rather hipster but homemade sesame bagels topped with smushed avocado and poached eggs might just be the ultimate everyday brunch. Three of my best brunch recipes are brought together in this collection to make a brunch suitable for just one or any number of friends and family.
I've written a comprehensive guide how to host a Big Brunch Feast. But you can have a Brunch Feast on a much smaller scale. I regularly make myself a feast for one!
I've put together a selection of smaller collections of my recipes which you can use everyday. This is my bagel, avo & egg collection. Don't forget to have a look at my other everyday Brunch Feasts too!
Everyday Bagel, Avocado & Eggs Brunch Feast Recipes
One bagel split in half topped with half an avocado and 2 eggs is the perfect set up to the day.
---
Homemade Bagels are in a different league to the usual dry supermarket offerings. They're also a doddle to make and include some fun boiling!
---
Homemade bagels are amazingly easy to make but you will likely want to make them the day before your brunch. With resting time they take around 2 hours to make.
Just as with my prep-ahead brunch, you can part bake the bagels for 7-8 minutes and then cook them for a further 8-10 minutes just before serving.
Alternatively, bake them in full, slice them and freeze them. You can just pull out a bagel, prise it in half and then toast straight from frozen whenever you fancy one.
---
My How to Prepare Avocado guide is my cop out way of not calling avocado toast a recipe! My step-by-step guide shows you how to cut and remove avocado flesh quickly and easily before mashing with lemon and salt. Ready to go in 3 minutes!
---
You can decide whether you want to fully smush your avocado or leave it simply sliced on top of your bagel. I wouldn't skimp on the lemon juice and salt either way.
You can add extras to the avocado like finely sliced spring onion and/or sliced fresh chilli if you like.
---
The question of How to Poach Eggs seems to be shrouded in myth and fear. My step by step guide shows you how to easily poach an egg without fuss. There are only two simple tricks and I tell you both!
---
You can poach the eggs per my instructions or choose another egg preparation like fried eggs if you prefer. Aim for 2 eggs per bagel – one to sit on top of each half.
You can choose to add any extras like a drizzle of chilli sauce, finely sliced red onions or anything else that takes your fancy.
Drinks for Brunch Feasts
Check out my dedicated post all about Brunch Drinks.
I've included ideas for hot drinks, alcoholic welcome drinks, fancier coffees and even iced tea and coffee drinks. There are a couple of stronger boozy brunch cocktails in there too!
I've also given you loads of advice about how and in what to serve your drinks. Who says that you can't have a glass of something pretty and sparking when you're feasting alone!
Looking for Other Big Brunch Collections?
If you are looking to make a slightly more special meal with a larger variety of brunch dishes, check out my big brunch feast recipe collections.
Still Have Questions?
Simple! Just contact me and I will do my best to help as quickly as I am able. Head over to my Contact Me page, any of my social media channels or post a comment at the bottom of this page and I'll see what I can do.
---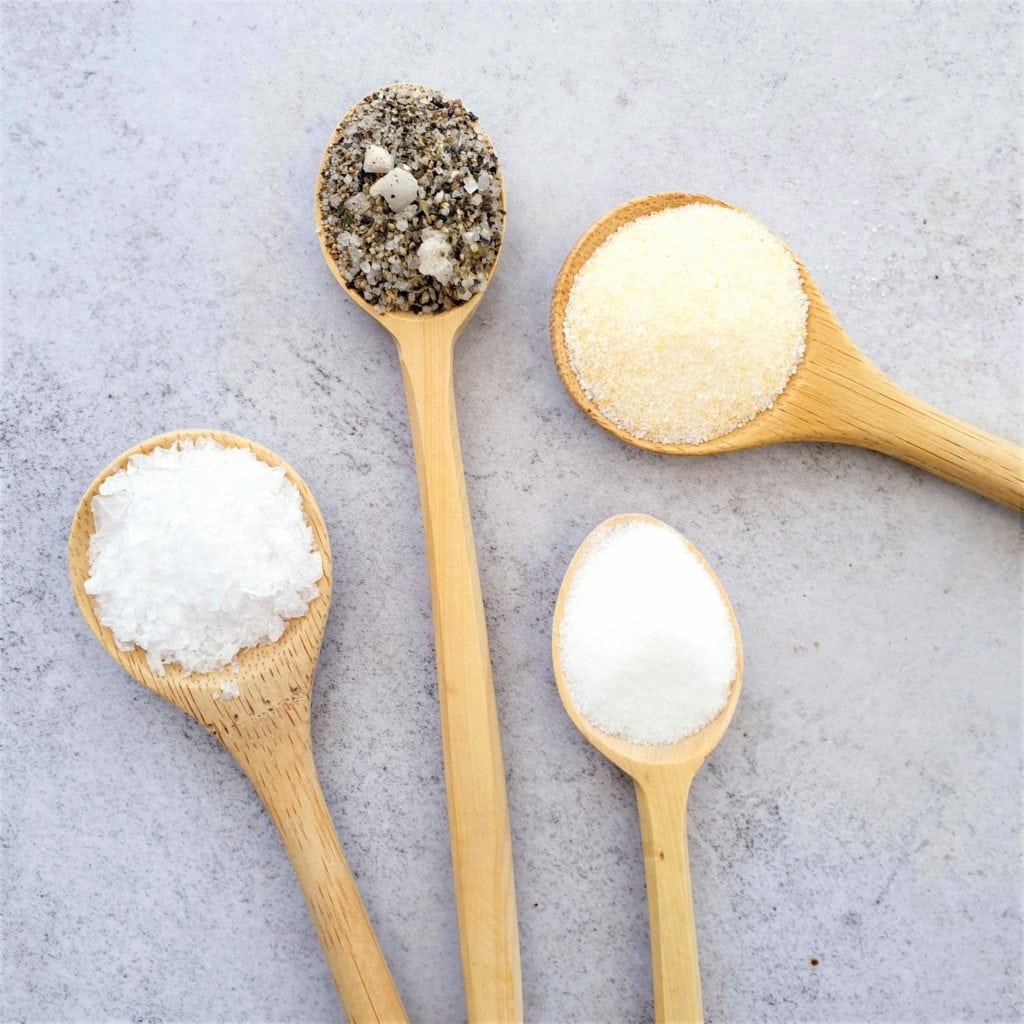 For the lowdown on using salt to properly season and enhance the flavour of your food, check out my Ultimate Guide on How to Use Salt.

There is guidance about which salt to use when, salt alternatives, using salt when baking and even what to do if you add too much salt!
---
Keep Up to Date
Make sure you SUBSCRIBE to my newsletter and avoid missing out on any of my newest and bonus content. Don't worry, I promise not to spam you or bombard you too often. Plus you'll receive a copy of my FREE 7 Day International Meal Plan!

Also please don't forget to follow me over on my social media channels over at Facebook, Twitter, Instagram and Pinterest. I love to interact with my followers and I'd love you to share my content with your friends too.
Pin For Later
Hit one of the share buttons to save this page to your Pinterest boards so you can come back and find it at anytime!