This Alternative Asian Feast Collection provides a different selection of dishes to serve at a Big Asian Feast. This collection includes Japanese sushi, ramen with Korean Belly Pork and Malaysian Chicken Satay followed by a cooling Mango Coconut Ice Cream inspired by Thailand.
Host an Asian Feast
Don't forget to check out my comprehensive guide to hosting a Big Asian Feast.
And definitely don't forget to download my helpful checklist and shopping list to ensure totally stress-free hosting!
Alternative Asian Feast Recipes
This is my suggested collection of recipes which provide a nicely rounded meal. The menu is split into three courses. Plus you could choose to either serve the sushi course at the table or as canapes when people are arriving.
Starters
Uramaki Sushi with Chilli Crab is definitely my favourite sushi roll of all time. I might just be perverse and like that its the wrong way round. But it might be because it is so tasty and easy to make, despite looking really impressive!
These Salmon Maki Sushi Rolls are my take on the most classic looking sushi. Raw fresh salmon is wrapped in sticky sushi rice and crispy seaweed. The bite-size rolls are a world away from dodgy supermarket sushi and surprisingly easy to make.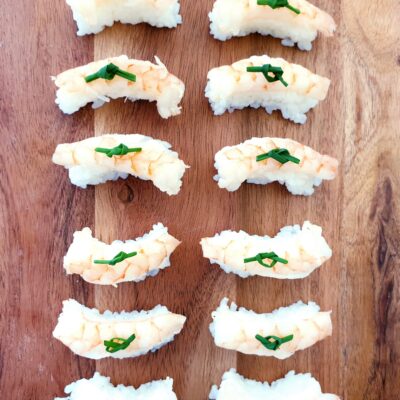 King Prawn Nigiri is the simplest item in a sushi set. Sushi rice is formed into a block before being topped with cooked king prawn. I like to add a chive garnish for extra flourish, interest and flavour. Keeping it simple for the win.
Fried Onigiri is not traditional sushi! But no matter, my Japanese take on arancini with Miso marinated Scallops makes a great addition to a sushi platter. The coating provides great crunch and the scallop filling is full of fabulous flavour.
You can choose to serve all of this sushi options or just one or two. The decision is yours.

Sushi is ideally served simply with a soy sauce dip, pickled ginger slices (you can buy these in jars) and some wasabi paste if you wish (I don't! I think its awful stuff!!)
Main Course
My Korean Ramen recipe uses leftovers from my Korean Belly Pork recipe to make a warm but not overly spicy broth spiked with chewy noodles, greens, a runny boiled egg and soft pork belly. Top tip – do not attempt to eat this while wearing a white shirt
This soup base can be topped with anything you wish. I've suggested that you use the original belly pork recipe along with satay chicken for variety. You can choose to serve it on or off the skewer.
My Korean Belly Pork is one of my most popular recipes and one of my absolute favourites. The perfectly glazed and soft Pork Belly is not too spicy but has a little warmth, sweetness and bags of umami. I know that this Korean Bossam Pork dish will be your instant favourite too.
Chicken Satay Skewers are an ageless classic dish found all over Asia. My recipe uses chicken thighs for extra juicy skewers and my own homemade tasty sauce. Perfect for every occasion from lunchboxes, to picnics, buffets and tasty Asian feasts.
These summer rolls provide another flavour and texture as a side to the ramen. And the satay sauce from the chicken skewers makes a great extra dip option. Although the summer rolls recipe also includes a pungent dip.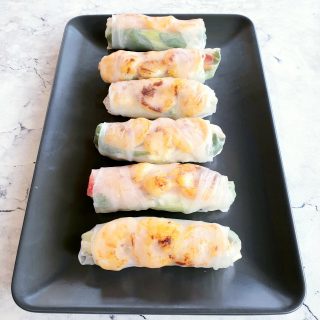 Vietnamese Summer Rolls are incredibly easy to make, naturally gluten free and everything you need is available right in the supermarket. King Prawn adds a touch of luxury to a stunning dish with barely any cooking. They're perfect for a warm summers day!
If you don't wish to serve prawn summer rolls, you could alternatively make and serve my Tofu Summer Rolls instead.
Dessert
My No Churn Mango Coconut Ice Cream only uses three simple tinned ingredients to make a super tasty and naturally vegan ice cream that doesn't need any specialist equipment. It is packed with fruit flavour and takes less than 15 minutes to make!
This ice cream is perfect served on its own or topped with crushed nuts. You could also serve some fresh fruit. Tropical fruits would be ideal.
Drinks for Asian Feasts
Check out my dedicated post all about Asian Inspired Drinks.
I've given you loads of ideas of hot, cold, soft and alcoholic drinks to serve with your Asian feast. And I've made some suggestions on how to serve them and what to serve them in.
Looking for Other Asian Feast Collections?
This collection is designed to be perfect for prepping ahead, just like my Big Asian Feast. Although the sushi is best made on the day if possible.
I have also put together a wholly vegetarian collection which can easily be made suitable for vegans! It is a festival of tofu!
Everyday Asian Feasts
Whats more, I've put together a selection of Everyday Asian Feast menus which don't require you to have any friends! They're smaller menus perfect for 1 or 2 people. But they can also be easily scaled up to feed more people in a slightly simpler way.
Still Have Questions?
Simple! Just contact me and I will do my best to help as quickly as I am able. Head over to my Contact Me page, any of my social media channels or post a comment at the bottom of this page and I'll see what I can do.
Download the Big Asian Feast Preparation Checklist
Complete the form below to receive a copy of my free and comprehensive Big Asian Feast Preparation Checklist right into your email inbox!
The checklist includes worksheets to help you plan your guest list, the final menu, and everything you need to serve the feast. It also includes timelines and checklists for preparing the food in advance, preparing the table and food serving area, and hosting on the day. Plus it includes a bonus shopping list!
Pin Alternative Asian Feast Collection For Later
Hit one of the share buttons to save this page to your Pinterest boards so you can come back and find it at anytime!
Keep Up to Date
Make sure you SUBSCRIBE to my newsletter and avoid missing out on any of my newest and bonus content. Don't worry, I promise not to spam you or bombard you too often. Plus you'll receive a copy of my FREE 7 Day International Meal Plan!

Also please don't forget to follow me over on my social media channels over at Facebook, Twitter, Instagram and Pinterest. I love to interact with my followers and I'd love you to share my content with your friends too.