This Alternative Americana Feast is simply another menu suggestion to serve at an Americana Inspired Feast. The centrepiece is a glorious glazed ham served with loads of US inspired sides like green bean casserole and followed by a stunning chocolate lime pie. Yum!
Host an Alternative Americana Feast
Don't forget to check out my comprehensive guide to hosting a Big Americana Feast.
And definitely don't forget to download my helpful checklist and shopping list to ensure totally stress-free hosting!
Alternative Americana Feast Recipes
This is my suggested collection of recipes which provide a nicely rounded meal. I have split the collection into three 'courses'.
In this collection, I have designed the appetizer course to be served at the table in a traditional style. The entrees (main course) can be served family style at the table and the dessert obviously comes last!
For the lowdown on all my suggestions for hosting a big Americana Feast, make sure to check out my main Americana Feast post.
Almost everything can be prepared in advance and reheated or cooked just before serving. Read the get ahead instructions in each recipe carefully for more information.
Appetizers
You can't go wrong with soup and bread. Chowder is quintessentially American and can be made vegetarian or with another meat if you prefer.
This creamy Turkey Soup with Butternut Squash is a great way of remembering that "Turkey is not just for Christmas". Or a great way to use up leftover turkey! Sweetcorn chowder style soup is one of my favourite ways to use up odds and ends from the fridge and this version is super tasty!
The recipe for my Turkey Chowder is written to provide a full main course serving per portion. I would recommend serving no more than a half portion for a starter course or even just a third.
So to serve 4 to 6 people, I would set the recipe card to show 2 portions. To serve 8 to 10 people, I would leave it at 4 portions. For 12 to 14 people, go for 6 portions.
When I say "Cheesy Pull Apart Garlic Bread", what I actually mean is SUPER GARLICKY bread because this tear and share loaf is ALL about the garlic. The glorious cheese pulls and pillowy soft bread are merely happy bonuses.
It doesn't matter how many people you are serving, you absolutely do not want to make less than one of these loaves! I promise that there will be no waste and any leftovers can be left of the table to be eaten with the main course.
Entrees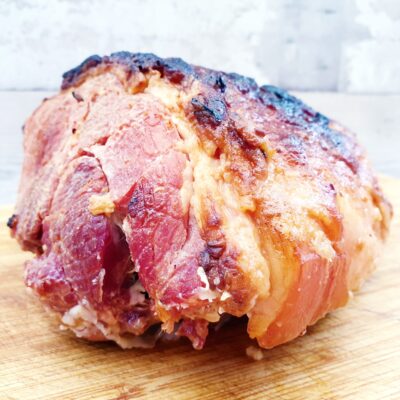 My Ginger Beer Boiled Ham with a Southern Comfort glaze is inspired by a Nigella Lawson recipe with added booze. The ginger beer permeates the ham to give a great twist on a classic party centrepiece. And I am rarely allowed to attend a party unless I bring a ham. True story.
Make a whole large ham, no matter how many people you are planning on serving. Just as I've suggested in my everyday feast which is a significantly pared down version of this menu, there are a multitude of uses for the leftovers.
Unless you are feeding more than 10/12. In which case make two hams!
Baked Macaroni Cheese is the ultimate American side dish! My basic mac'n'cheese recipe includes a creamy and velvety sauce packed with three cheeses topped with a crunchy panko and mozzarella crust. Its perfect as a side or gussied up with any manner of extras to make a whole feast on its own.
My macaroni cheese portions serve as main courses. So make half as many portions as people you are feeding. This should still give you a generous portion each when combined with all the other options on the table.
My Sweet Potato Pancakes with Sweetcorn & Chilli are the perfect upgrade to a weekend breakfast or brunch. They're a soft and fluffy excuse to add a little extra veg to proceedings and they make a great combo with avocado and bacon too. Or maybe just some syrup!
The recipe as given makes roughly 12 pancakes. I would cater for 2 pancakes per person or just one if you are catering for smaller appetites.
Green Bean Casserole is an American classic that is barely known in the UK. Using tinned mushroom soup as a casserole sauce isn't a very British thing but you know what, America might well be on to something!
I would recommend making slightly fewer portions of the casserole than you have people to serve. Make 4 portions to serve 6 people for example.
Classic Caesar Salad is exactly that. Classic. Minimal ingredients give maximum flavour which makes it perfect as a starter or side dish. Make sure this classic makes it into your repertoire.
You can't go wrong with a classic salad. You can either toss the dressing through the salad at the last minute or serve the dressing on the side. You can also serve all of the salad elements separately as a deconstructed salad buffet.
Dessert
I love it when a dessert looks stunning and super fancy but is actually incredibly easy to make!. My Chocolate Lime Pie with Italian Meringue ticks all the right boxes and you can create this fab showstopper pie too!
As an alternative you could serve my Chocolate Peanut Butter Cheesecake. Both desserts can be prepped in advance.
Drinks for Americana Feasts
Check out my dedicated post all about Americana Inspired Drinks.
I've included ideas for soft and alcoholic drinks as well as some ideas for hot drinks. There should be something for everyone and something for every season.
I've also given you loads of advice about how and in what to serve your drinks.
Looking for Other Americana Collections?
This collection is best suited to a larger crowd. The large ham works great as a centrepiece and with basically everything able to be prepped ahead of time, it really is stress free!
But I have also put together collections which are suitable for a feast of any size and also a wholly vegetarian feast. Check them out now!
Everyday Americana Feasts
Whats more, I've put together a selection of Americana inspired menus which don't require you to have any friends! They're smaller menus perfect for 1 or 2 people. But they can also be easily scaled up to feed more people in a slightly simpler way.
Still Have Questions?
Simple! Just contact me and I will do my best to help as quickly as I am able. Head over to my Contact Me page, any of my social media channels or post a comment at the bottom of this page and I'll see what I can do.
Download the Big Americana Feast Preparation Checklist
Complete the form below to receive a copy of my free and comprehensive Big Americana Feast Preparation Checklist right into your email inbox!
The checklist includes worksheets to help you plan your guest list, the final menu, and everything you need to serve the feast. It also includes timelines and checklists for preparing the food in advance, preparing the table and hosting on the day. Plus it includes a bonus shopping list!
Pin Alternative Americana Feast Collection For Later
Hit one of the share buttons to save this page to your Pinterest boards so you can come back and find it at anytime!
Keep Up to Date
Make sure you SUBSCRIBE to my newsletter and avoid missing out on any of my newest and bonus content. Don't worry, I promise not to spam you or bombard you too often. Plus you'll receive a copy of my FREE 7 Day International Meal Plan!

Also please don't forget to follow me over on my social media channels over at Facebook, Twitter, Instagram and Pinterest. I love to interact with my followers and I'd love you to share my content with your friends too.